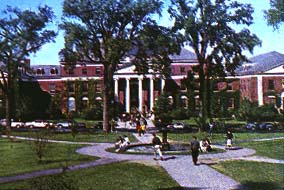 Waterman Building
This large brick building with monumental Vermont marble columns facing the west side of the University Green serves as UVM's main administration building. Built in 1940-41 to the Colonial Revival design of the McKim, Meade and White architectural firm, the Waterman Building was the gift of Senator Waterman of Denver, Colorado, as a memorial to Charles W. Waterman (class of 1885) and his wife, Anna R. Waterman.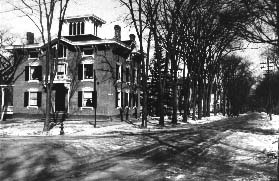 Before the Waterman Building was constructed three homes were removed from along South Prospect Street. The photo at the right shows South Prospect Street as it appeared in 1927, looking northwest from the corner of College Street.
The largest academic building on campus, it originally filled a very wide range of needs for UVM. The primary function was to provide offices for the university president and administration, staff and several academic departments, and numerous classrooms and meeting rooms, but Waterman also at first had several apartments for faculty, student recreation facilities (complete with a bowling alley in the basement), a large student dining hall and kitchen, and storage space for the library's holdings.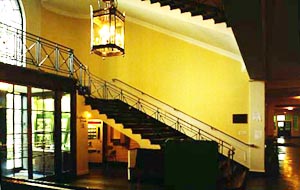 Waterman now houses the offices of the university president and provost and those of the College of Arts and Sciences, the Graduate College, Financial Aid and the Registrar -- all on the main floor. It also serves as the home for the College of Education and Social Service, several academic departments, computing services, the accounting department and other services, as well as numerous classrooms, lecture halls and meeting spaces.
On the basement level, the original main student dining hall has been converted into the largest student computer lab on campus and the former bowling alley space now holds the University's graphics and printing shop. The library storage space was recently converted into a lecture hall and a meeting room. Formal dining facilities are still offered on the top floor in the Waterman Manor, while snacks and light takeout foods are available at a concession on the College Street level.
(Circa 1965 post card view at top and 1927 photo of So. Prospect Street are courtesy of UVM Library Special Collections. Interior photo of main entrance by Prof. Thomas Visser, 1999.)