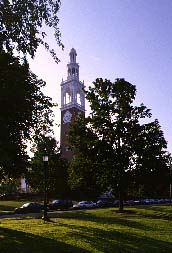 IRA ALLEN CHAPEL
One of Burlington's most prominent landmarks with its gold-domed bell tower rising 165 feet above the UVM campus, Ira Allen Chapel was built to hold one thousand persons. A gift to the University from James Benjamin Wilbur of Manchester, VT, and named for the founder of the University, this facility replaced the cramped chapel space on the second floor of Old Mill that is now known as John Dewey Lounge.
The first of several notable buildings in Burlington designed by the New York architectural firm of McKim, Mead and White, Ira Allen Chapel is an outstanding example of the Colonial Revival style of architecture.
The cornerstone for the building was laid at the 1925 commencement ceremony and construction (as seen below) was completed the following year.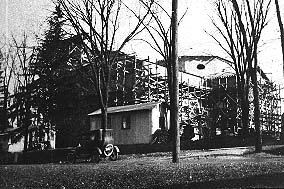 Other fine examples of the work of the McKim, Mead and White firm on the UVM campus include Slade Hall (1928), the Robert Hull Fleming Museum (1931), the Mabel Louise Southwick Memorial Hall (1934) and the Charles and Anna Waterman Building (1941). Burlington City Hall (1928) was also designed by the McKim, Mead and White firm.
Ira Allen Chapel is designed on the plan of a Roman cross with a gold-domed lantern surmounting the crossing. The front façade that over looks the University Green is dominated by six monumental Ionic columns. The bricks, laid in the Flemish bond, were produced at the Drury Brickyard in nearby Essex Junction, VT. Gray-green Vermont slate covers the roof.
Although no longer used for regular religious services, Ira Allen Chapel continues to be used for large campus meetings, special events and ceremonies. It is listed on the National Register of Historic Places as a contributor to the University Green Historic District.
Page credit: Prof. Thomas Visser, UVM Historic Preservation Program
Photo credits: top, T.Visser; above left, UVM Archives