Overview
Built in 2012 near a major visitor parking lot on the UVM Campus, this project serves as a public demonstration of bioretention "rain gardens" and is an example of environmental science research in action. Our research investigates the mechanisms influencing sediment and nutrient retention and greenhouse gas emissions within eight stormwater bioretention "cells."
We are studying the capacity of these bioretention units to capture and treat stormwater runoff from eight different "mini-watersheds" in the adjacent roadway. The water quality pollutants being evaluated are: total suspended solids (TSS), phosphorus (P) and nitrogen (N).
We are also comparing performance of the bioretention cells under both existing precipitation patterns and simulated increases in runoff and precipitation. The precipitation simulations are based on projected climate change-driven alterations in rainfall intensity (estimated for the region circa the year 2050).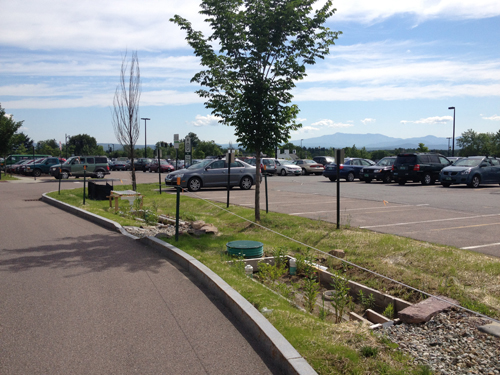 With climate change in mind, we are also analyzing greenhouse gas content in the soils and plant layers of the bioretention systems.
Each bioretention cell is layered with an engineered soil mix designed to promote drainage, which represents a typical mix that might be used in Vermont raingardens/bioretention cells. Two of the eight cells also include a layer of proprietary a phosphorus-capturing material, "SorbtiveMedia" by Imbrium Systems, Inc.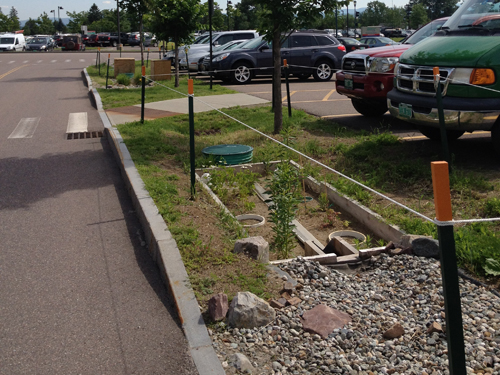 Finally, we have two different vegetation "treatments."  Six cells are planted with a high-biodiversity plant "palette" that uses native vegetation; the remaining two cells are planted with a low-biodiversity plant palette, species known to be tolerant to roadside conditions, including road salts.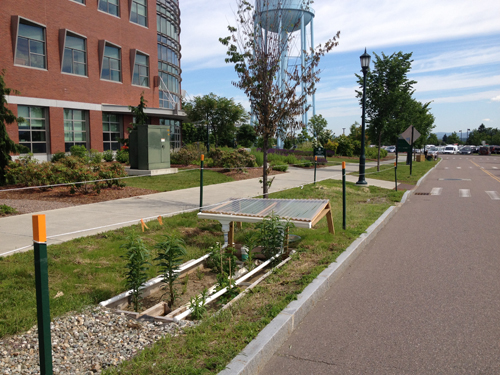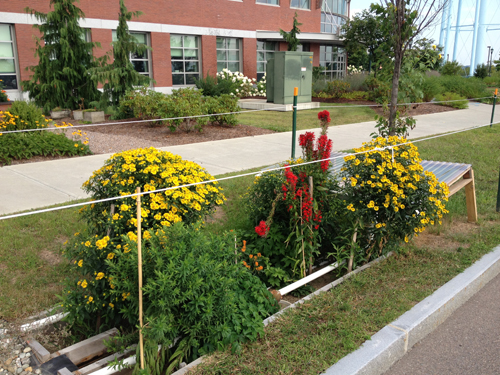 Project Sponsors
Project Design and Construction
Project Contacts
Upcoming Events
Contact Dr. Stephanie Hurley for information on tours and workshops