News/Announcements

September 2019
The project's Annual Progress Report (PDF) is available.
August 2018
The project's Annual Progress Report (PDF) is available.
November 2017
We're currently seeking trees for a research study this fall on internal staining associated with taphole wounds. If you have a few trees that you'd be willing to have felled for science, or have a few blowdowns in your woods (any size tree from 4" and up will work), please email Abby van den Berg.
September 2017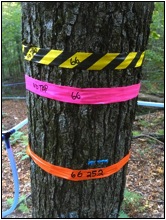 This summer, with the help of many certified organic maple producers and organic certifiers, we completed the set-up of a field experiment that will measure the impact of tapping on tree growth and health. Study plots were established at 15 sites across Vermont and New York with trees that have never been tapped before. At each plot, 50 trees in each of five size classes were selected: 25 trees (10 in each size class) will be tapped as usual for production, and 25 will remain untapped as controls. The diameter growth and health of each tree will be measured annually. This will provide some of the first empirical data on the impact (if any) of tapping on trees—essential information to ensure tapping guidelines will result in sustainable outcomes. Thank you to all of our producer partners for helping to make this happen!