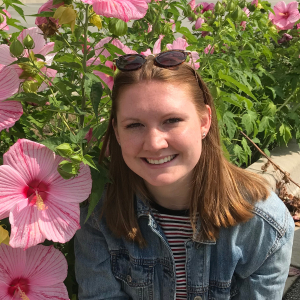 Katie Bildhauser, MSD Student
Advisor: Farryl Bertmann, PHD, RDN
I am originally from northwest Indiana, and I graduated from Purdue University with my BS in Nutrition and Dietetics in May 2021. I decided to come to UVM for the Master of Science in Dietetics program that focuses on food systems and sustainability. This is a unique opportunity to have in dietetics, and I will have experiences that not all dietetics students across the country will have. During my time at Purdue I volunteered at a local foodbank, which made me interested in learning more about food insecurity.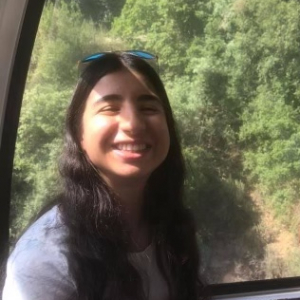 Reem Bou-Nacklie, NFS MS Student
Advisor: Farryl Bertmann, PHD, RDN
I chose the UVM AMP program, and in my second year, because it really fit into my current and future goals of getting my MS degree in a short-time frame. I majored in Dietetics, Nutrition and Food Science as an undergrad, finished my dietetics internship in Boston last year, and I am currently working towards becoming a Registered Dietitian, so this NFS AMP program really fit into my path. I love how flexible the program is to fit into what I am really passionate about, such as taking classes in Food Systems while also taking Research Methods for my graduate project. I am learning on a much more in-depth level and I look forward to my classes everyday. The faculty are so helpful and so knowledgeable and passionate about their fields. I am so grateful for the opportunities I have had so far and the ones that will continue to come!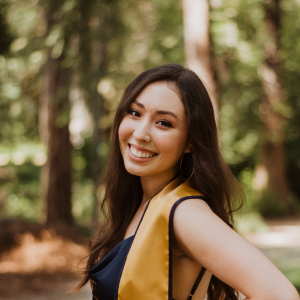 Fatima DeHaro, MSD Student
Advisor: Farryl Bertmann, PHD, RDN
I was born and raised in California and graduated from the University of California, Davis in June 2020. After attending UC Davis, I became really interested in sustainability. When I came across UVM's MSD program and saw the focus of the program was on sustainable food systems, I was instantly intrigued. Not only did I apply because of the program's concentration, but this program offers so much! Such as offering both the M.S. in Dietetics and the dietetic internship to be completed simultaneously, it's 100% online making it very flexible, and having a 100% RDN exam pass rate, which made my decision to attend UVM even easier. I'm so happy I chose UVM to further my studies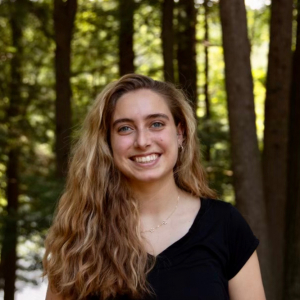 Mariam Fneiche, MSD Student
Advisor: Farryl Bertmann, PHD, RDN
I grew up in Ohio and graduated from West Virginia University in May of 2021. I graduated with a BS in Human Nutrition and Foods with a minor in Food Science and Technology. I am incredibly interested in both food and the outdoors and the way they bring people together. During my undergraduate studies I was involved with the honors independent research program and outdoor recreation center to create a project that combined outdoor experiential learning and nutrition by field testing allergen-friendly products. UVM's emphasis on sustainable agriculture and community nutrition made the combined Masters of Science in Dietetics and Dietetic internship seem like the perfect fit. I am excited to continue my studies on the way to becoming a Registered Dietitian Nutritionist.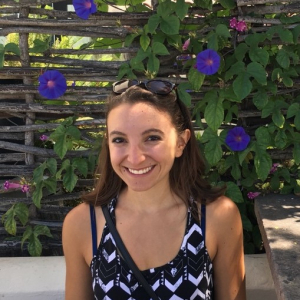 Michelle Leonetti, FS MS Student
Advisor: Emily Belarmino, PhD
I first became interested in food through the lens of nutrition during my Nutritional Sciences degree at Cornell University. After graduating, I became a Registered Dietitian Nutritionist at Massachusetts General Hospital in Boston and went on to work as a Regulatory & Food Labeling Specialist for large food manufacturers and grocery distributers where I was exposed firsthand to the sustainability challenges in the food supply chain. Overtime, my interest began to shift from the health of humans to the health of the planet and how they are interconnected. My goal is to help reform global food production and distribution and reconnect people to where their food comes from. I am particularly interested in the important role that plant-based diets play in improving the sustainability of the food system.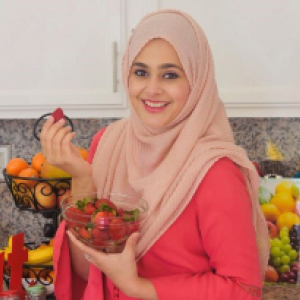 Ilham Malick, MSD Student
Advisor: Farryl Bertmann, PHD, RDN
I am a first-year graduate student in the MSD and RD program at UVM. I live in the Bay Area, California, with my husband and two little girls aged 7 and 3 years. I am originally from Bangalore, India, where I completed my BS in Nutrition, Chemistry, and Zoology and Masters in Dietetics and Food Service Management. I worked as a Clinical Dietitian and a Certified Diabetes Educator in India when I moved to the US 10 years ago.
I worked as a Health Coach for almost two years and had my private practice where I was deeply involved in community nutrition education programs and preventive nutrition. What fascinated me was that food has so many diverse avenues where a person can make a difference, and I could see many potential opportunities. However, not having an RD felt like a roadblock on many of those paths, and I decided to pursue my Masters in Dietetics and RD program from UVM. The online program with the self-designed RD internship rotation was an excellent fit for me as it is one of the few programs focusing on community health and nutrition. It also meant that I could pursue my degree while staying in California. I am very excited to see what career opportunities open up for me now with my RD degree. I am grateful to the excellent faculty and professors at the UVM for all the support and encouragement.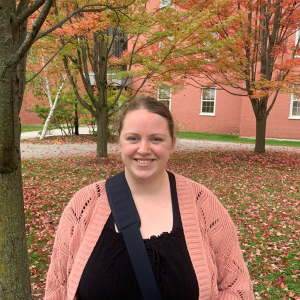 Ariel Martin, NFS MS Student
Advisor: Andrea Etter, PHD
I grew up in Vermont and graduated in May 2020 from University of Vermont with a BS in Molecular Genetics. 

I worked many food-service jobs since high school, and they helped me develop my interest in the food industry. During my senior year of college, I enrolled in a very interesting course - "Deadly Food: Outbreak Investigations" taught by Dr. Andrea Etter. After graduation, she reached out to me and I accepted the position of Research Technician in her lab. Over the last year in the Etter lab, I have been working with outbreak and non-outbreak associated Salmonella and have found the work to be quite rewarding. I am very excited to be pursuing a MS in Nutrition and Food Sciences for the next two years, and hope to learn more about antimicrobial resistance in Salmonella, and how it affects the food industry.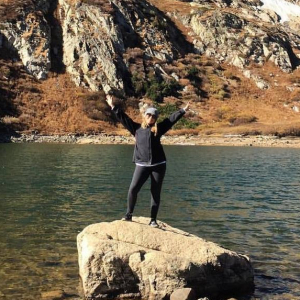 Caitlin Patrick, MSD Student
Advisor: Farryl Bertmann, PHD, RDN
I am originally from Kansas but have spent the last 8 years living in Denver, Colorado. In May of 2020, I received my BS from Metropolitan State University of Denver. After graduation, I received my Nutrition and Dietetic Technician, Registered (NDTR) credential and began working in lactation support services at the NICU in a children's hospital. Spending time in Colorado has nurtured my passion for adventure, sustainability, and social justice. After graduation, I was researching dietetic internships and stumbled upon the MsD program at UVM. I felt that the combination of a master's degree, and internship, with an emphasis on sustainable food systems, would be a perfect fit for me. The program is online with a distanced option, which has allowed me to learn and apply these concepts in my own community. I am excited to deepen my knowledge of dietetics, learn more about sustainability, and carry that with me throughout my career.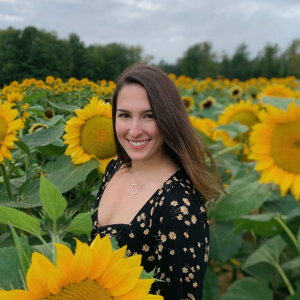 Courtney Randall, MSD Student
Advisor: Farryl Bertmann, PHD, RDN
I am a born and raised Vermonter, which was one of the many reasons I wanted to be a part of the UVM MSD Program. I earned my undergraduate degree in Dietetics at the University of New Hampshire and was excited about the opportunity to spend time in my home state. Additionally, the program's focus on sustainability was also of interest to me. I am excited to gain experience at various facilities around the state that also work towards creating sustainable food systems. I am so excited to continue my studies at UVM!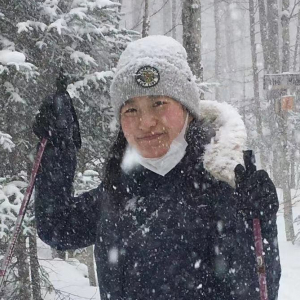 Hallie Shi, ABIO PhD Student
Advisor: Mingruo Guo, PhD
I come from Qingdao, a beautiful coastal city in China. I was hybridly raised in the countryside, surrounded by farms and orchards. With a bachelor's degree in food quality and safety, I had several internships and part-time jobs related to food processing and analysis. And I was inspired to be a food scientist to provide better and healthier products to consumers. With this strong motivation, I chose UVM to pursue a MS in food sciences where I felt I could dive deeper into product development. During my Master's program here, I developed an almond yogurt alternative product and also investigated the stability of probiotics during shelf-life. Since my ultimate goal is to become a food scientist, I am excited to continue my PhD study in Dr. Mingruo Guo's lab whose research not only focuses on functional food development but also the whey protein application in varied fields. After graduation, I hope to work in a research leading institution or R&D related positions.
 
Jennilee Stocker, NFS MS Student
Advisor: Lizzy Pope, PHD, RDN
In my undergrad program at UVM, I completed a B.S. in Dietetics, Nutrition, and Food Science and a B.A. in Dance.  I am in my second year in the Accelerated Master's Program for Nutrition and Food Science and doing my research on intuitive eating and sports nutrition.  I have been passionate about nutrition and dance for as long as I can remember.  I am appreciative that I get to combine both of my interests into the research with Dr. Lizzy and another AMP student, Sarah Wells.  My goal is become a registered dietitian and work in hospitals for now.  Although, I am openminded to what the future hold for me and am excited to the opportunities that are to come.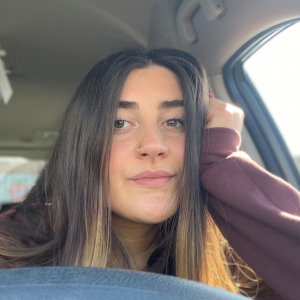 Shenna Tyer, NFS MS Student
Advisor: Farryl Bertmann, PHD, RDN
I grew up in Berkshire County located in Massachusetts. Throughout my time in the Berkshires, I played many sports and had an interest in nutrition. Later, I attended UVM and received a B.S. in Dietetics. My undergraduate career helped further my passion for nutrition. I have always wanted to help people in some way, and nutrition is a great way to do that. I am excited to be part of the accelerated masters program, to expand my knowledge in a more concentrated area.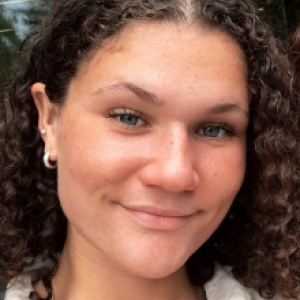 Sarah Wells, NFS MS Student
Advisor: Lizzy Pope, PHD, RDN
I am originally from a small town just east of Montreal, Quebec, and graduated last spring with a B.S. in Dietetics, Nutrition and Food Sciences here at UVM. As a student-athlete who has studied science with a health-related approach for the past 5 years, I've developed a passion for working to foster a healthy society along with an understanding of the importance of helping my community members, with a holistic approach.
Being an athlete has allowed me to work closely with healthcare professionals of all kinds on a day-to-day basis: athletic trainers, sports doctors, naturopaths, and nutritionists. Their commitment to ensuring health and safety has informed and encouraged my passions and interests for working within communities and more specifically, with athletes. I have started working on a tool specific to student-athletes, which is a program engineered toward relating sports nutrition education to intuitive eating. I hope to develop this tool and am excited to see its effects on the collegiate student-athlete population.