The Figure below provides an explanation of The Sustainable Innovation MBA's unique and clear focus. The horizontal axis in the figure represents stages in the organizational life cycle, starting with start-ups and new ventures, progressing through established businesses with clear strategies, and ending with mature (or even declining) businesses that require reinvention and transformation to survive and prosper.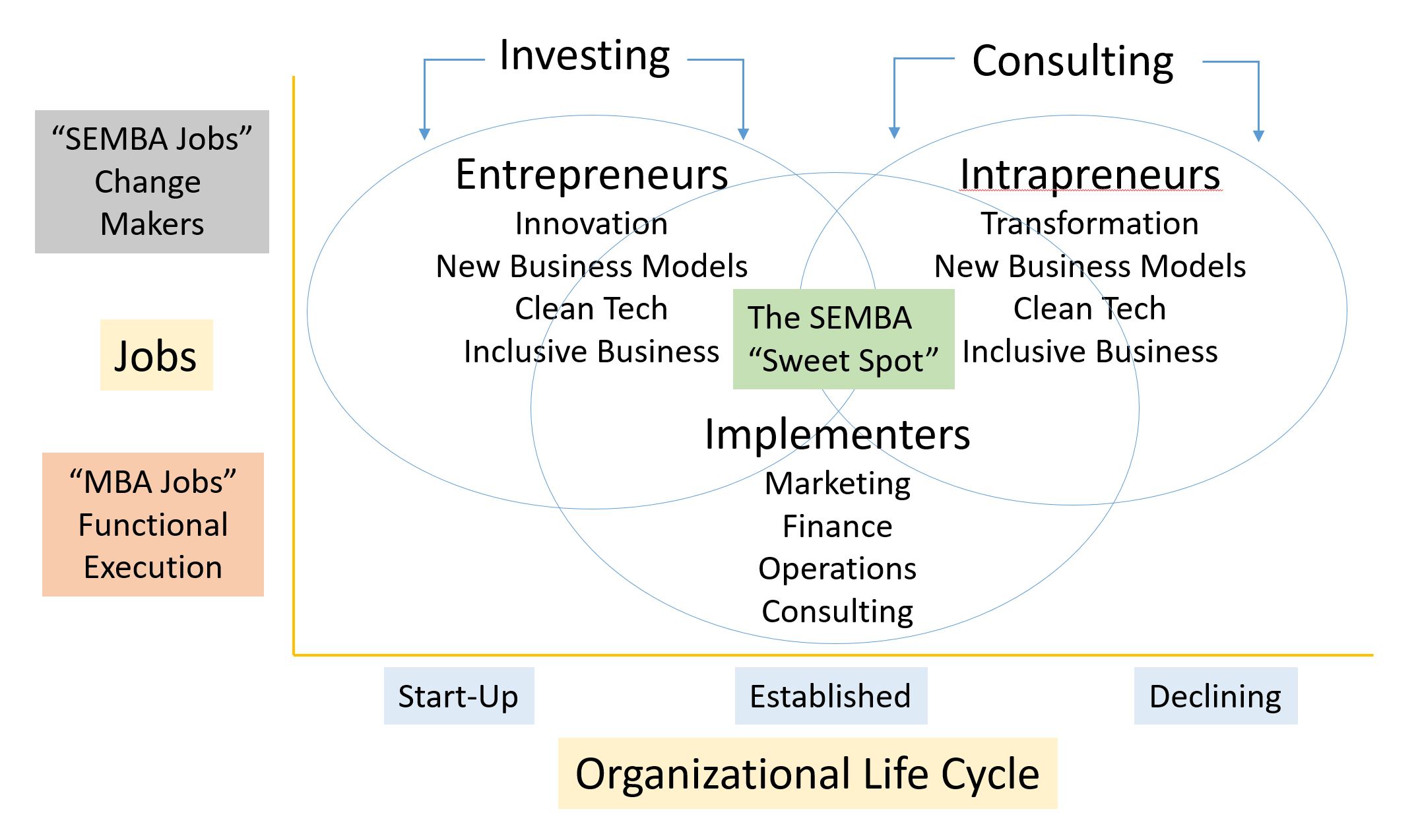 Traditional MBA Programs focus on training people for "executional" jobs in established firms—jobs in marketing, finance, operations, and consulting, for example (the lower part of the vertical axis in the figure). Large, established firms send recruiters to interview and hire MBAs into clearly defined jobs in brand management, investment banking, corporate finance, and consulting. This is where the "mass market" for jobs is located—with established firms looking for people with functional MBA skills to help them deliver and continuously improve current businesses. Now let us be clear: If working in these sorts of jobs is the goal of your MBA training, then Sustainable Innovation MBA is the wrong program for you!
The Sustainable Innovation MBA team works to build an unparalleled global network of partners and collaborators who can help us create the entrepreneurial initiatives and jobs of the future. We endeavor to create change agents rather than implementers (Sustainable Innovation MBA's focus is on the upper part of the Figure). Sustainable Innovation MBA therefore focuses on four primary domains for placing our graduates:
Intrapreneurs: Growing numbers of existing businesses and corporations have reached maturity or have even begun to decline. Many base businesses are built on yesterday's unsustainable thinking and technology. Many more fail to reach the majority of humanity in the emerging and growth markets in the developing world. Sustainable Innovation MBA builds the business skills to both incubate new, disruptive or leapfrog businesses within existing corporations, and to help lead the process of corporate transformation for those companies seeking to fundamentally transform themselves to meet the challenges of the 21st century.
Consultants: Increasingly, the world of consulting is turning its attention to innovation, disruption, and corporate transformation rather than simply the continuous improvement of existing businesses and strategies. Our graduates are well suited to the emerging consulting practices focused on sustainability-driven innovation.
Entrepreneurs: We target new ventures and start-ups that focus on tomorrow's environmentally sustainable technology and socially inclusive business models. Our graduates are perfectly suited to help imagine, craft, and build such ventures. Some may—and already have—started their own.
Investors: Increasingly, the world of finance is turning its attention to "impact," "social," and "sustainable" investing. Sustainable Innovation MBA develops graduates who are well suited to understanding how to invest in and build new ventures that generate triple bottom line returns—socially, environmentally, and financially.
The Sustainable Innovation MBA Program's Advisory Board comprising local and global leaders in sustainable business, Council of Mentors, Entrepreneurs in Residence, and Practicum Projects provide the vehicles that create the opportunities of tomorrow for our graduates.