Joseph E. Carrigan Wing - Completed Project
Schedule: Completed January 2006
Project Manager: Kenneth Bean
Project Architect: John Anderson Studio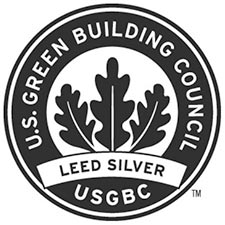 The Joseph E. Carrigan Wing project represents the culmination of a collaborative and integrated design process to create a sustainable, efficient and inspiring space. The process resulted in a thoughtful response to the existing site, healthy indoor environment, resourceful use of materials, and an optimization of energy efficiency for both the new addition and existing building.
The project consists of an addition to the existing Marsh Life Science Building and provided space for the Food Science program faculty in the Department of Nutrition and Food Sciences. This addition is the first phase of the long-range plan to co-locate Food Science and the Nutrition faculty programs. The research space was designed to meet the special requirements of food scientists including washable and sealed surfaces, live steam and electrical power to specific equipment stations, walk in refrigerator, fume hoods in the biochemical research labs, controlled access and appropriate ventilation of the space.
The Joseph E. Carrigan Wing has received a SILVER Level of Certification in Leadership in Energy and Environmental Design (LEED) established by the U.S. Green Building Council.