Voices from the Fall 2019, Advanced Agroecology Class, at the University of Vermont (UVM)- fourth delivery
Every fall, for the last 10 years or so, I have been learning with the Advanced Agroecology class, at the University of Vermont (UVM). The course seeks to engage students in a diversity of learning experiences, ranging from scientific reading to farm work. One new addition this semester was to ask students to write a blog on an agroecology topic. In the next few weeks we will be sharing selected blogs from the class, providing an opportunity to glean into the bright minds and opinions of the young people that engaged with agroecology this semester. In this last contribution, Brianna Arnold  engages the movement dimension of agroecology and discusses the Milk with Dignity initiative, in Vermont, which focuses on supporting farm worker rights in the dairy sector.  Enjoy !!
Ernesto Méndez, Professor of Agroecology and ALC Co-Director, Department of Plant and Soil Science and Environmental Program
Got Milk with Dignity? Local Program Demonstrates Importance of Agroecology as a Movement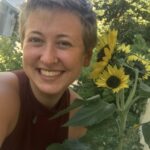 You may feel good about your dairy products coming from grass-fed, pasture-raised cows. But the cows don't milk themselves. For decades, migrant dairy workers in Vermont have been overlooked and ignored. Migrant Justice is working to get their voices heard.
A crowd of about 50 gathered in Leddy Park on Thursday, October 3rd to celebrate and expand Migrant Justice's Milk With Dignity (MD) – or Leche con Dignidad – campaign. Among those gathered were migrant dairy workers, dairy farmers, Migrant Justice employees, and supportive Vermonters and students. Several migrant workers, with the help of interpreters, praised the two-year old program for its accomplishments, including transitioning Ben & Jerry's entire supply chain to operate according to the MD code of conduct and cooperate with the Milk with Dignity Standards Council (MDSC). The speakers also reminded us there is still much work to be done, namely getting more buyers of dairy products to participate in the MD Program. With that goal in mind, on the second anniversary of Ben & Jerry joining the program, Milk with Dignity announced its new campaign for Hannaford to sign on, too. So far, Hannaford CEO Mike Vail has made no response.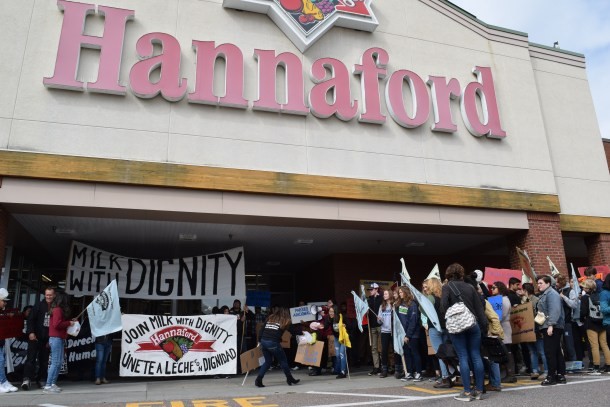 So, why is the MD Program necessary to begin with? Too many migrant dairy workers in Vermont are overworked, underpaid, and underserved. According to Migrant Justice's website, a survey of nearly 200 workers conducted in 2014 reveals that the average worker labors 60-80 hours per week and 40% of workers are not given any days off. 28% work for seven hours or more without having a break to eat and 15% are not afforded eight hours off work to sleep and rest. 40% of workers are paid less than Vermont's minimum wage of $10.78 per hour and 20% have their paychecks withheld illegally. Inappropriate and irresponsible housing conditions is another major issue for migrant workers; 15% live in overcrowded housing and 15% lack adequate heating. At the Milk with Dignity event on Thursday, farmworker Jose Luis Cordova Herrera explained that he used to share a room with 2-3 other men in a house that hardly had any space to cook, eat, or rest. Though he wished to express his concerns to his boss, he was afraid that if he spoke up he could lose his job. Now, supported by the MDSC, farmworkers like Herrera are able to advocate for themselves without fearing persecution.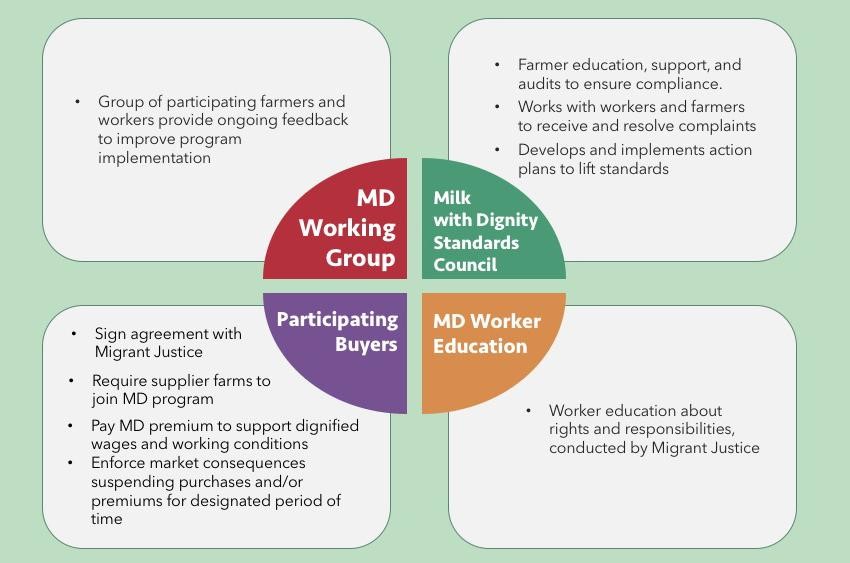 Unfortunately, the problems migrant workers face don't end at the farm's edge. In fact, for many, they get worse. Countless family members of farmworkers rarely or never leave their homes for fear of dealing with an unfamiliar world, failing to communicate effectively, and potentially getting detained or even deported. One woman I met recently told me that she never leaves her house, which, like many other migrant homes, is located right on the dairy farm. You can see the cows lined up in stalls from her kitchen window. Her husband does all the shopping and brings home groceries and any needed household items. Although this woman has lived in Vermont for nearly half a year, she's not familiar with any of the surrounding area, and she's not the only one. A friend of mine who visited a different migrant family's home said the mother knew nothing about Burlington and was unaware that the University of Vermont even existed. The isolation migrant workers and their families experience is tragic, especially in a state that prides itself on its inclusivity for people of diverse backgrounds.
Though I'm sure there are exceptions, I would not describe most large dairy farms in the US as agroecosystems. They often lack diversification, fail to prioritize workers' wellbeing, and are generally not all that sustainable. That being said, we can still use agroecological values to critically evaluate how such farms operate in order to locate opportunities for them to evolve. According to the CIDSE Principles of Agroecology, the socio-political movement dimension of agroecology encourages us to consider impacts of the production, processing, distribution, and consumption of food on both nature and society. It's not enough to analyze dairy farming practices from ecological or economic perspectives; we must also pay attention to and support the lives and livelihoods of those most directly involved in and impacted by the industry. By creating safe spaces to hold conversations about farmworkers' rights, advocating for improved worker livelihoods, and taking action within the migrant community and greater Vermont community, Migrant Justice is doing just that.