Foundational Program and Related Projects
Foundational Program: Advancing Trandisciplinary and Participatory Action Research (PAR) in Agroecology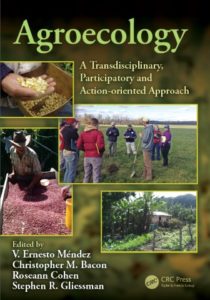 Lead: Ernesto Méndez
Description and Publications
This on-going endeavor seeks to critically examine and advance agroecology's evolution and application as a transdisciplinary and participatory action research (PAR) approach. Although the field has embraced a transdisciplinary and participatory focus since its inception, our efforts aim to more explicitly incorporate these perspectives into research and applications of agroecology. Since 2011, and with the help of close collaborators, the ALC has led a series of publications that bring together important voices supporting this approach, including:
Related Projects
Agroecological Risk and Resilience Tool for Mercy Corps Food Security Programming
Lead: V. Ernesto Méndez
Description and Publications
In this project we joined Mercy Corps to develop a 'screening tool' to support Mercy Corps staff evaluate the potential impacts of their project activities on smallholder farmer livelihoods and resilience through an agroecological lens.