Current Projects: New England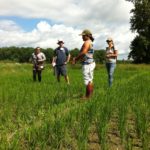 The Benefits and Challenges of Urban and Periurban Agroecology in Vermont and Cuba
Initiated in 2016 with interests in Vermont and Cuba, this participatory action research (PAR) project is partnering with Vermont organizations conducting agriculture in the urban or peri-urban fringe of Burlington, Vermont. These include Intervale Center, New Farms for New Americans, UVM Catamount Farm, and Vermont Community Garden Network. A seed grant from the Gund Institute for Ecological Economics is allowing us to undertake learning exchanges with urban and peri-urban agroecology counterparts in Havana, Cuba. Broadly, this initiative focuses on conducting a transdisciplinary agroecological analysis on the opportunities, challenges and resilience of urban and peri-urban agriculture for farmers, the organizations that support them and the cities where they are located.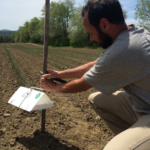 Leek Moth Monitoring and IPM Program
Vermont Entomology and Participatory Action Research Team (VEPART) – Vic Izzo and Scott Lewins
Leek moth (LM), Acrolepiopsis assectella, is a relatively new invasive pest currently expanding its range through Vermont. Endemic to Europe, invasive moth populations within North America can inflict significant damage to a diversity of allium crops including onions, leeks and garlic. Currently our research group, in collaboration with NY Cornell Cooperative Extension, is conducting a statewide monitoring program for this pest and testing different varieties of onions and exclusion treatments (i.e row covers) to protect onions from leek moth. We are also assessing the efficacy of entomopathogenic nematodes as a foliar biopesticide spray. This project is funded in part by The Vermont Agency of Agriculture and The Onion River Coop.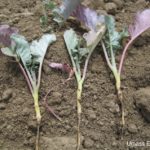 Entomopathogenic Nematodes for Pest Control in Northeastern Soils.
VEPART – Vic Izzo and Scott Lewins
In collaboration with the Shields Lab at Cornell University, our team is conducting a  project to determine the utility of entomopathogenic nematodes (EPNs) as biocontrol agents for insect pests. As part of this study we are currently working with diversified farms in Vermont in pest systems identified through our PAR process.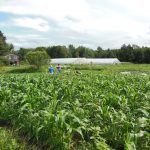 Vermont Agricultural Resilience in a Changing Climate
The Vermont Agricultural Resilience in a Changing Climate Initiative (VAR) is a collaborative research initiative which aims to help farmers in Vermont adapt to climate change and values stakeholder voices in directing the research goals. A key part of the initiative's approach is incorporating stakeholder input to ensure the research is relevant and responsive.  Participatory action research (PAR) is framework for doing research with academic and non-academic partners which explicitly places value on the input and reflections of each partner to inform an iterative process of discovery and change.  This process emphasizes that the results of research be valuable and applicable to the community.
The General Objectives of the VAR Initiative were:
To identify existing farming practices that contribute to climate change mitigation and/or adaptation;

To assess farmers' interest in pursuing farm management strategies under different climate change and policy scenarios;

To improve existing on-farm practices through agroecology, outreach and policy innovations; and

To provide decision support for policy makers and farmers through extension and outreach programs, print and online resources.