Current Projects: International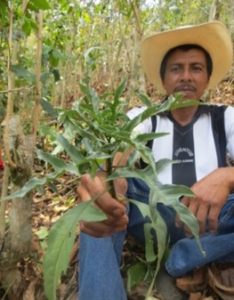 Thought for Food Initiative 
Our project proposes to generate scientific evidence and build capacity for strategic decisions around diversification strategies in smallholder coffee farms and cooperatives. The project team is comprised of members of coffee cooperatives in Mexico and Nicaragua, a grassroots NGO, and faculty and students from four universities (in the US, Nicaragua and Mexico).  Together, we will analyze how different diversification strategies affect food security, climate change resilience, livelihood performance and gender inequity at the household, community and regional scales, and how this in turn relates to the sustainability of coffee-based agrifood systems (Photo by Margarita Fernandez).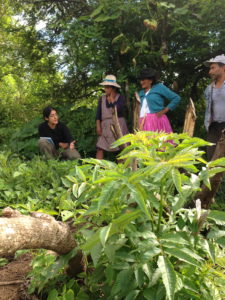 Farmer Research Networks
Our project investigates the early stages of formation of a Farmer Research Network (FRN), which builds on and advances existing farmer and social networks of organic peanut producers in the Chuquisaca region of Bolivia. Through a Participatory Action Research (PAR) lens we are helping to establish the FRN and evaluating how principles from agroecology, territoriality and social networks affect the potential for this FRN to scale-up and be self-sustaining.