2017 International Agroecology Shortcourse
The International Agroecology Shortcourse is designed for scholars, practitioners and anyone interested in learning more about agroecology, participatory research and whole-systems approaches to agriculture and food systems development. The course lasts 11 days and is hosted by partner organizations in the U.S. and Latin America, including the Community Agroecology Network (CAN), the University of California at Santa Cruz, The University of Vermont, Universidad Intercultural Maya de Quintana Roo and the Tropical Agriculture Research and Higher Education Center (CATIE), among others.
Register For Credit Register Non-Credit

BURLINGTON, VT, USA | JULY 31 – AUGUST 10, 2017

Detailed International Agroecology Shortcourse Packet 2017
Option for expanded course for credit: online component July 17- August 18, in-person session July 31- August 10, 2017. More information on registration here.
We are excited to announce the 18th Annual International Agroecology Shortcourse, which we are once again hosting at the University of Vermont. This year's theme is "Pathways to Resilience: An agroecological approach".  Join international participants and instructors with a diversity of backgrounds and expertise to explore agroecology, from foundational theory to new frontiers in the field.  This informative and inspirational course has been running for decades, and provides an innovative space to learn, share and network for anyone involved or interested in the field of agroecology, as a science, practice and social movement. The course is hosted by the Agroecology and Livelihoods Collaborative (ALC) at the University of Vermont, in partnership with the Community Agroecology Network (CAN). There are two options to take the course:
Non-credit training course: A 10 day face to face experience at the University of Vermont. Final fees still to be determined but usually around $2,000 all included (tuition, accommodations, meals and materials). This does not cover travel costs. Dates: July 31-August 10.
A UVM 4-credit graduate/upper division summer course1. For this year only, the course can be used as the first required course of our new Certificate of Graduate Study in Agroecology2, which will be officially launched later this summer. Dates: July 17-30 online; July 31-August 10, face to face at the University of Vermont. For more information on registration for credit click here.
Classes and field activities will be held at the University of Vermont, situated in the heart of the Champlain Valley offering participants a unique opportunity to experience Vermont's vibrant, local food and agriculture systems.



The ALC, formerly called the Agroecology and Rural Livelihoods Group (ARLG), at the University of Vermont, has hosted two previous International Agroecology Shortcourses. The 2017 course represents the initiation of a new cycle of annual shortcourses in Vermont that will be associated with the Certificate of Graduate Study in Agroecology at UVM, which is pending final approval.
Past Courses at UVM
Agroecological Approaches for Climate Change and Food Systems Resilience – 2013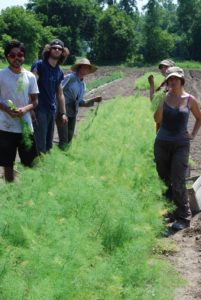 What is agriculture's role in contributing to climate change? What are opportunities within agriculture to mitigate or adapt to a changing climate? When we talk about agriculture, do we mean smallholder farmers, industrial agriculture or both? The theme of the 14th Annual International Agroecology Shortcourse was the application of agroecological approaches to support resilience to climate change and promote robust, sustainable food systems. Course participants from several countries and multiple US states came together to learn about agroecology and its role in transforming global food systems toward sustainability. Five farms in the Burlington area were our "laboratories" for exploring the resilience of our food systems to multiple pressures and changes, especially climate change. Together with these farmers, participants explored agroecology as a multidimensional endeavor characterized by participatory, transdisciplinary, and action-oriented approaches. Co-sponsors of the 2013 shortcourse included: the Community Agroecology Network, several University of Vermont entities, including: the College of Agricultural and Life Sciences (CALS), Center for Sustainable Agriculture (CSA), UVM Extension and the Food System Spire, Continuing Education, the Gund Institute, Environmental Studies Program, Department of Plant and Soil Science (PSS), and support from the Lintilhac Foundation.
Participatory Action Research in Agroecology to Support Sustainable Foods Systems – 2009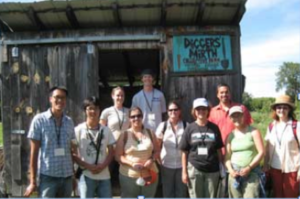 The 10th annual course had a special focus on conceptualizing and applying participatory action research (PAR) approaches in agroecology to develop more sustainable food systems. In addition to providing a solid introduction to the field of agroecology, the course presented a critical overview of participatory approaches and methods, illustrated with long-term, ongoing CPAR processes in the U.S. and Latin America. Through the course, participants discussed the theoretical concepts behind current global food issues while local sustainable farmers and food activists shared with us their regional programs for change. Experiences and options for developing sustainable production practices, strengthening the local food movement, ensuring food security, sovereignty and justice, connecting urban-rural foodsheds, supporting innovative action-education programs, and monitoring the sustainability of local food systems in the face of globalizing pressures, were all presented during the intensive two-week course. Co-sponsors of the 2009 shortcourse included: The University of Vermont's (UVM) Plant & Soil Science Dept., Environmental Program, Center for Sustainable Agriculture, CUPS office, Continuing Education University of California, Santa Cruz's (UCSC) Program in Community and Agroecology (PICA), Community Agroecology Network (CAN), Heifer International