Introduction to Agroecology Has Begun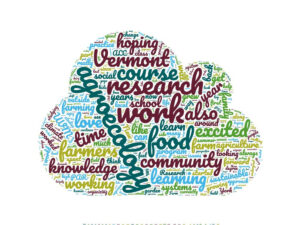 Spring has finally sprung in Vermont and the first course of the Certificate of Graduate Study in Agroecology is underway! Thirteen students started
the course,
PSS 311:
Introduction to Agroecology
,
 last Monday , bringing with them a multiplicity of perspectives from around the world. This session's participants  hail from Ecuador and El Salvador; New York, New Jersey, Boston, and Rhode Island; Ohio, Wisconsin, Mississippi, and the UK. And, of course, Vermont. For the first three weeks of the class, students will study in their home foodsheds, participating online and establishing a strong basis of knowledge in agroecology as science, movement, and practice. In June, they will gather in Vermont for a week spent sharing ideas in person and experiencing agroecology in action
. They will visit, work and share with 4 of the ALC's partner farms: Catamount Educational Farm, Diggers Mirth, Stony Pond Farm, Bread and Butter Farm, and The Farm Between.
 Some participants are in the middle of their graduate studies, while others bring years of experience on farms or working internationally for non-governmental organizations. We are incredibly humbled to get to share this summer with such a diverse group of agroecologists – stay tuned for more updates from the field!