School of Engineering (Mechanical Engineering)
Faculty Bios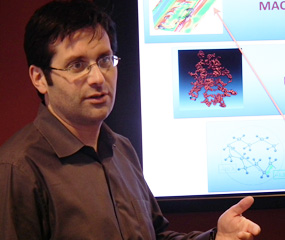 Yves Dubief, Ph.D.
Associate Professor
Eng. Diploma 1995 Institut National Polytechnique de Grenoble (France)
MSc 1996 Institut National Polytechnique de Grenoble
Ph.D. 2000 Institut National Polytechnique de Grenoble
Research Webpage:
Multiscale Mechanics and Computational Engineering
areas of expertise:
fluid dynamics, turbulence, scientific computing, multiscale modeling, physics and biophysics of complex fluids
Contact Information
Office:
Votey 201 C
Phone:
(802) 656-1930
Mailing address:
Department of Mechanical Engineering, 33 Colchester Ave, Burlington VT 05405
Email:
ydubief@uvm.edu
Office Hourssee current syllabus
Dr. Dubief moved to Vermont in 2005 from the Center for Turbulence Research (Stanford University) where he was a research associate working on drag reduction in turbulent flows by additioni of polymers . At UVM, Dr. Dubief has been developing and collaborating research programs in turbulence control by complex fluids, flow-surface interactions with application to erosion and ablation by turbulent flows, biophysics of blood coagulation under flow and lubrication in articular joints. Dr. Dubief is a fellow of the Vermont Advanced Computing Center. He contributes to the teaching of fluid-related and computing-related undergraduate and graduate courses.
Affiliations:
Vermont Advanced Computing Center, Material Science Graduate Program
Courses Currently Taught by Dubief
ME 003 - Intro to Robotics

Monday, Votey 105 6:40 - 7:30

ME 144 - Heat Transfer

Tuesday - Thursday, Lafayette 207 08:30 - 9:45
Publications
Last modified January 25 2018 01:03 PM