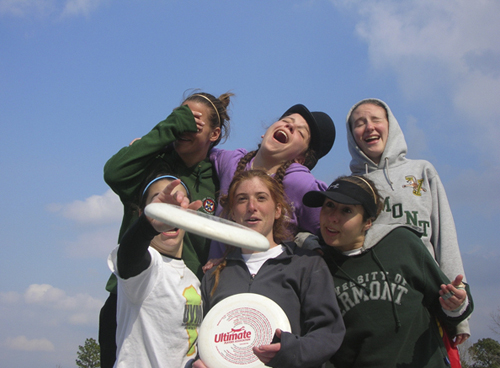 Welcome to UVM Womes Ultimate Frisbee! As the school year starts we encourage everyone who is interested in Ultimate Frisbee to come out and see what it is all about. You can meet the captains and other members of the team at the freshman picnic on Saturday August 27th or at the activities fair on September 5th. If you miss these opportunities to sign up to receive e-mails from our team feel free to e-mail us at wmnsfris@uvm.edu and we will put you on the list. You can also e-mail any questions to the same address. Our team is always growing and looking for new players both experienced and inexperienced. We look forward to seeing everyone out at practice!

-Ruckus

1/16
- This Monday (1/19 mlk day) there is practice from 1-3 at the Shelburne Field House. We'll meet @ Southwick at 12:30 and drive down as a team.
1/12
- Welcome to the spring semester!
9/11
- First Practice TODAY 4:30 REDSTONE GREEN!
9/9
- THIS Wednesday (9/10) from 10am-3pm is the activities fair come stop by the Ultimate table to see what we are all about!

- The first practice of the season will be THIS Thursday (9/11) from 4:30-6 pm on Redstone Green. Come out, meet some new people and play a little friz with us! If you have any questions feel free to shoot us an e-mail at wmnsfris@uvm.edu see ay out there.
3/15
- Spring Break 08: Savannah Georgia. After a long winter of being cooped up inside Ruckus traveled down to the dirty south where we participated in session one of High Tide. After three long glorious days of playing outside Ruckus managed to not only win all eight of their games but also made it to finals where after a well played game against Wesleyan pulled off second place in the tournament over all. This my dear friends is Ruckus history in the making. In the mean time Chill also made it to the finals and coincidentally won against Wesleyan to take home the high tide session I trophy making UVM Ultimate history once again.
3/9
-Spring Break 08: Salisbury Maryland. Getting to MD it was cold and rainy Ruckus played a mean first game in Huck of the Irish against Messiah winning 8-4 the remainder of the games were canceled for the day however due to horrible weather and all teams were forced to keep their existing seeding. Not good news for Ruckus. The following day Ruckus was forced into the consolation bracket. Nonetheless winning all three of our games that day keeping our undefeated record.
11/1
- Huck it till you GET SOME was an amazing success. Everyone got out there played hard and had an awesome time. Vermont A finished second in the tournament while Vermont B finished seventh
10/3
- Ruckus is hosting the first tournament on 10/27 & 10/28 UVM has seen in about a million years. Get involved.
9/30
- Ruckus participated in Unleashed and Untrained in Montreal on 29th & 30th. Who knows how we did but it was a damn good time.
9/24
- Ruckus competed in the West New England Women's' Sectionals in Quechee VT on the 22nd and 23rd. Ruckus tied Middlebury for 6th place just missing a bid to regionals.
9/11
- The practice schedule for fall seasons is posted
9/5
- The first practice of the season is this Thursday(9/6/07) 3:30 Redstone Green. Come join us, bring a friend, get pumped.
8/18
- The Spring season is just around the corner get yo game on
- Ruckus has a new web site!