Social Sustainability on the Farm
Social Sustainability on the Farm is a professional development project of the Vermont State SARE program. It is currently being offered as a series of field-based and webinar trainings and follow-up activities for University of Vermont Extension agriculture personnel and other agricultural service providers.
Improving quality of life is a central component of the missions of both Northeast SARE and the University of Vermont Extension. But what does "quality of life" mean, particularly to Vermont's farm families? Although it is generally agreed upon that social sustainability issues are important to address, they are often overlooked in educational programs. This project is, therefore, helping Extension agriculture personnel to better understand the "third dimension" or social sustainability issues individual farm families face, and integrate these issues into their work with farmers.
The general definition of social sustainability is the ability of a social system (in this case, a farm) to function at a defined level of social well-being indefinitely.
The project is addressing the following social sustainability topics: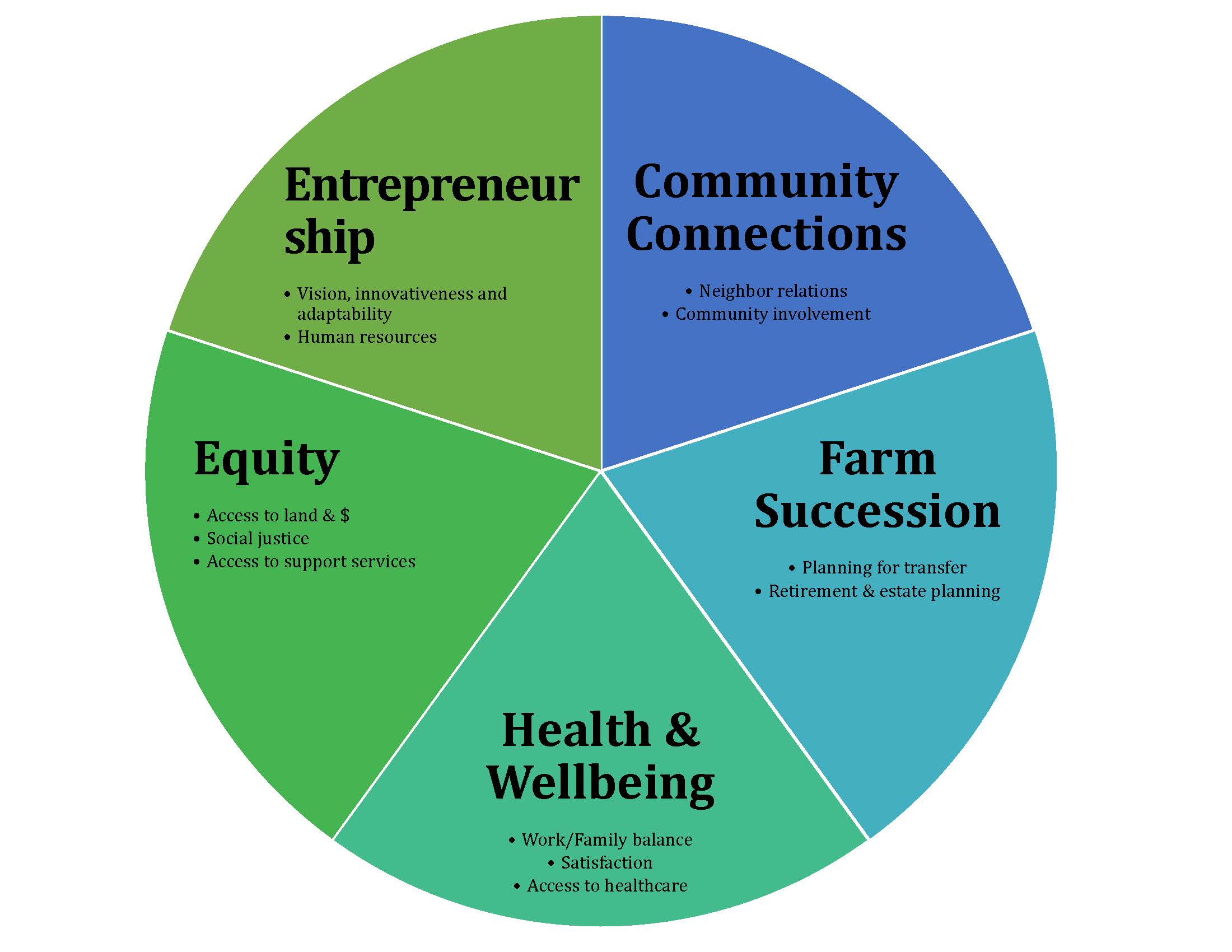 Project Documents and Learning Resources
2016 Trainings, Project Documents, and Learning Resources
Additional Project Resources and Documents
Trainings for Extension personnel and other agricultural service providers offered from 2012 to 2014 were structured as traditional professional development farm tours but with a twist – they included farmers as the training instructors, held discussions during and following farm visits, and expected participants to integrate lessons learned into their ongoing work. Over the course of the 3-year project, 101 Extension educators, ag service providers, and farmers participated in the trainings. Seventeen (17) University of Vermont Extension educators formed the core group of participants. In a follow-up survey of these core participants, all but one said they gained new knowledge regarding social issues that farm families face; 71% said they implemented changes in their work with farmers to include social sustainability topics as a result of what they learned. As a result, these efforts reached no fewer than 47 farmers; 27 farmers reported a better understanding of social issues and/or reported improvements of social issues on their farms, including increased communication with family members on management decisions; the inclusion of happiness and personal satisfaction as part of farm viability discussions; and the use of professional mediation for farm transitions.
2013 On-Farm Training (held in conjunction with the National Farm Viability Conference)
2012 On-Farm Training
Social Sustainability Indicator Study