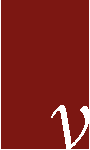 Journal Archive 1980 - 2010
The Vermont Connection (TVC) Student Affairs Journal Archive available here consists of listings of articles published from 1980 through 2010. Articles published in 1995 and thereafter are available for online viewing. If you authored an article prior to 1995 and would like to have your article available online, please email an electronic copy of your article to The Vermont Connection.
See The Vermont Connection for current issues.
Search the Journal Archive
[scroll down for results]
Loading
Last modified February 26 2015 05:34 PM