Mission Statement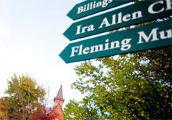 Visit Us!
Volunteers In Action
311N Davis Center
590 Davis Center
Burlington, VT 05405
tel: 802.656.0789
fax: 802.656.7719

Volunteers in Action (VIA) provides a vital link between the University of Vermont, Burlington communities, and beyond through service. VIA promotes awareness of social issues and works for positive change, strengthening the connection between learning and service. Through collective community action we learn, motivate, and inspire.
Volunteer Posting Policy
Volunteers in Action is a University of Vermont organization devoted to promoting service in all forms. We seek to provide opportunities to our volunteers that are as wide-ranging and diverse as they are. We believe that students should be informed of volunteer opportunities, and will post them as we receive them. As a service to our volunteers, we send a weekly digest of volunteer opportunities for individuals to our listserv. Many of the requests we receive are political in nature. While service is at the heart of civic involvement, neither Volunteers in Action nor the University of Vermont are political organizations, nor do they endorse any one political party, cause or organization. If your group or organization is looking for student volunteers, they can be sent via email to service@uvm.edu
For more Burlington area volunteer opportunities, consult the United Way of Chittenden County.
Last modified September 12 2010 03:14 PM