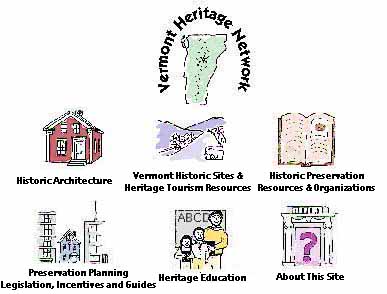 ---
What is Historic Preservation?
Why is it Important to Vermont?
---
By definition, historic preservation is the thoughtful management of buildings, sites, structures, objects and landscape. To some, preservation is a tool for economic development. To others, preservation is a mechanism to maintain a community's individual identity and personality. In Vermont, preservation and downtown revitalization help reduce suburban sprawl into the countryside, keeping our unique landscape intact. Whether an archeological site, an urban storefront, a textile mill, a farm complex, or the cluster of homes around a village green, our historic resources enable us to make sense of our past, which in turn help us understand our present, and ultimately guide us in wise planning for our future.
The mission of the Vermont Heritage Network (VHN) is to stimulate awareness and appreciation of Vermont's cultural heritage and built environment. This site has been designed in the fall of 1996 by the University of Vermont Historic Preservation Program as a working framework of information for residents, tourists, teachers and students. Here you will find information relating to Historic Architecture, Preservation Planning, Heritage Tourism, Heritage Education and Historic Preservation Resources. If you have something you'd like to contribute, please contact us at the address below. The site will be maintained by future graduate students in the program.
Historic Architecture | Heritage Tourism | Historic Preservation Resources
Preservation Planning | Heritage Education | About This Site

---

Vermont Heritage Network
Historic Preservation Program
Wheeler House, University of Vermont
Burlington, VT 05405
(802)656-3180
http://www.uvm.edu/~vhnet
E-mail To: vhnet@zoo.uvm.edu