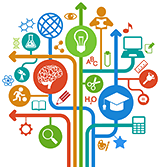 All UVM students performing research or creative projects under the mentorship of a UVM faculty member are encouraged to participate in the UVM Student Research Conference held every year in April. Research and creative projects at any stage of completion are welcome.
Our 2016 Student Research Conference was held on Thursday, April 28, at the Davis Center.
To see a listing of student presenters and their abstracts, go to the 2016 SRC Participants and Schedule.
Story & Photos
If you missed the conference, check out "Student Research, Creativity, Innovation on Display at Annual Conference" by Amanda Waite.
---
Our Sponsors
The UVM Student Research Conference is sponsored by the Graduate College, the Honors College, and the Office of the Vice President for Research.
Thank you to our 2016 co-sponsors:
Center for Teaching and Learning
College of Agriculture and Life Sciences
College of Arts and Sciences
College of Education and Social Services
College of Engineering and Mathematical Sciences
College of Medicine
College of Nursing and Health Sciences
Graduate Student Senate
Grossman School of Business
Humanities Center

Office of Undergraduate Research
Rubenstein School of Environment and Natural Resources
Student Government Association
Transportation Research Center
UVM Libraries
UVM Print & Mail Center
Vermont Advanced Computing Core
Vermont Complex Systems Center
Vermont EPSCoR
Be an SRC Sponsor!
Find out how you can support the SRC by contacting Dan Harvey at: Dan.Harvey@uvm.edu
Last modified May 03 2016 11:29 AM