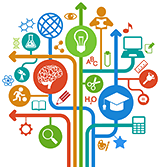 Our 2015 Student Research Conference was held on Tuesday, April 23, at the Davis Center.
For information about our wonderful student presenters, please see the Event Schedule, below.
All UVM students performing research or creative projects under the mentorship of a UVM faculty member are encouraged to participate
Registration for the next conference will open in February 2016.

Instagram Contest Winners!
INSTAGRAMS tagged #uvmresearch
This year we held a contest for our students' best Instagram photos — tagged #uvmresearch — of their research, scholarship or creative work. Congratulations to the winners:
undergraduates: Angela deBettencourt, Kathryn Meader and Hailey Ronconi (Honorable Mention)
graduate students: Andy Reagan and Sam Lagor (Honorable Mention)
Event Schedule
Our Sponsors
The UVM Student Research Conference is sponsored by the Graduate College, the Honors College, and the Office of the Vice President for Research.
Thank you to our 2015 co-sponsors:
Center for Teaching and Learning
College of Agriculture and Life Sciences
College of Arts and Sciences
College of Education and Social Services
College of Engineering and Mathematical Sciences
College of Medicine
College of Nursing and Health Sciences
Graduate Student Senate
Office of Undergraduate Research

Rubenstein School of Environment and Natural Resources
School of Business Administration
Student Government Association
Transportation Research Center
UVM Libraries
UVM Print & Mail Center
Vermont Advanced Computing Core
Vermont Complex Systems Center
Vermont EPSCoR
Last modified April 26 2015 06:21 PM