Welcome to the UVM Ecological Design Collaboratory!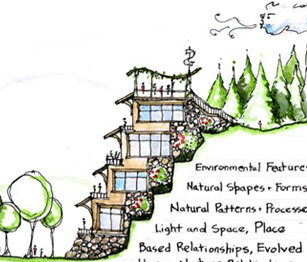 Biophilic design detail, Liz Calabrese
The Ecological Design Collaboratory is an initiative at GreenHouse Residential Learning Community, jointly funded by the Henry David Thoreau Foundation and the Rubenstein School of Environment & Natural Resources at the University of Vermont.
At the heart of this initiative is the goal of providing several hundred undergraduates from a diversity of majors with an introduction to place-based ecological design and opportunities to practice the hands-on skills needed to bring their projects to fruition.
Through mentorship by UVM faculty members, upper-level students, and our community partners, students will acquire the skills needed to design projects and initiatives that feature the local resources—both natural and cultural—of Burlington and the Lake Champlain Basin.
CATALYZING ECOLOGICAL DESIGN @ SEABA
Friday Talks and Community Design Charrette
The Ecological Design Collaboratory and Vermont Design Institute have organized three events at SEABA during the month of November.
Where:

South End Arts and Business Association (SEABA)
404 Pine Street, Burlington, VT
www.seaba.com
For more information, please contact SEABA at 802-859-9222
or email
info@seaba.com
Events:
Friday, Nov 7, 2014 (5-8pm) Opening reception for:
The Third Landscape Art Exhibit
Third Landscape is "a refuge for diversity comprising leftover and transitional spaces, underdeveloped spaces, and spaces set aside by administrative decree. It constitutes an undetermined fragment of the Planetary Garden," from Manifeste du Tiers Paysage by Gilles Clement.
www.gillesclement.com/art-454-tit-The-Third-Landscape
Participating artists and designers:
Kaylynn Sullivan TwoTrees, Cristina Pellechio, Annemie Curlin, Alyssa Oxley, Janet Fredericks, John Anderson, Diane Gayer, Peter Fried, Jane Ann Kantor, Patricia Johanson, Ken Mills.
LIVING PLACE Ecological Design Competition
This place-based design competition was focused on creating innovative and buildable solutions to the dynamic intersection of water, food, and people. This is an exhibit of the competition panels from February 2014 including the winners and examples from all three sites—Burlington High School, a corner of the Burlington Waterfront, and an inner courtyard at University Heights South (residence hall), University of Vermont.
Friday, Nov 14, 2014 (5-8pm)
Place-based Ecological Literacy and Design
Presentation by UVM Naturalist Walter Poleman
www.uvm.edu/place/burlingtongeographic
www.uvm.edu/~uvmedc
Pine Street Corridor and Watershed Design Charrette
This two-day workshop builds from the "Pine Street and Beyond: Living Spaces, Working Places" March 2001 Charrette, and uses a Sim Van der Ryn quote to set the stage for this next iteration "Ecological design begins with the intimate knowledge of a particular place. Therefore, it is small-scale and direct, responsive to both local conditions and local people. If we are sensitive to the nuances of place, we can inhabit without destroying."
This is OPEN to all, but please REGISTER for the weekend Design Charrette by contacting Diane Gayer: vtdesign@sover.net or 802-355-2150
www.vermontdesigninstitute.org
Friday, Nov 21, 2014 (5-8pm)
Ecological Design In the Urban Environment: Recent Projects talk by Biologist Dr. John Todd of Ocean Arks International. www.oceanarksint.org ; www.toddecological.com

Announcing the Winners of the LivingPlace Design Competition!

With over 200 participants and 52 entries submitted to the LivingPlace Design Competition, the top three finalists were announced at the showcase event at Main Street Landing on February 22nd! Click here to see the LivingPlace Design competition winning submissions.
Read more about the background and conceptual design of the competition in this recent article published by University of Vermont: "Students Create International Design Competition, Rebrand a Learning Community."
Visit the Ecological Design Collaboratory
The Ecological Design Collaboratory, located in the GreenHouse Residential Learning Community, is open for visits to look in to the workshop space in Room 9. Currently, there is an art installation featuring prints on display from Davis Te Selle and from students from Susan Bray's Environmental Art course.
If you would like to visit the Ecological Design Collaboratory, please contact Walter Poleman.