Blackboard Jungle 12 Symposium
The Blackboard Jungle 12 Symposium is designed to support UVM faculty, staff, and all others seeking to develop skills, knowledge, and a deeper understanding of diversity that supports excellence in teaching, service, and research. The symposium sessions are dedicated to creating "open spaces" where all members of our community can participate in authentic dialogue, valued reflection, and expanded learning to promote inclusive excellence for all.
Read more about the history of Blackboard Jungle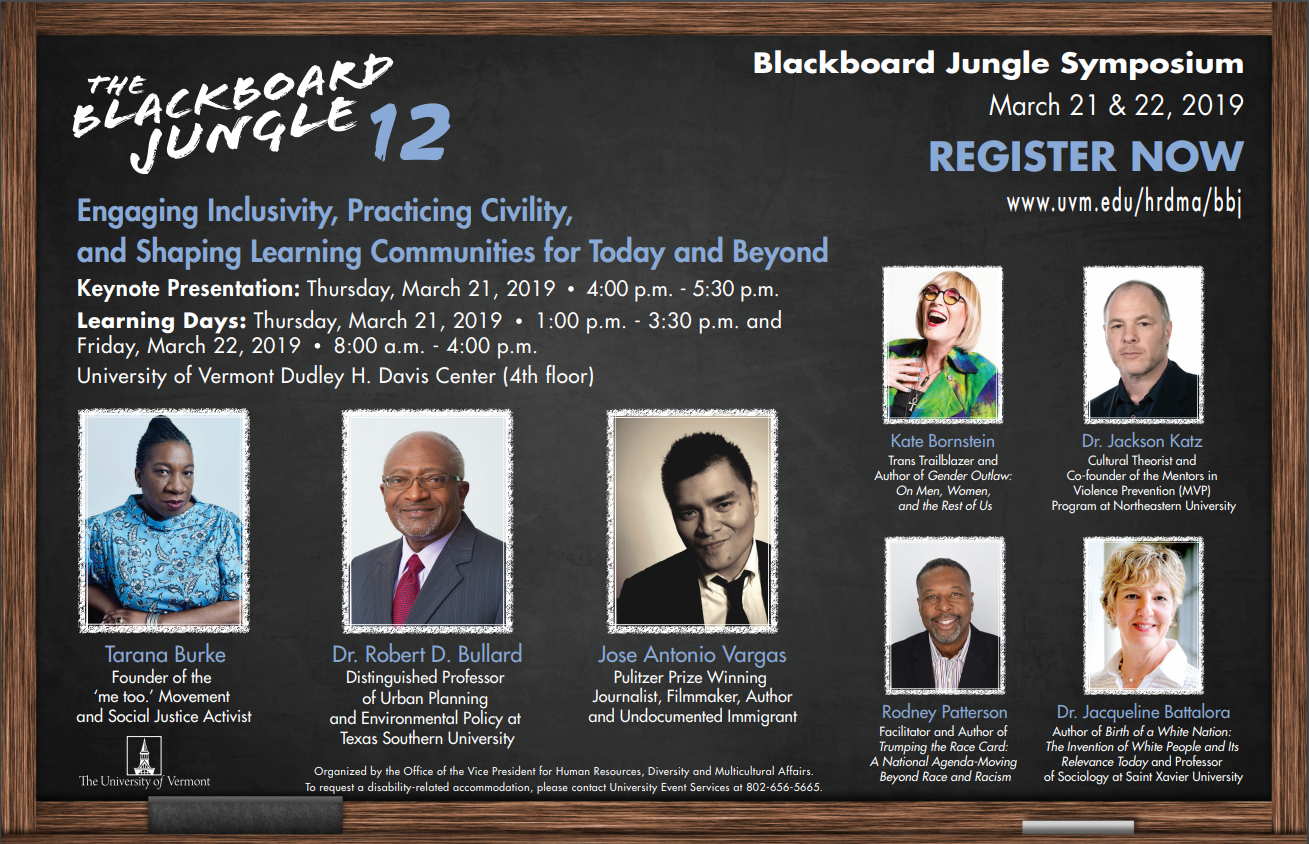 Contributors
Dr. Judith Aiken, Dr. Jacqueline Battalora, Dr. Cynthia Belliveau, Kate Bornstein, Dr. Pablo Bose, Dr. Robert D. Bullard, Tarana Burke, Lauren Cartwright, Richard Cate, Center for Cultural Pluralism, Fieh Chan, Brit Chase, College of Agriculture and Life Sciences, College of Arts and Sciences, College of Education and Social Services, College of Engineering and Mathematical Sciences, College of Nursing and Health Sciences, Continuing & Distance Education, Jennifer Morton-Dow, Vanessa D. Santos Eugenio, Dr. Alec Ewald, Dr. A. Evan Eyler, Dr. William Falls, Dr. Cynthia Forehand, Dr. Kathy Fox, Amber Fulcher, Diane Gaboriault, Dr. Wanda Heading-Grant, Grossman School of Business, Dr. Jason C. Garvey, Dr. John Gennari, Graduate College, Christine Hallquist, Dr. Susanmarie Harrington, Honors College, Christa Hagan-Howe, Dr. Carol Irons, Dr. David Jenemann, Meryl St. John, Yolanda Jordan, Dr. Jackson Katz, Benjamin Kennedy, Larner College of Medicine, Libraries and Learning Resources, Dr. Winnie Looby, Krista Malaney, Dr. Nancy Mathews, Dr. Bree Mathon, Alan Maynard, Michael McDonald, Carol McGranaghan, Sharon Mone, Kiah Morris, Dr. Deb Noel, Office of the Vice President for Human Resources, Diversity and Multicultural Affairs, Dr. Richard L. Page, Dr. Cathy Paris, Rodney Patterson, Dr. Holly Buckland Parker, Dr. David Parrott, Dr. John S. Pirone, Joanne Pencak, Tabitha Pohl-Moore, Dr. Patricia Prelock, President Tom Sullivan, Beverly Little Thunder, Provost's Office, Provost and Sr. VP Dr. David Rosowsky, Kesha Ram, Gregory Ramos, Dr. Brian Reed, Dr. Cynthia Reyes, Jeane Robles, Rubenstein School of Environment and Natural Resources, Mara Saule, Dr. Linda Schadler, Joel Shapiro, Dr. Sanjay Sharma, Dr. Katie Shepherd, Keith Smith, Dr. Lance Smith, Dr. Sherwood Smith, Dr. Tiffanie Spencer, Dr. Annie Stevens, Dr. Allan Strong, Dr. Jesse Suter, Dr. Scott L. Thomas, Jose Antonio Vargas, Dr. Jim Vigoreaux, Dr. Thomas Vogelmann, Krista Walter, Marie Waterworth, Benjamin Wimett, Dr. C. J. Woods, Paul Yoon.
Last Modified: