Located on a gentle bluff overlooking the northwestern bay of Lake Winnipesaukee and surrounded by foothills of the White Mountains, Center Harbor village gained distinction as a fashionable summer resort destination in central New Hampshire during the 1800s.
Boasting several grand seasonal hotels during this period, the most prominent was the majestic Colonial Hotel that offered sweeping views of the lake and mountains. As had so many other large wooden resort hotels of the era, this local landmark was destroyed by fire in the early 20th century, leaving a discomforting gap in the village's streetscape and as well as its memory landscape. Yet despite this tragic loss that was thereafter rarely mentioned, the village continued to serve as a destination for summer visitors from East Coast urban areas, especially as automobile travel became increasingly popular during the mid-twentieth century.
It was then that I first became acquainted with Center Harbor, when in 1957 my family moved to a small white cape about a mile east of the village. Although the house was actually located over the town line in Moultonboro (as it was then modernly spelled without its formal "ugh" ending), both our mail and telephone addresses were listed as Center Harbor, and it was to this village that we identified most closely. To there we walked or drove for shopping, swimming, church and entertainment. Tempered now by over a half-century, these are some of my childhood memories of Center Harbor.
Surrounded by the Nichols Library, Nichols Variety Store, the Coe Mansion and E. M. Heath's store, the community hub of Center Harbor village was then up at the Square, located at the intersection of Main Street and Plymouth Street (Route 25B). Here in 1907, the Kona Fountain, a beautiful round granite horse-watering trough with a bronze naked Indian boy holding a flapping goose, had been installed in the center of the three intersecting streets.
On the north side of the Square, Nichols Variety Store housed the United States Post Office in its east wing until around 1959. There, as elsewhere in Center Harbor, a way of life from earlier decades seemed to linger with solemn grace. With her grey hair tied in a tight Victorian bun and standing tall in her laced, black high-heeled shoes and black-seamed stockings, Mrs. Minnie Nichols reigned sternly over her high-ceilinged store from behind its long marble soda fountain counter with brisk efficiency, while her short white-haired assistant, Miss Gilpatrick would be sure to share a few pleasantries with a sweet smile and a twinkle in her eyes.
It was here at Nichols Store that we enjoyed five-cent-a-scoop ice cream cones on hot Saturday afternoons and where we picked up the Boston Herald (for Dad) and the New York Times (for Mom) before Sunday services at the nearby Center Harbor Congregational Church. Although gasoline could be purchased from the red-and-white pumps by the front curb, rarely would such customers be seen.
RCA Victor radio tubes in all sizes and shapes were displayed in long racks in the back room at Nichols Store. As home radios were then still tube sets, including my grandfather's Hallicrafter shortwave radio on which we listened to Radio Nederland from Hilversum, Holland, I recall regular excursions with Gramp for replacement radio tubes. On one slow morning drive to Nichols Store, he even showed me how to steer the wheel of his 1948 Ford convertible.
North of Nichols Store on Plymouth Street stood the flat-roofed, four-story Garnet Inn. This white clapboarded hotel was connected to the earlier gable-roofed section of the inn by a long wooden veranda that would be lined with wooden rocking chairs. During the late 1950s, the Garnet Inn served as a summer home for many musicians with the New Hampshire Music Festival. In the 1960s it became a dormitory for Belknap College, a short-lived school said to be popular with some avoiding the Vietnam War draft. Sadly, both sections of the Garnet Inn were demolished in the 1990s, leaving another discomforting gap in the streetscape and memory landscape of Center Harbor village.
Across from the Kona Fountain on the south side of the Square, E. M. Heath's store ("Dealer in Most Everything") had groceries shelved in open aisles with squeaky oiled wooden floors sprinkled with sawdust. Everett Heath did his own butchering in the small room behind the meat counter wearing a white shirt and dark tie, a long white apron and thick black leather gauntlets on his arms. In rooms to the rear and side, he also stocked hardware, Benjamin Moore paints, Lee dungarees and plaid flannel work shirts. Freeman Brooks (better known as "Brooksie") ran a small barber shop upstairs above Everett Heath's store during the summer months. Perhaps best known for his style and his humor, Brooksie would finish off our "whiffles" by flipping up our hair in front with his comb and running a stick of wax across the tines to hold it in place.
West of E.M. Heath's store was a sloping hayfield on what had been the site of the Colonial Hotel. Opposite this on the north side of the old main street that led to Meredith and to Garnet Hill Road was a broad space between the Nichols Library and the Center Harbor Congregational Church. This sandy area in front of the white wooden firehouse of the Center Harbor Fire Department served as a gathering area for many public events, including the cuing up of participants in the annual Memorial Day and Fourth-of-July parades.
On the west side of this space by the firehouse stood the Center Harbor bandstand. Shaded by tall American elm trees, this eight-sided white wooden bandstand was raised above the ground to provide a space for storing the musicians' folding wooden chairs beneath. Its deck was surrounded by an open railing with posts at the eight corners fitted with bare light bulbs. During July and August, the Center Harbor Band offered weekly free outdoor evening concerts here.
Founded in 1878, the town band had its own one-room "concert hall" hidden in the woods off Plymouth Street behind the Center Harbor Grange Hall. Here in this derelict building amidst a jumble of nineteenth-century dark navy woolen band uniforms, moth-eaten hats, banners, tattered sheet music, rickety wooden chairs, a cast iron potbelly woodstove and a big bass drum, the Center Harbor Band held its annual one-evening rehearsal before the start of the summer concert season.
Band stalwarts included conductor, Charlie Bickford, who led with a battered baton, and Mr. Almon Bushnell on the alto horn, an octogenarian who taught music lessons and recruited many into the band. These included my brother, Charles, who played the trombone, and me on an ancient silver-plated E-flat tuba. Perhaps in anticipation of the band's needs, Mr. Bushnell had taught me how to play a tuba while I was in the sixth grade. After I had learned to sight-read the bass-clef music and to finger the instrument's valves correctly, Mr. Bushnell made arrangements with the heirs of a deceased long-time Center Harbor Band member, Ralph Dodge, to sell me his old tuba. These two women, known to us as the "Dodge sisters," were regularly among the first arrivals at the summer band concerts; and from their smiles and little waves, I knew it gave them great comfort to hear Ralph's tuba being played again. But there was apparently something quirky about the pitch of the old silver-plated tuba, so as soon as I started high school, I was encouraged to switch to a large "double B-flat" fiberglass sousaphone.
Leading the brass section of the Center Harbor Band by carrying tunes for all to hear was the lead trumpeter we called Clyde. A kind and careful man, Clyde never spoke above a whisper. Another devoted band member was saxophone player Mossy Smith, who would drape his smoldering half-chewed cigars over the edge of his tattered instrument case while he played some wheezy notes as the pungent smoke helped repel the mosquitoes. Before each concert was over, someone in the brass section would be sure to crack a joke aimed to get Mossy to break into his odd, braying laugh. This would prompt a broad chorus of giggles, snickers and laughs in response, which in turn would get Mossy and everyone else to laugh even harder!
The Center Harbor Band's repertoire consisted mainly of marches by John Philip Sousa and E. E. Bagley, interspersed with turn-of-the-century overtures and twenties hits, plus a few popular Broadway show tunes. Favorites were the Washington Post march, Corinthian Overture, Tiger Rag, Moon River and Everything's Coming Up Roses. The audience, who mostly sat in the comfort of their automobiles to avoid the bugs, applauded by tooting their car horns after each number.
An especially memorable event was the 1966 Fourth-of-July celebration, which coincided with the fiftieth anniversary of the Center Harbor Fire Department. This provided a fitting opportunity for the town's fire trucks to be joined in a grand parade with a fleet of vintage and contemporary fire trucks from surrounding communities. The celebrations were topped off with an afternoon concert by the Center Harbor Band, performing on the old bandstand between the fire station and the Congregational Church.
The Center Harbor Congregational Church stood beyond the small field west of the bandstand. Its white clapboarded walls and steeple marked a symbolic edge to the village. As a child, my memories of the church were most strongly imprinted with the characters of three people: Gertrude Martin, the ebullient organist whose musical flair brought a theatrical dimension to Sunday services; Reverend Wesley Burwell, the affable, but at times forgetful minister who seemed to rely on Gertrude Martin's prompts; and Mrs. Keith Matheson, whose strong contralto voice led the choir and congregation in fellowship song. But we also knew that Mrs. Matheson, who as the friendly head teller at the Meredith Village Savings Bank, maintained a watchful eye on our savings.
East of Center Harbor village's main intersection at the Square, a narrow street ran south down the hill beside E. M. Heath's store, crossing Route 25, then passing by a cluster of summer cottages and a long white public bathhouse to the Center Harbor town beach and docks at the shore of Lake Winnipesaukee. The gable-roofed bathhouse had an open porch in front of a row of about a half dozen changing rooms with green, ill-fitting doors. Inside, these dark dingy rooms had smelly wooden floors and tongue-and-groove board partitions decorated with rude carvings, words and initials. We were frequently warned to not step on the dirty floors with our bare feet. The end rooms of the bathhouse had one-holed privies.
From the narrow town beach next to the bathhouse, one could swim out to a wooden raft supported by steel barrels. A few large rocks in deep water provided convenient waist-level perches. It was here that we learned to swim. Accompanied by my mother and brother, we walked the mile from our home on Lake Shore Drive to the Center Harbor beach several times a week for summer swimming lessons. Often we pulled along our two matching red Radio Flyer wagons filled with beach towels, swimming suits and lunches.
One very hot afternoon, Randy and Jimmy Huston's cheerful mother gave us all a ride to the Center Harbor beach in her 1937 Plymouth four-door sedan. We loved her big green car with its separate headlights that looked like strange melon eyes and its hump-backed trunk. When we parked at the beach, we placed our crayons on the shelf behind the rear seat. But on our return from swimming, we were dismayed to find that all the crayons had melted into the "mole fur" upholstery making a colorful sticky soup of wax that became a permanent feature of the car's decor.
In front of the Center Harbor beach, a few small wooden piers provided berths for local and visiting boats. At the left was an open wooden pavilion with benches. Here, passengers and onlookers could sit in the shade while waiting for the arrival of the 205-foot M.V. Mount Washington that docked at the main long wooden pier daily at 9:45 AM and 2:45 PM through the summer months.
With a long blast from its loud horn, The Mount would enter Center Harbor Bay through the distant narrows by Mile Island. Within minutes the large white ship would approach the dock. Slowed by a mighty surge of its reversed propellers, deckhands tossed monkey-fisted heaving lines ashore and the ship's gunwale would screech against the wooden pilings as heavy manila ropes were wrestled in place on the huge docking cleats. Meanwhile, teenagers dove for coins tossed into the water by passengers from decks high above. If successful, the divers would surface, yell, and wave their catches before slipping the silver treasures inside the cheeks which soon bulged like squirrels, a practice that our parents sternly warned us never to do.
After disgorging each crowd of summer people, a sharp toot of The Mount's horn would announce its departure. The gangplank would be heaved back onto the splintery dock with a slap, and with a rush of swirling water, the ship would swing its stern out and to the left, pause a moment, and then surge ahead to resume its seventy-two mile excursion around Lake Winnipesaukee.
Center Harbor was the off-season berth of The Mount, along with the smaller mail boat Sophie C, and later the Doris E excursion boat. Each spring after the ice melted, The Mount was pulled from the water for painting the hull and other maintenance on a large steel cradle behind the ship company's long wooden maintenance shed near Don Carr's house. From his oil-stained grey shirt and grey pants, it was easy to remember that Don Carr served as the chief engineer on the The Mount.
In the early 1950s a section of Route 25, one of the main automobile and truck routes connecting the Boston area with New Hampshire's White Mountains, had been expanded into a wide paved highway, by-passing a mile-long, elm-shaded stretch of a narrow old road that ran east of Center Harbor village toward Moultonboro. The old "Shore Road", re-named Lake Shore Drive (and later known just by its initials in the Belknap College years), started at a six-way intersection east of the village at the Center Harbor–Moultonboro town line. Here, Route 25 was met by Main Street that connected to the village square and Bean Road that came down from Center Sandwich. Nestled in the shade beneath tall elm trees at the northeast corner of Bean Road and Route 25 was Winn's Lodge, a summer guest house. Opposite Bean Road on the south side of the six-way intersection was a small dirt road that led down to some boathouses on the lake and to a narrow path that wound around by Don Carr's house and The Mount's cradle to the beach. We often followed this route by the cradle as it was a convenient shortcut that avoided the need to hike next to Route 25, but we also learned to watch out for snakes along the grassy path.
At the southeast corner of the intersection of Route 25 and Lake Shore Drive just over the town line in Moultonboro stood the two-story gable-front building converted to house the Center Harbor Post Office around 1959. Next to it was Fred Robbin's store, a dimly lit, low-slung roadside emporium where most bought fishing licenses and bait or beer and cigarettes. It was in front of Robbin's Store that while parked in the family car I overheard my father tell an acquaintance that Gramp had suffered a "shock" the night before and had been taken by ambulance to the hospital. I recall then wondering why my father had called it a shock? Was he using a euphemism for stroke, a word perhaps too painful to utter on that cold winter morning?
Although we rarely shopped at Robbin's Store, in the summer on hot afternoons after swimming we would often stop next door at Felix's Market for a frozen Popsicle, a Fudgie or a "chocolate-covered" ice cream on a stick. This small modern convenience store later became Anderson's Bakery.
As with many other towns in the Lakes Region and the White Mountains, the start of the summer season brought to Center Harbor a swift and dramatic transformation from a quiet place where most people knew each other into a bustling tourist destination with throngs of fun-seeking summer people interspersed by an endless passing flow of nameless strangers.
The sharp contrast between the anonymous transient traffic speeding along Route 25 with its hot wide asphalt shoulders and the peaceful pedestrian community that stretched along the old stagecoach route by-passed in the early 1950s was most obvious when one would walk east along the concrete sidewalk that ran on the south side of Lake Shore Drive about a quarter of a mile. Between this narrow shady street and the Big Lake were large and small summer cottages with porches. Some were grouped and painted in matching color schemes. Those that were operated as tourist cabins and guest houses had painted signs in front. During July and August, boards reading "No Vacancy" would dangle beneath almost every one of those signs.
Several summer cottages were owned by extended families. Everyone knew the Rooney clan with their bright blue eyes, freckles and big smiles. Few in the village missed the story about the time that old Mr. Rooney took an unexpected dip in the lake while attempting to step aboard a boat at the town docks. Kathy Lambert and her mother lived just beyond the Rooney place. Mrs. Lambert had a flock of hens and sold eggs to neighbors. But some summer people preferred seclusion, like the Chiarello family whose long black Cadillacs would quietly disappear behind the tall white picket fence and dense privet hedge that screened their beautiful private lake-front compound.
Only a few buildings stood on the north side of the street away from the lake. Moulton's Garage with its large hinged garage doors on the left and an office on the right looked as though it had once been a livery stable. The Moulton family lived upstairs in this weathered two-story wooden building. Surrounded by an overgrown lawn, a vacant gable-roofed house painted white with a large porch stood just east of Moulton's Garage.
About halfway along Lake Shore Drive between the village and our house was the Caggiano's Oak Corner House, a summer inn with cottages on the lake. Here, a narrow dirt road led to more lake-front cottages on First Neck. One large white summer house on First Neck was surrounded by a wrap-around porch and a few small cottages. For several years in the 1960s, our family moored our 1930s Winabout sailboat there. The high point of one hot summer afternoon was the sound of a steam whistle marking the passage of the S.S. Anna E. George, an old white and red-trimmed wooden steamboat towing a skiff full of wood to fuel its long trip back to its home berth at Lee's Mills at the northern tip of Moultonboro Bay.
Mrs. Edwards and her son, Jan, lived across from the Oak Corner House. Jan had two beagles that he used for rabbit hunting and a delightful HO-gauge model railroad. Just beyond the Oak Corner House, Lake Shore Drive became a shady dirt road that passed by Chet and Addie Wilder's white house. Gruff-voiced Chet was one of Moultonboro's three policemen, along with Harold Tilton and Harry Perkins. Addie was influential in local politics. Next door was the Blackey's place, a large white house with a grand, curving two-story staircase inside.
Beyond on the north side of Lake Shore Drive was an abandoned gable-fronted house that we assumed must be haunted. A red barn stood opposite. The abandoned house had partially collapsed, and concerned that the barn would fall next, I borrowed my father's camera to record the view shown here. Behind this old barn, an over-grown field stretched down to an inlet of Lake Winnipesaukee that we called Blackey's Cove. East of the red barn stood a well-kept, but usually vacant yellow house with "Posted: No Trespassing" signs prominently displayed.
Farther along on the south side of Lake Shore Drive were two trim white capes owned by retired couples. Nestled low beneath tall pines, the first belonged to General and Helen Sturtevant Matthews and the second to Leon and Virginia Sturtevant. Mrs. Matthews was a local historian who wrote a book about the history of Moultonboro. As our neighbors, the Sturtevants occasionally invited us in for visits with treats of cookies and to hear beautiful music "broadcast from the summit of Mt. Washington" playing on Leon's new FM radio.
Between the Sturtevant's and our house was a scraggy field overgrown with fragrant sweet-fern, spiny hawthorn shrubs and small, but pitchy white pines. It was here that we learned to ski and to snowshoe. Yet it was also from this field that we anxiously watched Sputnik pass swiftly through the night sky far aloft. With tense adult whispers about the Soviets and civil defense exercises in grade school, there seemed to be an unspoken assumption then that nuclear war would soon destroy all that we knew.
A frequent yard guest (and occasional pest) was an enthusiastic, long-haired, long-tongued neighborhood mutt we called "Fluffy." But the true master of our household was Alfie, from whose unwaivering affection and sharp claws we garnered our utmost respect by granting him WOC status as our "Wise Old Cat."
Our family life in this home on Lake Shore Drive had a regular cadence of predictability and variety. As we were on an eight-party line, the black rotary-dial telephone in the front hall rang throughout the day. We learned to listen carefully for our own two-long ring for Clearwater 3-4536. My mother served as the local correspondent for the Meredith News. Each week after gathering the news by phone, she typed out her stories, snapping at the keys of the large black Underwood typewriter that had belonged to her late father, an Army colonel of whom little was spoken.
The mail was delivered by Gene Manville twice daily as we were on the main Star Route between Center Harbor and Moultonboro. Reggie, the milkman from Clark's Dairy in Center Harbor, came twice weekly. If we were not to be at home on a delivery day, my mother would leave a note and Reggie would come into the kitchen through the back door to leave the appropriate number of cream-topped glass quart milk bottles in the refrigerator. Reggie's brother, "Ot" Stokes, drove the school bus owned by Frank McIntire, the Moultonboro town meeting moderator. Other vendors included Walter Nave, a lumberjack-farmer we called "Eggie," as well as the occasional bread man, fish man, and various other traveling salespeople offering brushes, encyclopedias and frozen foods. Once after making a big show of how powerful was his machine, a vacuum cleaner salesman admonished my mother to "always clean the edges first and then the rest will be easy!"
On most Saturday mornings our whole family went to Laconia in our Ford station wagon. My father was the sales manager for radio station WLNH, then located on the second floor of the Masonic Temple building on Main Street in downtown Laconia. After helping our mother with grocery shopping at the old supermarket on Pleasant Street, getting fresh jelly donuts at Laflamme's Bakery, wandering through the grand old O'Shea's Department Store and surveying the toy departments in Woolworth's and J.J. Newberry's, we would return to the radio station.
The wait for my father to finish work on Saturdays always seemed to pass quickly as we were regularly entertained by various radio news announcers, disc jockeys and local celebrities. Some of the more memorable of these WLNH personalities were Esther Peters and T.J. Martin. The host of the popular "Around Town" talk show, Esther Peters seemed to know everything about everybody. We especially enjoyed chatting with Esther, whose unforgettable dusky voice and wonderfully warm and engaging character we greatly respected. T.J. Martin was a charismatic disk jockey with a big toothy smile whose affair with Grace Metalious, the nationally-known local author of the racy Peyton Place novel, provided a regular flow of evening kitchen gossip.
But Saturdays were also often wash days with loads of laundry hauled in large wicker baskets to the laundromat by the Laconia liquor store. After returning home to Center Harbor and eating a late lunch, our house was then often filled with delightful matinée radio broadcasts from the New York Metropolitan Opera. As my mother sang along while finishing the weekly ironing in the kitchen, I secretly absorbed the magic of Puccini while sequestered in a dark cranny behind our tall-legged wringer washing machine.
A small brook running into Blackey's Cove from Lake Kanasatka passed through the woods behind our house on Lake Shore Drive. Although no paths led directly to the brook, my brother and I used a towering white birch tree with a smooth white trunk that looked like an ocean liner's funnel as our landmark to guide us through the dense forest beyond an old sandpit and overgrown fields. A faint path did run along the edge of the brook, which at times was littered with smelly carcasses of speared sucker fish. This brook flowed beneath Route 25 just beyond the east end of Lake Shore Drive after spilling over a dam near the Old Red Mill House.
We moored our first sailboat, a old thirteen-foot wooden lapstrake sloop with cotton sails, in the cove of Lake Kanasatka next to the Old Red Mill House. The sailboat was in such poor condition when my father acquired it in Melvin Village, that its restoration was a major family project in 1959. My grandfather taught my brother and me how to hold and use the various wood-working tools needed for the project. My favorite tool was the spokeshave that when properly sharpened and held could smooth the wood with long curly shavings. One of the most complicated tasks was adding new white oak ribs, as many of the originals where broken. These new oak ribs had to be steamed to make them flexible enough to be inserted and bent to follow the curve inside the hull. This steaming was done in our driveway using a custom-made metal tube heated by a small campfire.
By the end of the summer, the sailboat we named Dutch Treat in honor of Gramp's homeland was ready to be launched. We had no boat trailer, so our two red wagons were rigged to carry the sailboat down to the lake. After its launch, Mr. Kent, a quiet retired gentleman who rented rooms in the west wing of the Old Red Mill House, kept a watchful eye on our moored sailboat and the small rowboat that we kept tied up on the shore. We, in turn, often visited with Mr. Kent to help brighten his last days.
Shortly before his death, Mr. Kent gave our family his most prized possession, an antique mahogany credenza that may have belonged to his mother. Although its Italianate style contrasted with the modern and colonial furnishings in our house, the credenza's drawer soon became a catch-all for various small souvenirs, foreign coins, playing cards, a cribbage board and some teeth missed by the Tooth Fairy.
Our closest neighbor, Mr. Roy White was a robust octogenarian with bright white hair and bright red suspenders. He kept busy working in his large vegetable garden or in his workshop or repairing his house with its black trim and white asbestos siding (that he assured us would never burn). Mr. White also owned two houses on Kelsey Avenue in Center Harbor village with matching white asbestos siding and black trim. His summer housekeeper, Mrs. Canfield, sometimes invited my brother and me into their dark kitchen on hot afternoons for a glass of ice-water that she poured from a large jar kept in the refrigerator. In the fall Mr. White would close up his house and navigate his long white Dodge sedan with tall tailfins to his winter home in Sarasota, Florida.
Next to Mr. White lived the Browns at the east end of Lake Shore Drive. Phyllis Brown and her mother were charming, but firmly commanding ladies of dignified tastes, while jovial husband, Bob, sometimes seemed happiest when he could sit undisturbed with a cool Schlitz. A large white sign with black letters reading simply, "Guests," stood in their front lawn. The centerpiece of their summer guest house was a long, partially-enclosed screened porch with thickly-cushioned wicker chaise lounges, as well as chairs and tables set up for playing the popular card game, canasta. This porch overlooked a picturesque view of Lake Kanasatka and Red Hill. This same view, engraved by W. H. Bartlett, had been published in American Scenery, one of the most popular American travel books of the mid-nineteenth century. That engraving, shown here, was captioned "Sawmill at Center Harbor, Lake Winnepeseogee."
Center Harbor, New Hampshire, 1957
Center Harbor, New Hampshire, 1987
Center Harbor, New Hampshire, 2002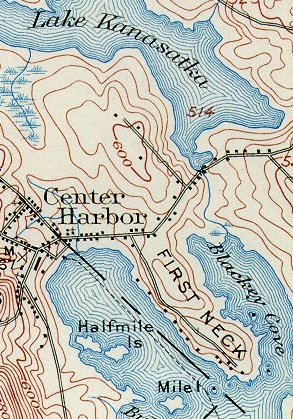 From Winnipesaukee quadrangle map, USGS, 1909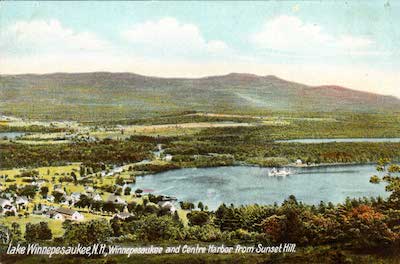 View of Center Harbor village, postcard, circa 1905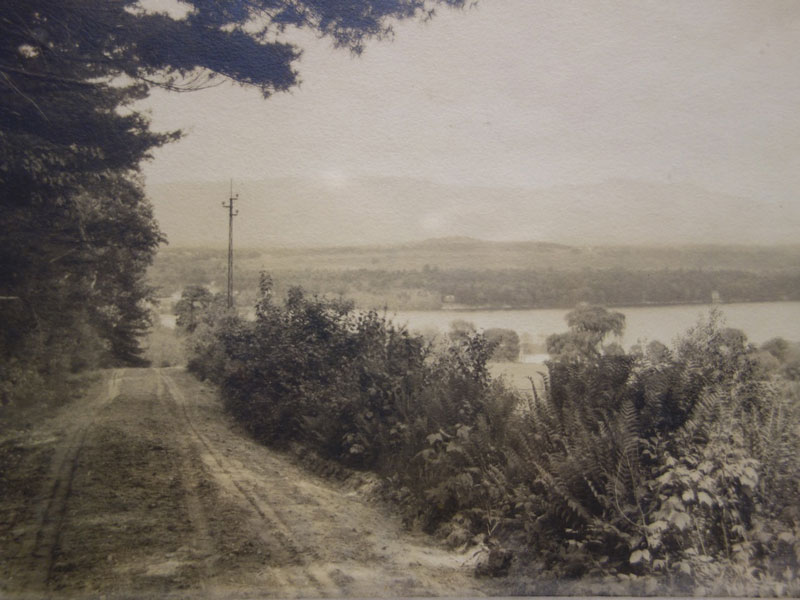 View from Garnet Hill Road, before 1922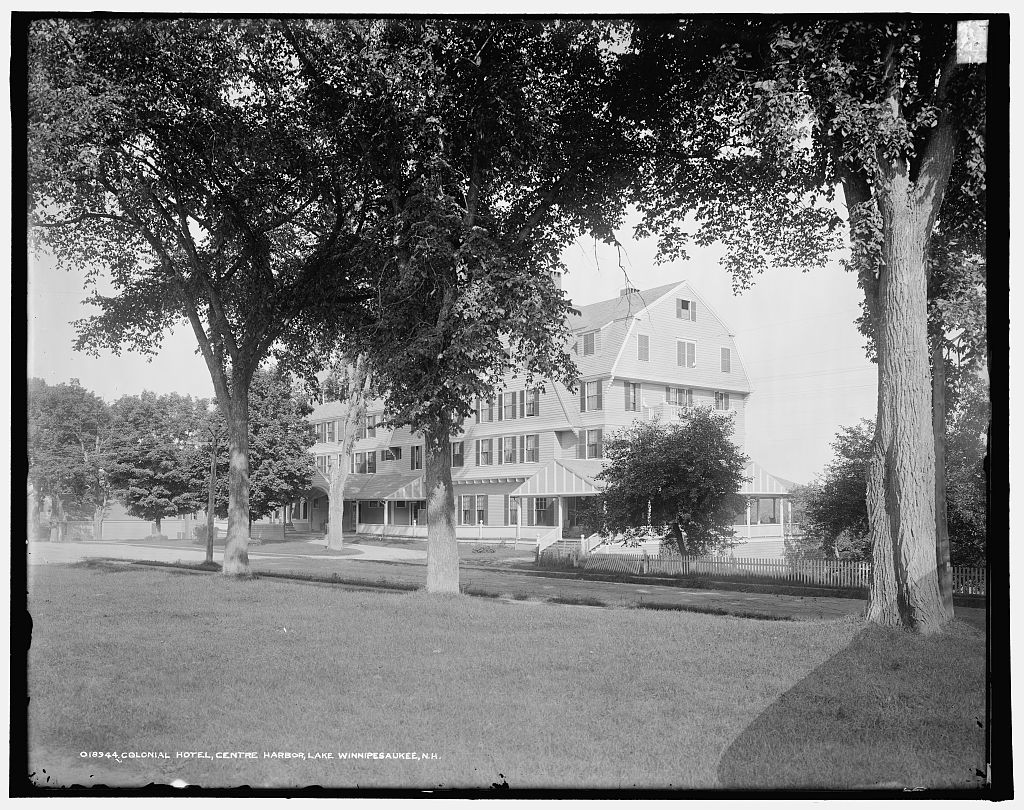 Colonial Hotel, Center Harbor, NH, circa 1906,
Detroit Publishing Co., U.S. Library of Congress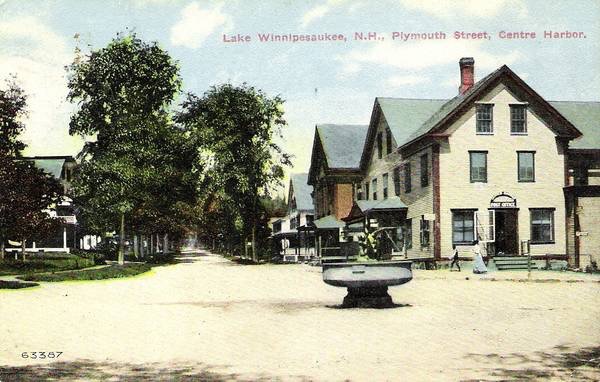 Center Harbor, circa 1910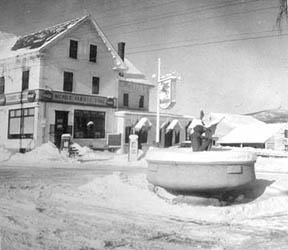 Nichols Variety Store and Kona Fountain, 1957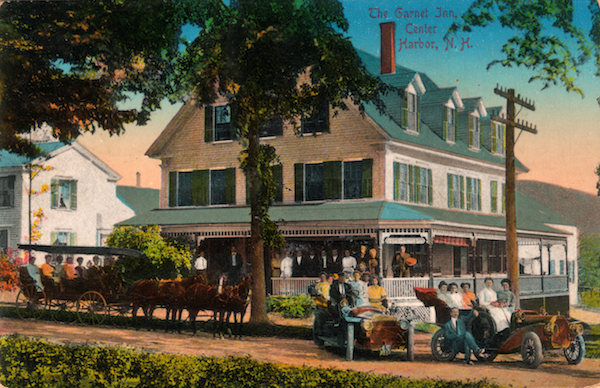 Garnet Inn, postcard postmarked 1911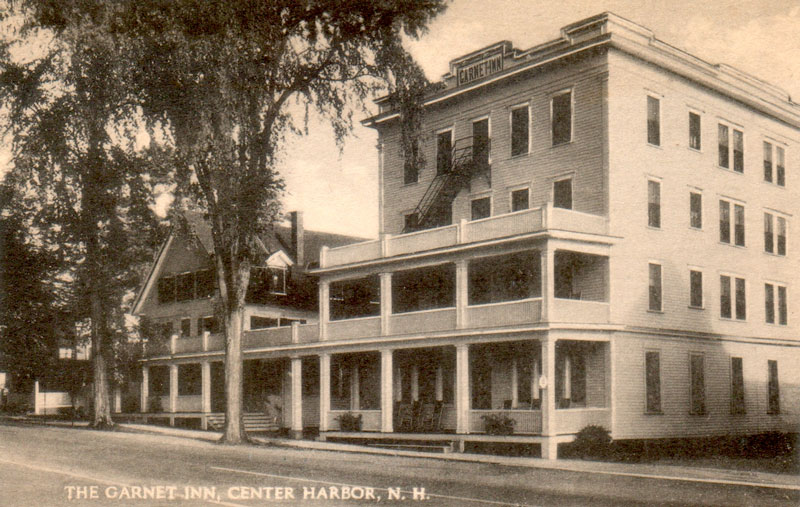 The Garnet Inn, circa 1940s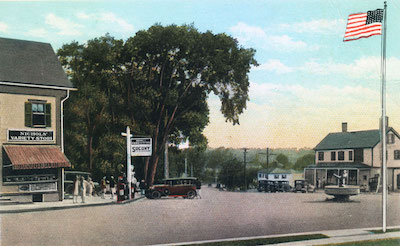 Nichols Variety Store and the Square, postcard, circa 1930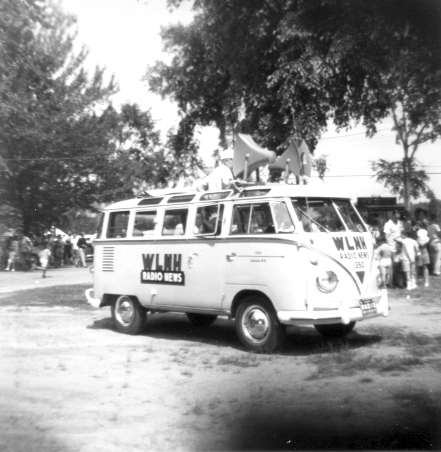 WLNH radio van cues before the parade, July 4, 1960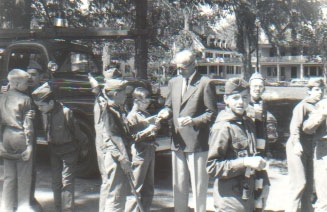 Center Harbor Boy Scout Troop 142
prepares for the 1964 Memorial Day parade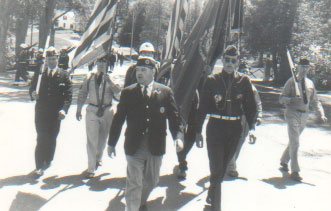 Center Harbor Memorial Day parade, 1964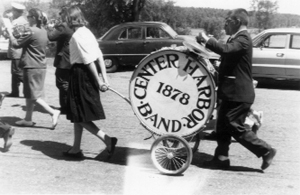 Memorial Day parade, 1964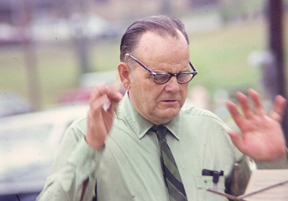 Charlie Bickford, conductor, Center Harbor Band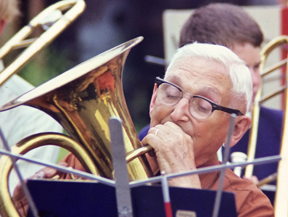 Almon Bushnell, alto horn, Center Harbor Band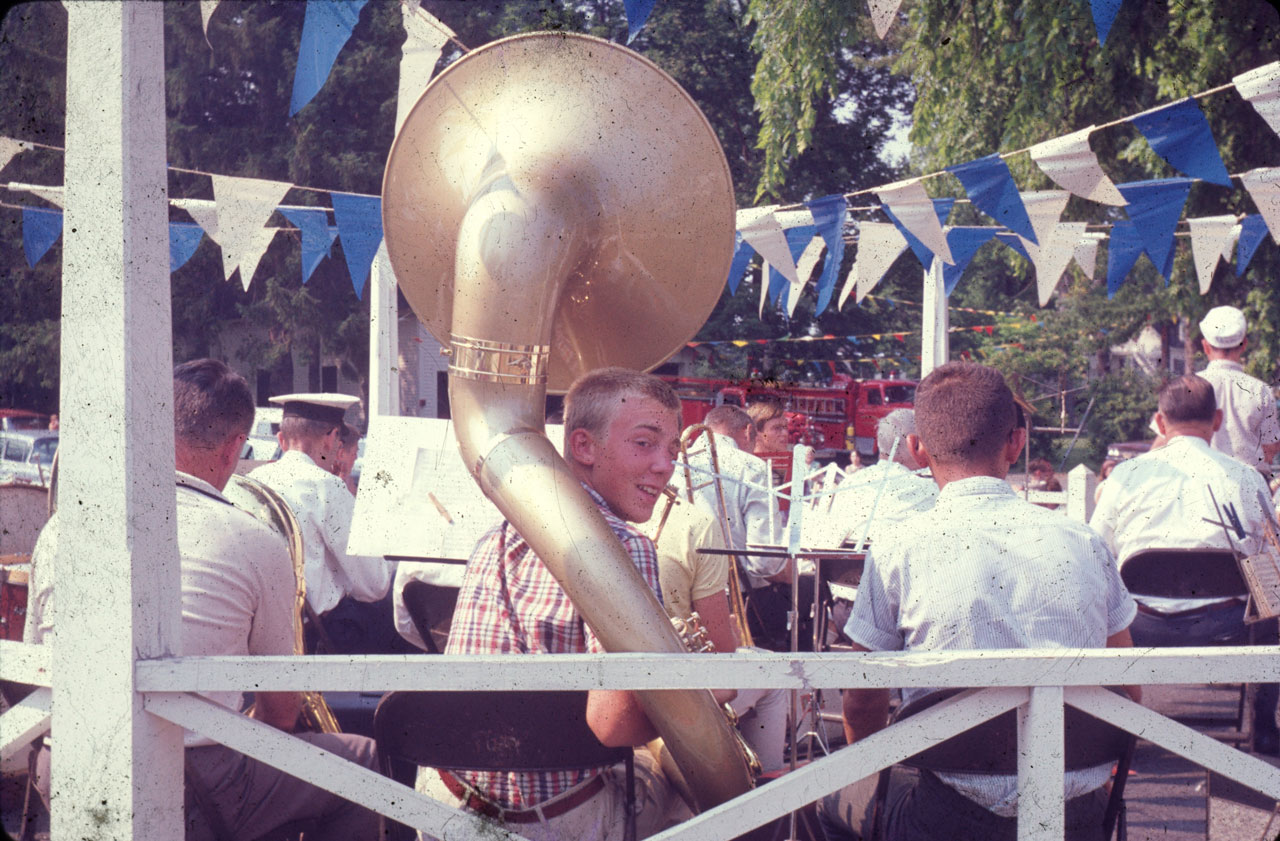 Center Harbor Band concert, July 4th, 1966
with the author on the sousaphone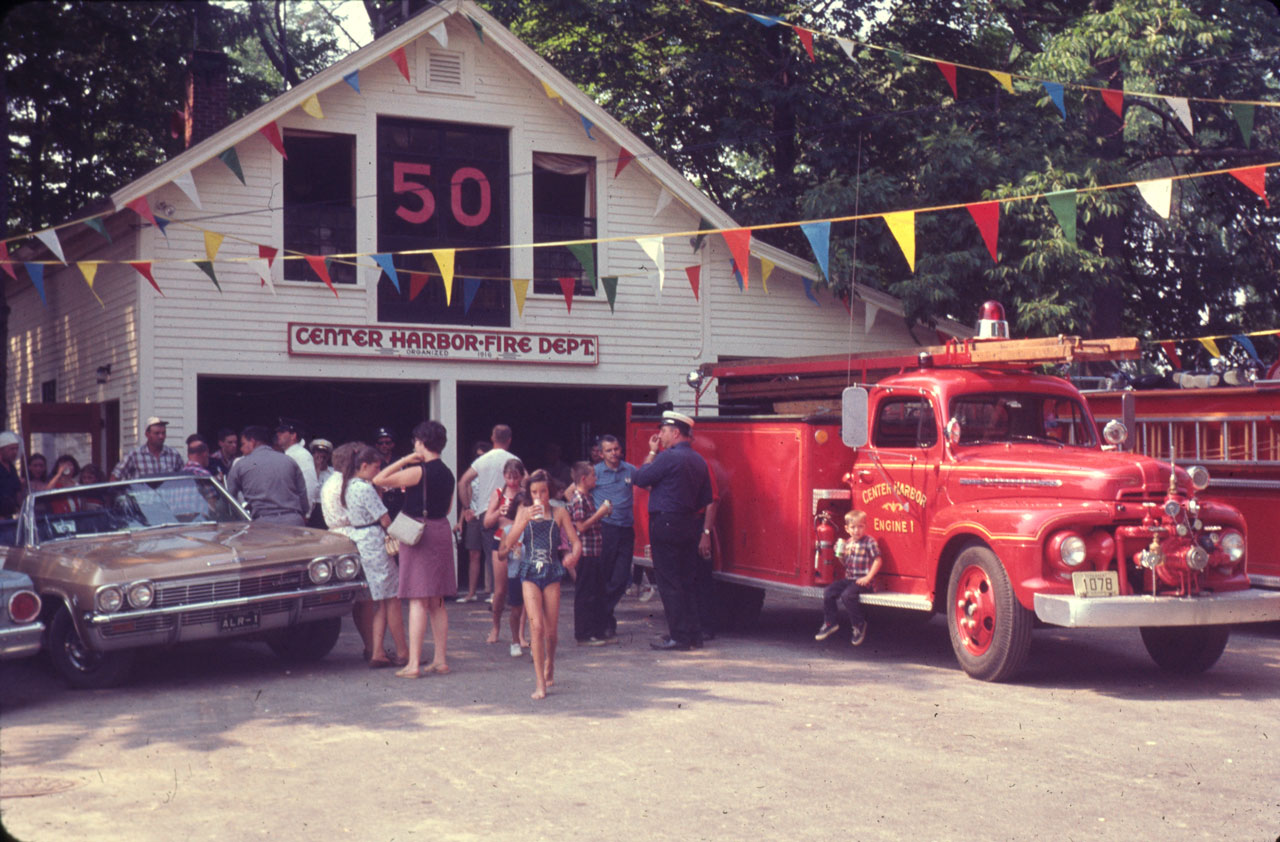 Center Harbor Fire Department, July 4, 1966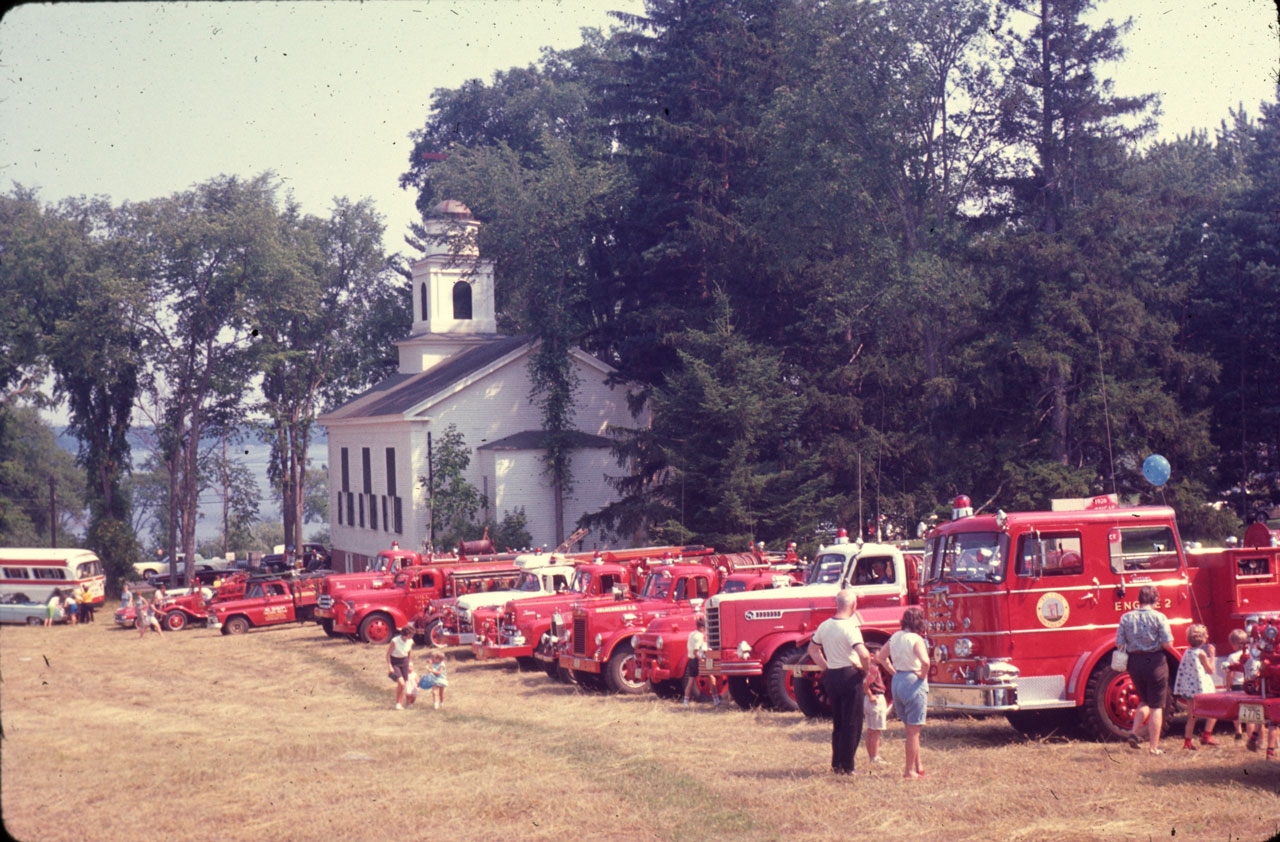 Center Harbor Congregational Church with visiting
fire trucks waiting for the parade, July 4, 1966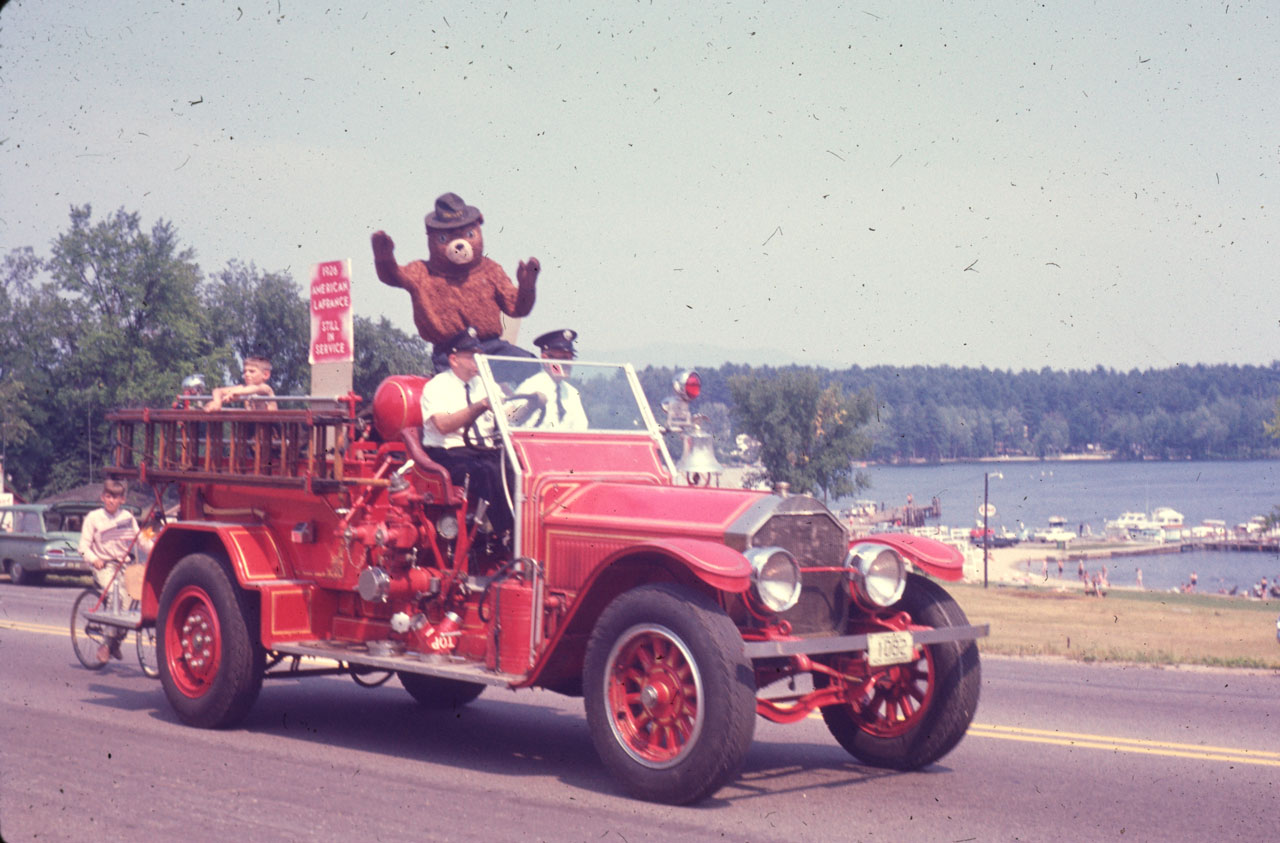 Parade, July 4, 1966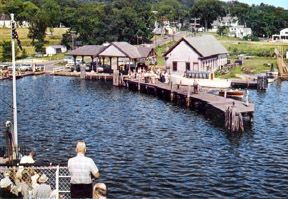 Morning approach to Center Harbor with Captain
Brian Avery on the bridge of the M.V. Mount Washington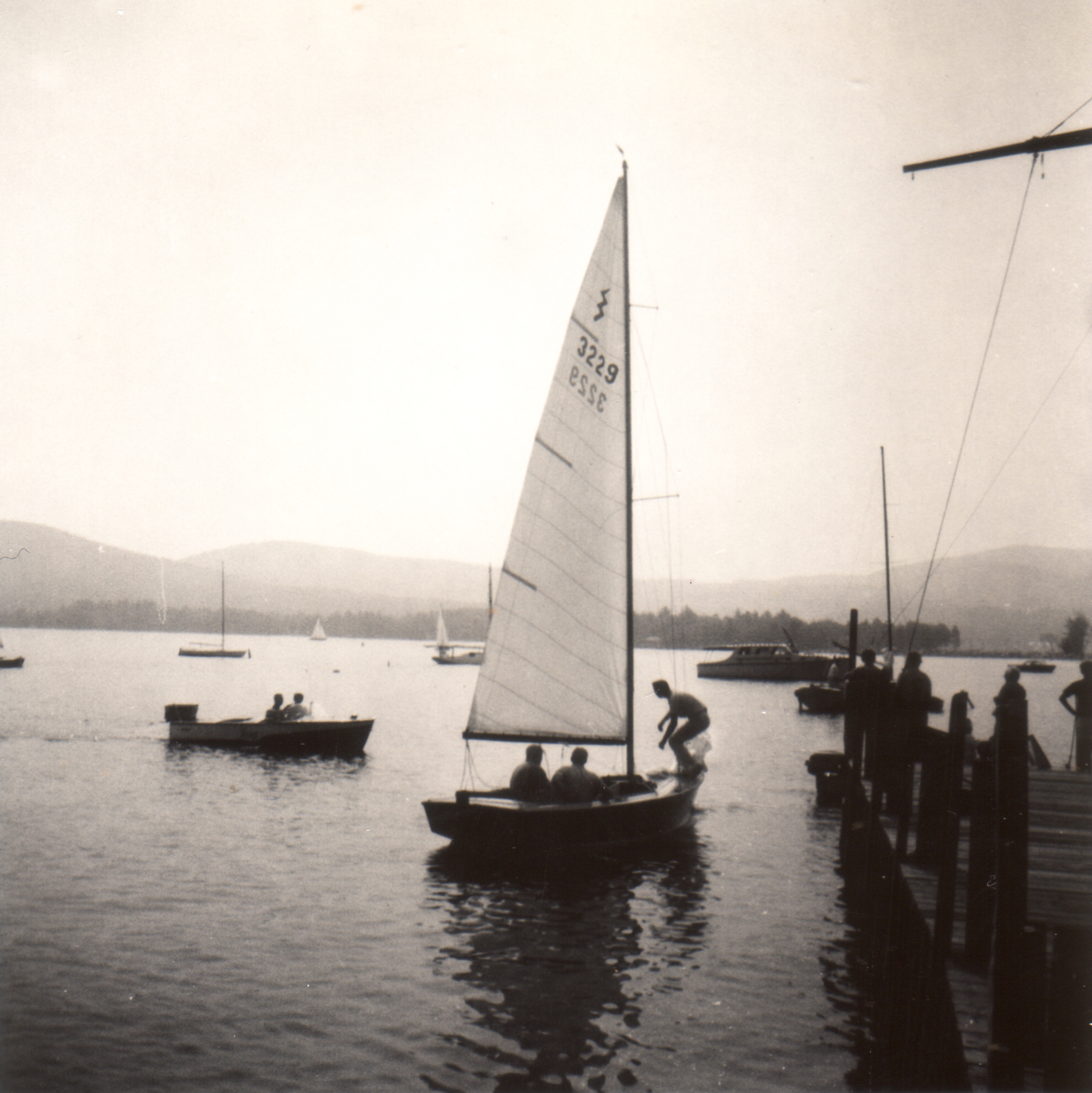 Center Harbor docks, 1961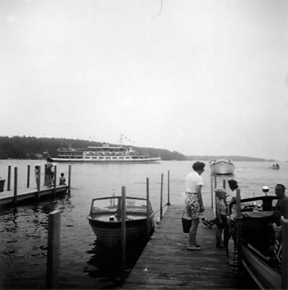 Center Harbor docks, 1961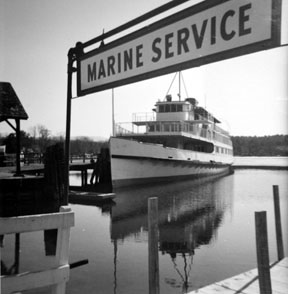 Motor Vessel Mount Washington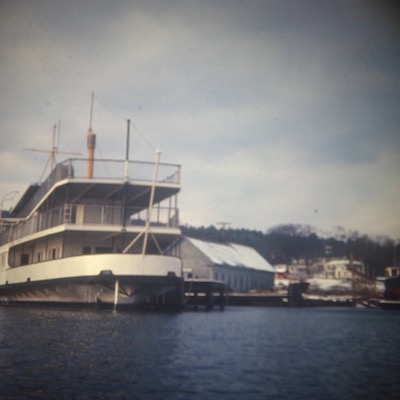 M.V. Mount Washington, from the lake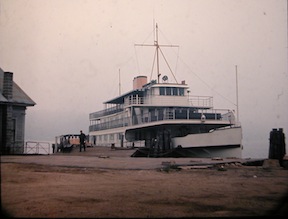 M.V. Mount Washington, after the season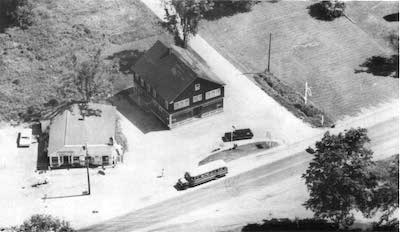 Robbins Store and post office, circa 1960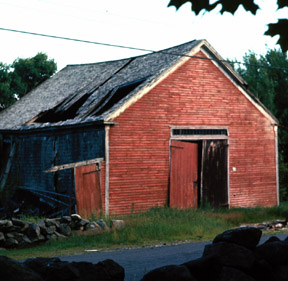 Red barn on Lake Shore Drive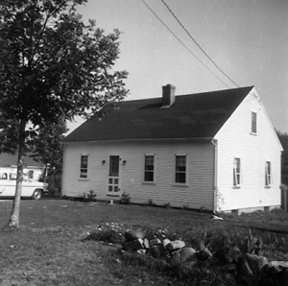 Our home on Lake Shore Drive, 1957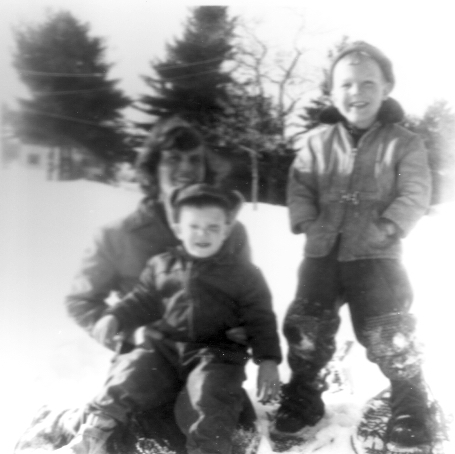 Snowshoeing in the field, 1957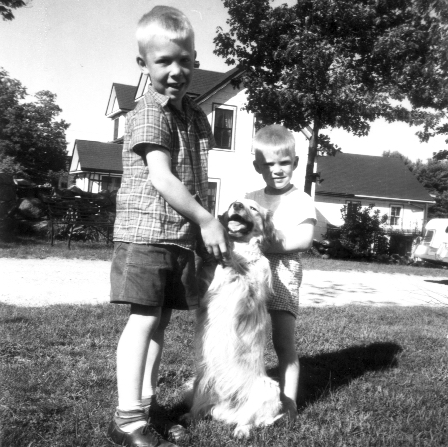 With Fluffy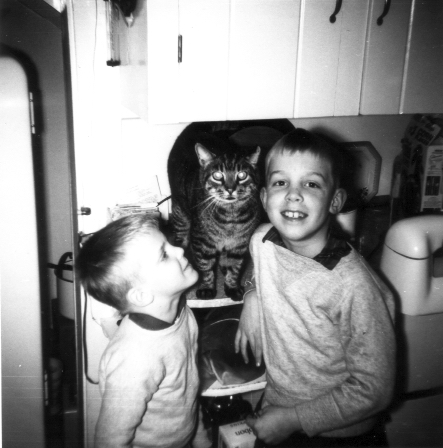 With Alfie, WOC, in the kitchen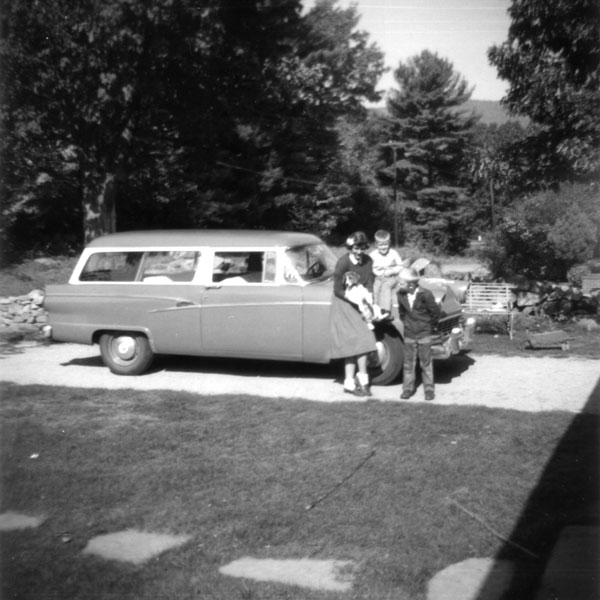 Our 1956 Ford Ranchwagon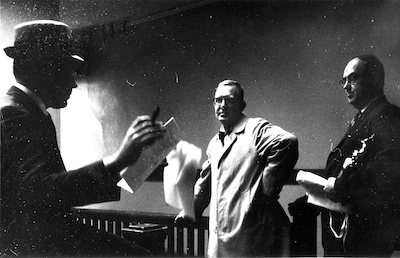 William Visser betwixt local businessmen John O'Shea
and Peter Karagianis at WLNH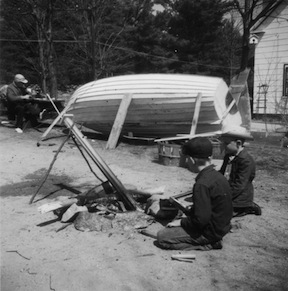 Steaming sailboat ribs, 1959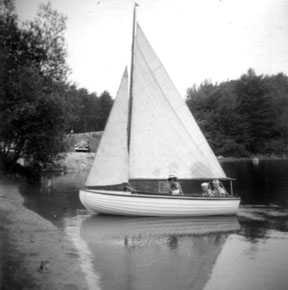 Dutch Treat launch, 1959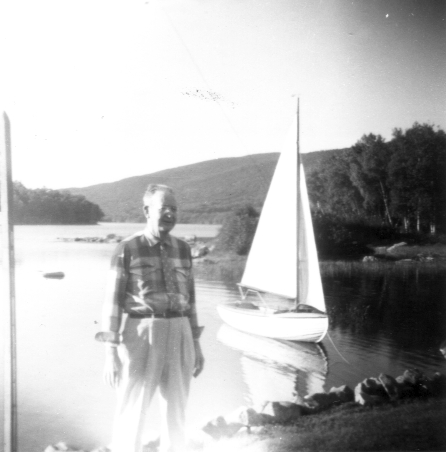 Mr. Kent, 1959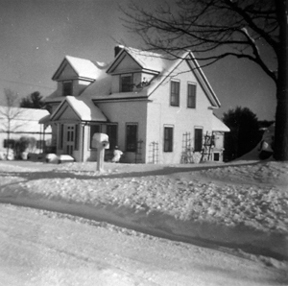 Roy White's house, 1957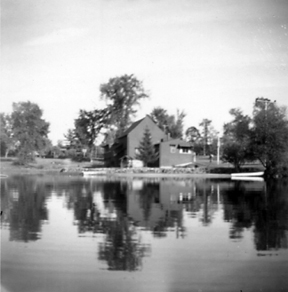 Old Red Mill House, Lake Kanasatka, 1959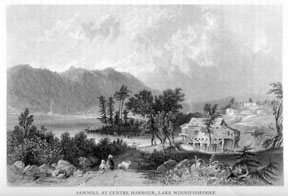 "Sawmill at Center Harbor, Lake Winnepeseogee."
In American Scenery, 1840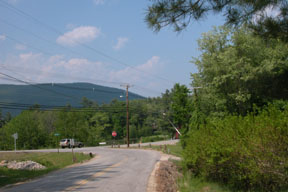 East end of Lake Shore Drive,
view towards Red Hill and Lake Kanasatka, 2002