Telecommunications and Network Services
Telecommunications and Network Services provides all infrastructure telecommunications services for all departments on campus. This includes:
Network and phone service in 293 buildings on campus and 8 offsite facilities

Fiber between and within locations

15,000 switch ports on 873 switches

1100 wireless access points

5000 phones

Infrastructure design for new buildings & projects

Ongoing long-term planning for infrastructure and equipment upgrades
Infrastructure Services
There are 293 buildings on campus and 8 offsite facilites that Telecommunications maintains. This includes:
Fiber and Ethernet cabling within buildings

From the Telecommunications spaces to each phone/data drop

327 Telecommunication Rooms containing switches and major fiber splices
Campus Locations
Fiber optic and copper cables are running between all buildings on campus. Miles and miles of fiber and copper are required to maintain all of the connections. There are 92 maintenance holes of various sizes. TNS is responsible for maintaining all fiber and copper plant including making sure backhoes and blasting do not disrupt service.
Fiber optic cable and copper cables running is between three major switch rooms
Mann Hall
Waterman
Southwick
TNS provides connections for:
Fire Alarms
Building Control Systems
CatCard Services
Campus closed circuit cameras
Campus Cable TV
Wireless Access Points
Campus Buildings
TNS designs and maintains all fiber and ethernet cabling within all the buildings on campus. This includes the wiring from the telecommunication spaces to each port and wireless access point. There are 327 telecommunications rooms containing switches and major fiber splices.
There are one to several telecommunications rooms per building. They contain fiber connections to conduits and between locations as well as switches. There are a wide variety of rooms in various stages of upgrades.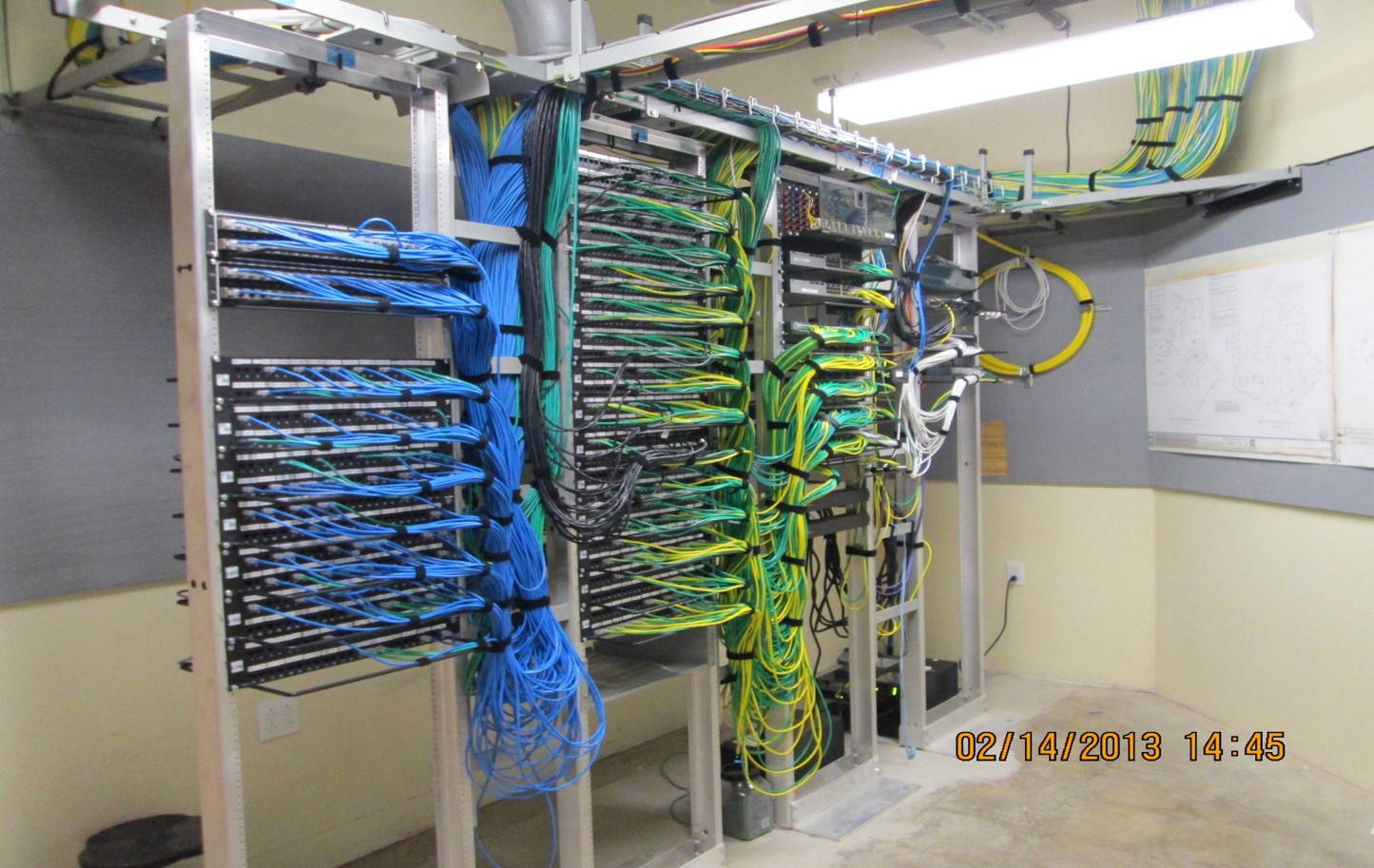 New and renovated buildings have good wiring capable of high speed connections (100 mbit or gigabit) Category 5e or Category 6.
Many older buildings have very old wiring that are not capable of modern connection speeds and not easily updated. Installling new wiring is complicated by lack of a pathway to run wires and the presence of asbestoes in many areas that requires expensive abatement prior to re-wiring. The physical characteristics of old wiring does not support current network speeds. Newer computers and applications often do not work well on old wiring. Many buildings, such as Waterman, have a mixture of new and old wiring.
Old telephone wire
Incapable of reliable data transmission
Category 2 wire, twisted and unshielded
Cabable of up to 4 Mbps
Category 3 wire, twisted and unshielded
Capable of up to 10 Mbps
Category 5 wire, even more twisted and unshielded
Capable of up to 100 Mbps
Category 6 wire; the most twisted and shielded
Capable of up to 1 Gbps
Remote Sites
TNS maintains connections to and within 8 remote sights in Chittenden County via a "county ring" of fiber. The remote sights are:

Rubenstein Center
Innovation Center
Freezer Farm
BioResearch Complex
Technology Park (Data Center)
Fort Ethan Allen
ETS and Procurement
Colchester Research Facility

Wireless
There are 1100 wireless access points as well as centrally managed enterprise access points . TNS is resposible for mainitaining the cabling infrastructure that each access point requires. The access points feature automatic configuration adjustments to fine tune performance. The signal for each access point is balanced against othe aceess points to avoid interference. These are designed for use in large dense wireless installations. All residence halls are completely covered by WIFI. Most classrooms and administrative buildings have at least partial WIFI. There can be a maximum of 10,000 simultaneous users. Below is a graph showing the number of users of the UVM wireless 1 week vs. 1 year.

UVM Wireless 1 Week




UVM Wireless 1 Year


Last modified January 23 2014 11:08 AM