Systems Education in CEE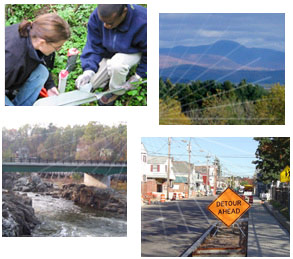 At this critical juncture in our technological evolution, with the rapid depletion of the world's resources and an exploding world population, it is vital that we teach our current and future engineers a systems approach to engineering problem solving, including concepts of sustainability. It is essential for the welfare and long-term viability of our planet that short and long-term social, environmental and economic impacts be considered and integrated into engineering solutions.
Our goal is to implement an educational framework that shifts from addressing problems in isolation to one that adopts a systems approach, cutting across traditional disciplinary lines and fostering an integrated approach not only to problem solving, but to problem definition as well.
Civil and environmental engineering (CEE) must address social issues such as the current prevalence of environmental degradation in order to be a vital and positive influence. The traditionally narrow focus on strictly technical aspects while excluding consideration of broader social implications is short-sighted and unsustainable. We must embrace a new approach, one which solves problems in the context of societal needs, while considering the planet and all its inhabitants.
This project is supported through the National Science Foundation, award number 0530469.
Please click on the following link for the Wikipedia definition of systems thinking.