Satellites, Weather and Climate (SWAC)                                                            Fostering climate knowledge and geospatial skills for all
RESOURCES
Internet sites that may be useful for weather and forecast information, cloud information, imagery, and other educational materials http://www.uvm.edu/~vtstclim Vermont State Climate Office LESSON PLANNING TEMPLATE
Weather and Satellite data
http://weather.gov
National Weather Service (NWS) national homepage
http://weather.gov/btv
NWS Burlington VT
A. First page has direct links to radar and satellite imagery at bottom
B. Local forecast available by clicking on map
C. Much more data in left hand column such as under:
Current conditions > Mesoscale Analysis > Observations provides regional observations and national surface map (on right)
http://weather.gov/gyx
NWS Gray/Portland Maine
A. First page has radar and satellite links and clickable map for forecast
B. On far left margin, more items available such as under:
Current conditions > Observations brings you to a NE regional surface weather map
http://www.nhc.noaa.gov/
NWS National Hurricane Center (NHC) with latest storm information and satellite links
http://www.spc.noaa.gov/
NWS Storm Prediction Center (SPC) for severe thunderstorm information
http://www.goes.noaa.gov/
National Environmental Satellite, Data, and Information Service (NESDIS) worldwide satellite links
http://gcmd.nasa.gov/records/GCMD_CT_STATE_CLIM.html
NASA data for Vermont
Cloud information
http://web2.iadfw.net/danb1/clouds.htm
Cloud chart that correlates cloud observation and wind direction with expected weather forecast
http://www.forspaciousskies.com/
Interesting cloud page
Imagery Sources
http://www.flickr.com/photos/noaaphotolib
NOAA Photo Library Photostream on Flickr
http://modis.gsfc.nasa.gov/gallery/individual.php?db_date=2011-04-05
April 2011 snow in Vermont
http://www.ssd.noaa.gov/PS/PCPN/pcpn-na.html
Real-time NOAA GOES imagery
CoCoRaHS and teacher outreach information
http://www.cocorahs.org/
Community Collaborative Rain, Hail & Snow network homepage
http://www.cocorahs.org/state.sspx?state=vt
CoCoRaHS in Vermont
http://www.weather.gov/om/edures.shtml
NWS teacher outreach and careers page
Teaching Materials
USGS Education Resources for Teachers
USGS Educational Resources for Primary Grades (K-6)
USGS Educational Resources for Secondary Grades - Middle School and High School
Sample COMET Materials for Middle School, High School & College
Downloadable MetED modules
: choose a TOPIC or view a list of
all modules
.
UCAR NCAR Climate Discovery Teacher's Guide: Grades 5-9
NWS Teaching Resources
JetStream - Online School for Weather
Outdoor Activities
http://classic.globe.gov/tctg/atmo_prot_surftemp.pdf?sectionId=281&lang=EN
GLOBE 2005 - Surface Temeprature Protocol
US Climate Change Science Program (www.climatescience.gov)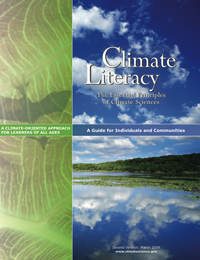 Climate Literacy Handbook
Videos
Youtube video of UV radiation and greenhouse gases
Other
AAAS testing of student knowledge and misconceptions
www.earthobservationday.com/pages/resources-lessonplans.htm
Earth Observation Day Lesson Plans developed by AmericaView, Inc.
Geography Animated
Animations of geographic concepts, developed by Wycombe High School
Questions?
Contact Us
Last modified July 29 2011 01:54 PM