A Note from President Tom Sullivan

As we begin a new academic year, I want to welcome our new staff members to campus. We are delighted to have you on our team as we advance the educational and academic mission of this great University. I also want to express our deep gratitude to a number of our longest-serving staff members, who have retired in the last few months. Your efforts have shaped this institution and made a significant contribution to the high quality of our programs and services. Continue reading...
Remember, if you print any of the information found in the Staffline, please choose the double sided or multiple page option on your printer to reduce paper usage.
Staff Council News :
Discounts:
Events:
Other Announcements:
Follow us here:
Email: Staff.Council@uvm.edu or call the Staff Council Office at 802-656-4493 Staff Council Office
85 So. Prospect Street
313 Waterman Building
Burlington, VT 05405

Hours
M -TH 8am - 3:30pm
F 9am - 1pm
www.uvm.edu/staffcouncil
Information from Staff Council:
Staff Council's New Outreach Video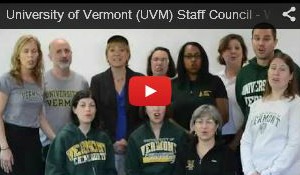 Staff Council Sponsored Trips: Boston Red Sox Game and UVM Horticulture Farm - Apple Sales

Staff Council has organized a bus trip to watch the Boston Red Sox take on the Toronto Blue Jays on September 22, 2013. For one flat fee we transport you to and from Fenway Park and you enjoy a great day of Baseball in Boston. We have also organized a free bus trip to UVM's Horticulture Farm for the annual Apple Sales on Friday, September 20, 2013. Continue reading...
Staff Representative Needed on Traffic Board of Appeals

The Staff Council will continue to accept nominations until September 9 for staff interested in serving on the Traffic Board of Appeals.


Staff Council Survey

The Staff Council's 2013 Survey of non-represented staff has been pushed back until October. Stay tuned for an email invitation and please complete the survey so Staff Council can better serve you.

Human Resource Services News: