A Note from Staff Council President Karmen Swim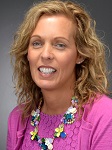 Wow...this is my last Staffline letter. I hope it finds each of you relaxing after a very busy academic year!

The Staff Council Committees are doing some critical and essential work on behalf of the staff...and this work has led to so many successes for the staff in the last two years creating a buzz and excitement around our work.

To highlight a few recent "wins" for the UVM non-represented staff: Staff Professional Development Fund (first round of awards expected to take place this September), Short-Term Disability Benefit for Staff (you'll be able to enroll during this fall's Open Enrollment Period), and the recently-announced Birthday Holiday/Cultural Holiday for Non-Represented Staff - effective 1/1/19). Continue reading...
2017-2018 Last Staff Council Meeting
The last Staff Council meeting of this academic year took place on , Tuesday June 5th, 12:05-1:30pm in Waterman's Memorial Lounge. Click here for the agenda.
2018 President's Our Common Ground Staff Awards Announced!
Just announced are this year's six recipients of the President's Our Common Ground Award. This award recognizes University of Vermont staff members who exemplify the qualities of Our Common Ground, the statement of aspirations and shared values of our community. Read about the award and who was selected, continue reading...
Information from Staff Council:
S

IGN UP NOW for Staff Council Summer Events!
We are currently accepting orders for the UVM Night at the VT Lake Monsters Game, Sunday, July 8, 2018, 5:05pm. This ticket guarantees you a reserved seat and the BBQ dinner. Here's the poster and order form. All orders for the game and BBQ must be received in the Staff Council Office by JUNE 26th!
We are currently accepting completed form with payment for Champlain Valley Fair Pre-Order Sales now! Enjoy deeply discounted fair admission, ride bracelets, and multi-day passes. OUR DEADLINE IS FIRM, Friday, June 29th. Enjoy discounted prices plus the additional discount for UVM Staff & UVM Foundation employees donated by the UVM Staff Council Social Committee. Please send via campus mail or to ensure delivery by deadline, drop off at 313 Waterman Bldg. Order form here
We are also happy to offer the 14th Annual Golf Outing which will be Friday, August 10th at West Bolton Golf Club. Price includes: greens fees for 18 holes with cart, snacks and prizes! To learn more about this event, prices and details, click here. Registration forms and payment for this event must be received in the office by August 3rd.

Call-For-Artists for the UVM Staff Art Exhibit. The exhibit will be held in September 2018 in the Davis Center. If you are interested, please contact the Staff Council Office by no later than June 15th. Note that submissions for this event are open to UVM staff only. For more information about the UVM Staff Art Exhibit, see more detail here.

Try the New Greenride Bikeshare Program for just $25!
You may have seen the new Bikeshare stations that have popped up outside Waterman and elsewhere around town.

Greenride Bikeshare offers over 100 bikes, including 25 electric-assist bikes, with hubs spread out over 17 locations in Burlington, Winooski, and South Burlington, including 5 hubs on UVM's campus. The mission of Greenride is to strengthen our connection to where we live, work, and play by offering a reliable, accessible, and affordable bikeshare program to Chittenden County.

We're excited to announce that UVM affiliates can become members for just $25 per year, which is half off the normal price of $50. This gives you an hour of free riding each day with the option to pay for more time. Registration is now available through the Social Bicycles app and the Greenride Bikeshare website! Just select the "Campus Launch Plan" when signing up - no code needed.

Live On the Lawn Summer Concerts!!

UVM Program Board, UVM Staff Council, the Dudley H. Davis Student Center and LovingDay VT are excited to kick off another year of Live on the Lawn, UVM's free, once a month, lunch-time concert series celebrating summer with a special Loving Day Edition featuring renowned artist Myra Flynn. Grab your picnic blanket, lunch, and join the UVM community at the Davis Center Outdoor Stage (rain location: Brennen's Pub), spend your lunch break enjoying the summer weather, good company, and some great music (and maybe even a few prizes)! Food will be available to purchase courtesy of UVM Dining. Loving Day is an annual celebration that acknowledges the anniversary of the US Supreme Court decision on Loving vs Virgina, which legalized interracial marriage and endeavors to fight prejudice and build multicultural community. Next shows are July and August. Details to come!
UVM College Planning Night - June 26!!
Do you have a child that will be beginning the college search process or a college student considering a transfer to UVM? Do you dream of obtaining a college degree for yourself?
Please join staff members from the UVM Admissions Office and Student Financial Services Office in a conversation for UVM employees. They will answer your questions and share tips about the process. This event will be held in the UVM Admissions Office Visitor Center, 184 S. Prospect Street, from 6:30-8:00 p.m. on Tuesday, June 26, 2018. Please make a reservation for this discussion by going to go.uvm.edu/collegeplanning . Questions about the program may be directed to Lisa Levite, Lisa.Levite@uvm.edu or 6-8620.

Staff Council News :
Discounts:
EVENtS:
Email:
Staff.Council@uvm.edu
or call the
Staff Council Office
at 802-656-4493 Staff Council Office
85 So. Prospect Street
313 Waterman Building
Burlington, VT 05405
Hours
M -TH 8am - 3:30pm
F 9am - 1pm
www.uvm.edu/staffcouncil