UVM Rescue
Membership
UVM Rescue is continually looking for new members. If you are affiliated with the University as an undergraduate student, you are eligible for membership. Incoming first year students who live locally are strongly encouraged to apply in the summer. No medical experience needed.
For more information on membership and to schedule observation hours, contact us at (802) 656-4287.
Where To Find Us
We are located at 290 East Ave.
Observation
The first step in joining UVM Rescue is to do your observation hours. All prospective members are required to complete five hours of observation. During this time, you will accompany the crew on any calls that they go on. This is a great opportunity to learn how we operate, as well as to ask any questions you may have. This time is valuable in helping us get to know who you are.
Application and Interview
After completing your observation hours, an online application will be sent to you. Once your application is submitted, please allow 2-3 weeks for the Personnel Officers to process the application and schedule an interview.
Acceptance and Training
Acceptance is based on a variety of factors, including but not limited to, crew feedback during your observation hours, and availability of the squad. We are not always in a position where we can accept new members, however, we always encourage applying. If you have been accepted to the squad, you are now a probationary member in training. Training consists of the Fourth's and Third's checklist. The Fourth's checklist is a crash course on how to be helpful on calls and understanding how the squad operates. It has a 12 day deadline, if the deadline is not met, you are dismissed from the squad. Once you complete the fourth's checklist, you are now allowed to go on calls with the crew and must start the Third's checklist. The Third's checklist is a comprehensive guide on medical knowledge with recognition and treatment of medical emergencies. Your Third's guide has a 12 week deadline, similar to the Fourth's, if not completed by this deadline, you are dismissed from the squad. However, upon completion by the deadline, you are no longer a probationary member and are officially a regular member of the squad. From here you may decide to begin Driver training, or if decided by the Training Officer, you may begin Crew Chief training.
Time Commitment
Every member is required to be on duty 20 hours a week including one night crew (6PM-6AM), as well as, two weekend crews (Friday at 6PM through Sunday at 6PM) per semester. Once you complete training and become a regular member, a vacation hour requirement will be calculated by the Personnel Officers.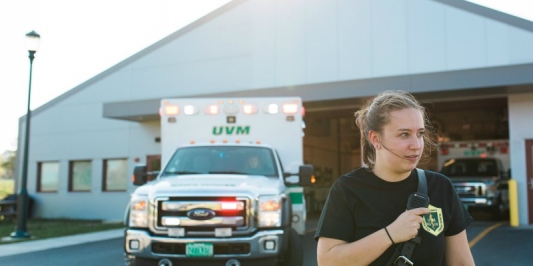 Last modified November 13 2018 12:53 AM