RAN: Redesigning the American Neighborhood Project

Back to Project Components page >>
Measuring Urban Stream Health Using Ecosystem Metrics
Alex Hackman, Master's thesis research project in Natural Resources at the University of Vermont, 2008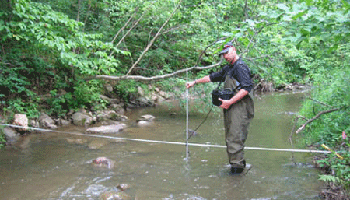 To better understand how watershed development has impacted ecological processes in a northwestern Vermont stream, we measured whole-ecosystem metabolism in several systems over a two-year period.
Study streams were selected based on an a priori classification by the Vermont Department of Environmental Conservation as either "impacted" by urban storm water runoff (303d listed) or in "attainment" of state standards based on prior monitoring of macroinvertebrates and fish. We confirmed and augmented these classifications by conducting additional assessments of biological community structure, stream geomorphic and habitat conditions, and stream water chemistry.
We used an open-channel, single-station approach to conduct nearly continuous monitoring of whole-stream metabolism. We modeled relationships between discharge and stream dimension and incorporated these as dynamic variables in the metabolism calculations. On 271 occasions, we estimated daily rates of gross ecosystem production (GEP), ecosystem respiration (ER), net daily metabolism (NDM), and ratio of production to respiration (P/R) in impaired and attainment condition stream groups.
GEP was significantly higher in the storm water-impaired streams, particularly during the spring and summer months, while ER was closely linked to the production of autochthonous resources. The attainment condition streams, on the other hand, were characterized by more consistent and less vigorous in-stream primary production. Attainment condition streams were more heterotrophic and processed organic matter from a more diverse resource base throughout the year. We also found significant correlations between P/R ratios and benthic macroinvertebrate community metrics, geomorphic and habitat scores, mean PO4 concentrations, and specific conductivity at the individual stream level.
We propose that the altered "metabolic regime" observed in our storm water-impaired study streams may represent another aspect of the urban stream syndrome associated with this degree of watershed development. We suggest that measures to limit the drivers of in-stream primary production (e.g. sunlight, temperature, nutrients) may help to encourage a more "natural" metabolic regime in urban storm water-impaired streams in some areas.
Prior to his Master's work in The Rubenstein School at the University of Vermont, Alex Hackman received his BA in Environmental Studies from Tufts University. He is currently a staff scientist with the Massachusetts Riverways Program.
Back to Project Components page >>
Last modified October 16 2009 12:37 PM