RAN: Redesigning the American Neighborhood Project
Stormwater Basics: Streambed Comparison
The combination of geology, natural rates of soil production and erosion, vegetation, weather patterns, and even rates of aquifer recharge can all interact in subtle ways and influence watershed behavior.
Why does this matter?
Because not all tributaries or streams will react similarly, given the same storm event.
For example, two different tributary beds which are comprised of different slopes, channel characteristics, and bed formations will "behave" differently under similar conditions. For example, if one is carved into a bed of granite, a storm event may not seem to affect the tributary channel: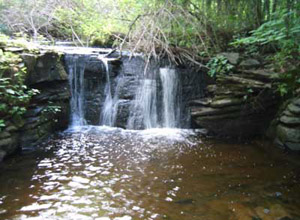 However, in another scenario, a tributary bed may be greatly affected in a storm event, as can be witnessed from the Tributary 7 example shown below: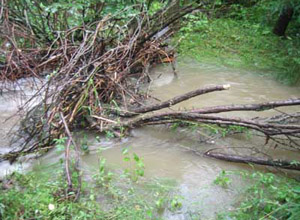 In this instance, the water has flooded and uprooted trees, which in turn have blocked the channel. This forces the tributary to carve a new path on either side of the obstacle, which in turn displaces more sediment.
Conditions within the watershed may vary greatly. Not all tributaries can handle impact similarly; some locations may be much more sensitive to stormwater runoff.
While it is safe to assume that increasing impervious surfaces will eventually strain the capacity of our natural watershed networks, certain areas will demonstrate adverse effects (such as animal and plant species reduction and high erosion) at very low impervious surface areas.
Last modified October 16 2009 10:23 AM