RAN: Redesigning the American Neighborhood Project

Best Management Practices (BMPs): StormTreat System
One hybrid or variation of the cistern is a technology called the StormTreat System. This is a retention device intended to manage the "first flush" of runoff, as the first half inch of rain often carries the majority of pollutants.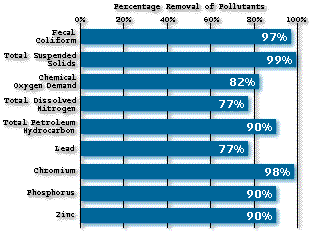 Nutrients such as nitrogen and phosphorus can be taken up in the biomass of the plants, which are rooted in the substrate. There are some plants which can be employed in this technology that will also accumulate heavy metals. Theoretically, the gradual release of the metals through plant decomposition is a better alternative than having a rush of metals (such as cadmium) enter receiving waters. As shown in the diagram below, the stormwater enters the baffled tank, where the suspended sediment settles out; the water is filtered through the planted substrate, and slowly dispersed into the outer filtration bed.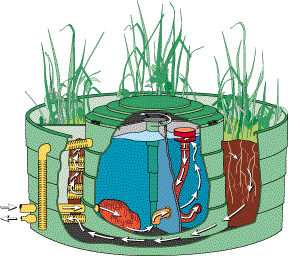 The installation shown below is in Manchester, New Hampshire. The typical application is to manage the first flush of parking lot runoff. These units can be designed for a single home, or for a street, or for cluster home application. There is some maintenance of planted material required, and the units require periodic cleaning of accumulated sediment.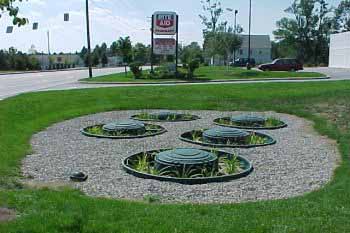 The StormTreat System can be configured to meet stringent state standards; cost estimates are on a quote basis. For more information, contact the vendor: StormTreat Treatment Solution
This does not serve as an endorsement of product on the part of UVM or the U.S. EPA
Last modified October 16 2009 10:18 AM