RAN: Redesigning the American Neighborhood Project

Best Management Practices (BMPs): Soakaway Pits
Rain barrels are not suited for every location. How else might we manage the runoff from the roof, rather than diverting it down the driveway to the street?
It is possible to build an infiltration zone, much the same as we might design for a traditional leach field in which the downspouts are routed away from the house. This is referred to as a soakaway pit, or dry basin. It is crucial that the infiltration zones be created far enough away from the foundation so that there is no seepage back toward the home. This approach looks something like this: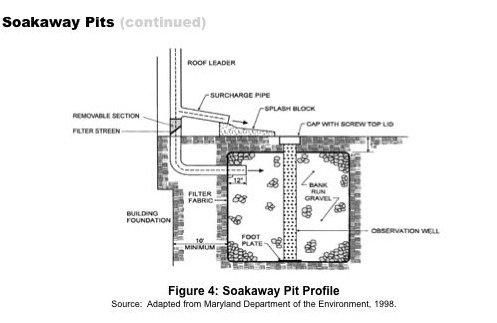 The California Stormwater BMP Handbook offers the following advice:
"In practice, dry wells receiving runoff from single roof downspouts have been successful over long periods because they contain very little sediment. They must be sized according to the amount of rooftop runoff received, but are typically 4 to 5 feet square, and 2 to 3 feet deep, with a minimum of 1-foot soil cover over the top (maximum depth of 10 feet)."*
The advantage to this solution is that it is relatively maintenance free. Needless to say, it is essential that proper soil testing be done to assure that drainage potential is adequate to handle peak loads. For more information about soakaway pits, please visit the Maryland Department of the Environment website.
*California Stormwater BMP Handbook(click on new development)
Last modified October 16 2009 10:12 AM