RAN: Redesigning the American Neighborhood Project

Best Management Practices (BMPs): Rain Gardens and Bioretention
Let's face it. Not everyone can design for a whole neighborhood or build a cistern platform on the side of their home. What else can the homeowner do?
With regard to our hypothetical runoff site, we have accounted only for 210 gallons per storm event which is collected in the rain barrels. Is there a way we might manage the remaining 1090 gallons AND improve the aesthetic appearance of our home at the same time? You bet!
One of the most popular methods of infiltration today is a rain garden (sometimes referred to as bioretention). This is a garden area which has been partially excavated and filled with stone, gravel, and top soil. Depending on location and building codes, a liner may be required. These gardens can be landscaped to the owner's taste and offer an on-site means of managing stormwater economically:


Photo credit, MDE, 2000
Here are treatment parameters listed by the California Stormwater BMP handbook: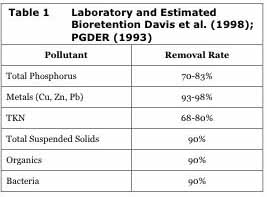 Below are examples of rain gardens. This stormwater treatment solution can be designed to manage a wide range of runoff volumes and it offers a stylish remedy!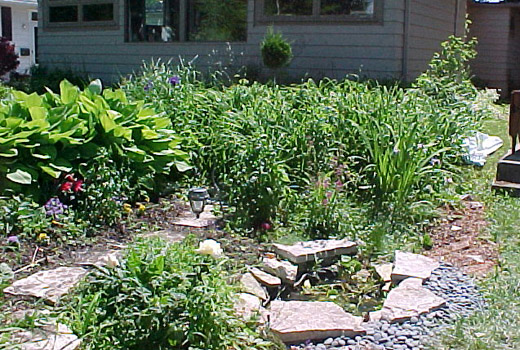 This photo is courtesy of The Wisconsin Department of Natural Resources.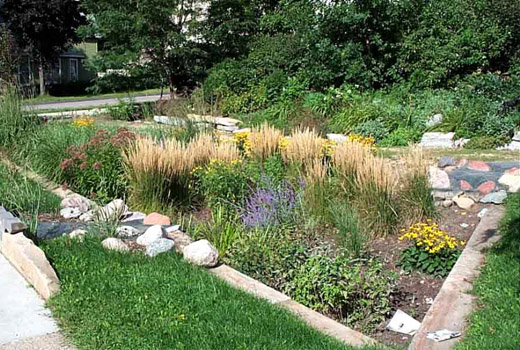 This garden is in Maplewood, Minnesota.
Here are several other examples of rain gardens and resources to help with the construction and design of these gardens:
The Burnsville Rainwater Gardens in Minnesota website explains how the gardens were constructed and how they performed.
The Brooklyn, New York Botanical Garden
The California Stormwater BMP Handbook
Metropolitan Council, St. Paul, Minnesota
The Vermont Stormwater Manual (for design and indigenous plant list)
Wisconsin Department of Natural Resources:
Here are some quick pointers from the West Michigan site listed above:
"For sandy soil, your rain garden should be 20-30% of the drain area. For example, if your roof and driveway measures 1200 square feet and all the rain from them will be used, your rain garden should be 20 to 30% of that, or 240-360 square feet. (ex: 10 feet X 24 feet)
For clay soil, your rain garden should be about 60% of the drain area. (Clay absorbs water very poorly; the varieties of rain garden plants that do well in clay take at least three years to get established. Soil replacement may be the best choice in clay soils.)
If you improve your soil drainage and replace your soil with rain garden mix 50-60% sand, 20-30% topsoil, 20-30% compost, your rain garden should generally be about 20-30% of the square footage of your drain area. Rain gardens for single-family homes will typically range from 150 to 400 square feet. But remember: any size rain garden, even a small one, will contribute to solving local water pollution problems. It will also be a lovely addition to your landscape."
A variation of the rain garden, which has been implemented in the Pacific Northwest, is the bog garden, which employs the same principles. The bog garden shown below can manage approximately 11,000 gallons of stormwater a year!


The builder notes that a French drain could have been used for the same purpose, but it would not have been as aesthetically pleasing as a bog garden. (Total cost was $600; treatment data not yet available.)
"The Bog Garden serves a 1/4-acre residential property and collects roof runoff for infiltration and evapotranspiration with wetland vegetation. The homeowner backfilled a lined retention pond (12-feet long by 8-feet wide by 3-feet deep) with three-way garden mix, coconut husk fiber, and peat moss. He then planted more than 30 species of native and non-native (to the Pacific Northwest) wetland facultative plants on the site...there is no standing water, but the soils are saturated much of the time. Unlike many similar systems, this one promotes evaporation and transpiration."
Builder/design contact: www.lsdg.net
This does not serve as an endorsement on the part of the U.S. EPA or The University of Vermont and is intended solely for educational purposes.
Last modified October 16 2009 12:11 PM