RAN: Redesigning the American Neighborhood Project

Stormwater Basics: Fate and Effects of Stormwater Pollutants
Stormwater with a high level of Total Suspended Solids (TSS) (and often other pollutants, such as petroleum products from automobiles), as well as phosphorus and nitrogen (from pet waste, over-fertilization of lawns, and soaps, for example) is washed down neighborhood storm drains and frequently discharged into the tributary system of the Potash Brook watershed usually without treatment of any kind. What is the ultimate downstream effect of the development of the Potash Brook watershed?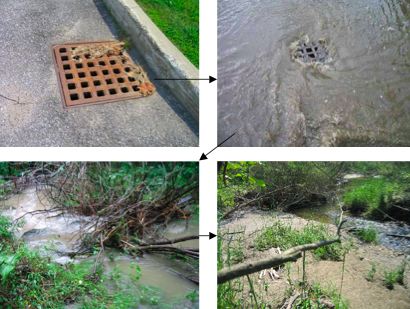 The suburban stormwater runoff entering storm drains in the top two photos above leads to in-stream tributary impacts (lower two photos above). The volume and force of the stormwater runoff scour out the tributary channels, which creates significant erosion.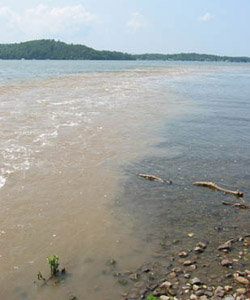 The sediment and pollutants not only threaten the stream ecosystem at downstream locations but also ultimately reach Lake Champlain. This succession of events can lead to loss of species diversity in our waterways, increased economic costs to residents, and damage of public resources which many of us cherish. The picture on the right illustrates the magnitude of the sediment plume which can extend out into Lake Champlain during a storm event. Sediment-bound pollutants, such as phosphorus and nitrogen compounds as well as harmful bacteria, also enter the lake under such conditions.
Plume photo credit: Alexander Hackman
Last modified October 16 2009 09:43 AM