RAN: Redesigning the American Neighborhood Project

Best Management Practices (BMPs): Background
The U.S. EPA defines Best Management Practices (BMPs) as the following:
"A device, practice, or method for removing, reducing, retarding, or preventing targeted stormwater runoff constituents, pollutants, and contaminants from reaching receiving waters."*
Stormwater BMPs are typically divided into two separate categories, non-structural or structural: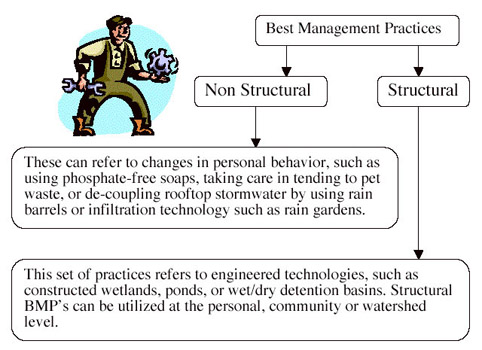 There are many valuable sources of information regarding non-structural BMPs in Vermont:
Examples include the Smartwaterways Campaign and The Lake Champlain Basin Program. Contact them for information regarding recycling hazardous waste, practicing responsible lawn care, and using fertilizers correctly.
The Vermont Department of Environmental Conservation (DEC) outlines current and proposed watershed management regulations for Vermont, and their website is constantly updated with stormwater developments.
With regard to structural BMPs, how do we decide which ones are appropriate? What are our options? Let's take a look at several structural BMPs.
*Urban Stormwater BMP Performance Monitoring, a guidance for meeting the National Stormwater BMP Database Requirements, April, 2002.
Last modified October 16 2009 08:33 AM