RAN: Redesigning the American Neighborhood Project

Best Management Practices (BMPs): Rain Gardens and Bioretention continued
There are many examples, nationwide, where bioretention is used at a larger scale to mitigate stormwater runoff from streets and parking lots. Below is an illustration of how bioretention on a larger scale might work: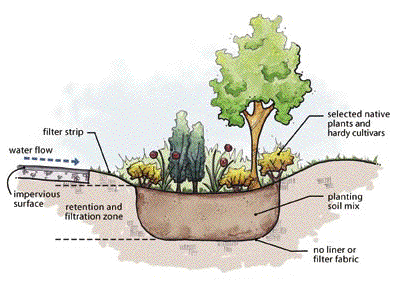 Illustration courtesy of the Low Impact Development Technical Guidance Manual for Puget Sound
What does bioretention cost, and how efficient is it in pollutant removal?
Bioretention can be economical. In new construction, costs can be slightly more than for landscaping but may be as little as $500 per site, excluding planting and design costs. This, of course, depends on scale, construction rates, and other conditions, such as soil type.
The U.S. EPA suggests that retrofits typically cost more, with $6,500 as a base price. As with any stormwater management strategy, the question often arises, "Who pays?".
As a point of interest, this technology can actually create profit margins in new construction. In a recent 200 unit development in Prince George's County, Maryland, the implementation of on-site bioretention allowed the developer to forgo a land intensive retention pond; as a result, additional lots were sold which created a realized profit of $4,000 per lot.*
*Taken from the EPA document EPA 832-F-99-012. Note: this document also contains design scope and relevant background information.
The following is a published U.S. EPA guideline with regard to performance:
Examples of Bioretention Projects
Let's take a look at a parking lot solution in Bellingham, Washington. This was designed to manage the stormwater runoff from the city hall parking lot.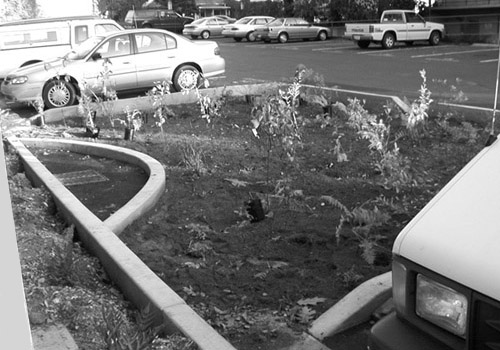 Early stages of bioretention construction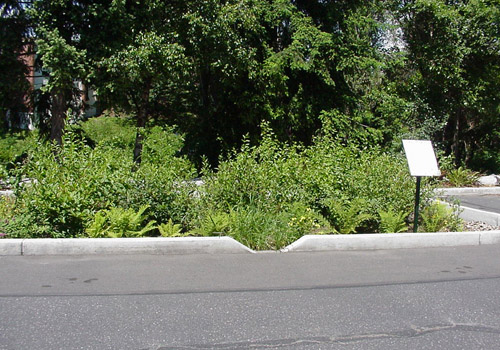 The latter two photos were taken less than three months after construction.
Data associated with the Bellingham bioretention project:
Tributary Area
0.789 acres (parking and sidewalk area 100% impervious)
Total Precipitation Volume
83,488 cf (624,490 gallons)
Previous Runoff Volume
83,488 cf (assuming no evaporation)
Total Infiltration Volume
72,047 cf (86% of total)
Total Raingarden Runoff Volume
11,441 cf (14% of total)
(overflow periods determined by level recorder)
Costs:
Asphalt
$ 1056
Concrete
$ 800
Gravel
$ 12
Labor
$ 1,690
Equipment
$ 942
Total cost
$ 4500
This bioretention installation was funded through a minimal sewer tax.
Contact:
William M. Reilly, Storm and Surface Water Utility Manager
Bellingham Public Works Department
210 Lottie Street Bellingham, WA 98225
Phone: 360-676-6961
E-Mail: wreilly@cob.org
Another example of a larger scale bioretention project is the SEAstreet (named for Street Edge Alternatives) project in Seattle, Washington. This landmark project encompassed two city blocks in a residential neighborhood in a retrofit to improve the quality of stormwater runoff. This 660 foot long "Super block" was the prototype model upon which Seattle has modeled other such projects.
The impervious surface of the street was reduced by 11%; plantings included 100 evergreen trees and 1100 shrubs. Monitoring has shown a 98% reduction in stormwater volume. The 2.3 acre area yielded only 132 cubic feet of water post installation, while the previous year (March-July) yielded nearly 5,000 cubic feet of runoff!
The roadway was reduced to 14 feet wide and 18 feet at intersections. While this project cost approximately $850,000 dollars, subsequent projects have been completed at a lower cost; this demonstrates that it is possible to contain stormwater in a retrofit which could conceivably add to the aesthetic appeal of the neighborhood.
For more information, see: Seattle Public Utilities.
See: Seattle Post Nov. 20, 2002 article for overview and additional photographs.
The city of Seattle has employed the SEAstreet model in other retrofits, such as the Broadway Grid project shown below: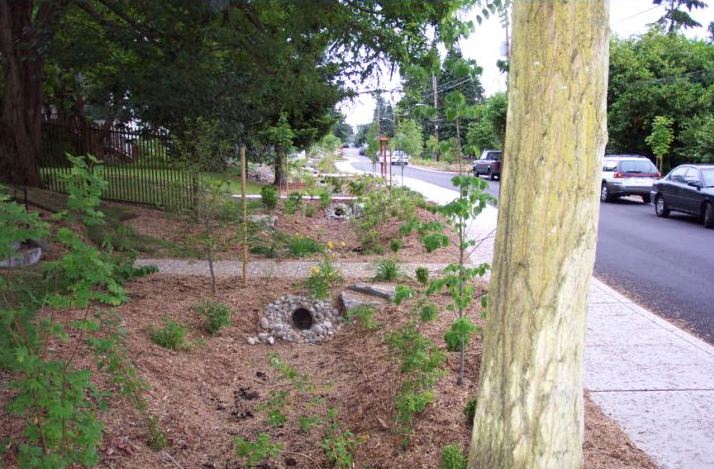 This design of stormwater management filters stormwater through planted environments in lined channels on either side of the street. Stormwater from approximately 21 acres is managed by this project. This system was designed for a peak 25 year storm load of 18 cfs. While official data are pending, results are expected to be exemplary with regard to suspended solids and nutrient retention. Note that the sidewalk and access road have been reduced to decrease the impervious surface.
For more information, please see the Seattle Public Utilities Page.
Photos courtesy of:
Mary Knackstedt, Environmental Education Specialist
Puget Sound Action Team
Office of the Governor (Washington)
360-725-5457
Last modified October 16 2009 08:29 AM