RAN: Redesigning the American Neighborhood Project

Best Management Practices (BMPs): The Baysaver
There are many other technologies designed to reduce specific pollutants, such as the skimming of petroleum products from water. There are also relatively simple infrastructure technologies for on site stormwater infiltration. To illustrate the concept of volume retention and reduction of suspended solids, let's take a look at a technology called The Baysaver. This is a method of underground retention and settling of suspended solids. Because this particular technology slows the rate of discharge, the downstream impacts are reduced. This technology lends itself to retrofit applications as well as new construction.
The suspended solids settle out in the holding tanks, with larger debris collected on the surface. One advantage of this system is access for cleaning with use of traditional manhole covers. The containment of suspended solids prevents significant downstream deposits which can overwhelm collection basins, stormwater infrastructure, or receiving waters.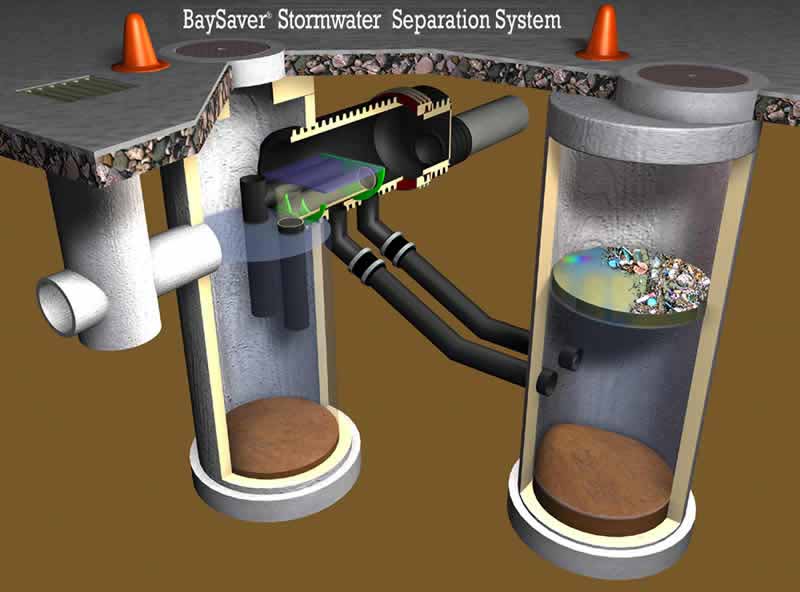 Note: The 10K conveys 100 cfs (cubic feet per second) at peak flow;
the 5K conveys 50 cfs at peak flow;
the 3K conveys 30 cfs at peak flow;
the 1K conveys 10 cfs at peak flow;
the 1/2K conveys 8.5 cfs at peak flow.
Download pdf file of performance data from The University of Maryland performance analysis/case study
Download pdf file of Price list (as per the vendor)
Last modified October 16 2009 08:37 AM