RAN: Redesigning the American Neighborhood Project

Best Management Practices (BMPs): Rain Barrels
We can design stormwater BMPs to manage stormwater at the home, street, or watershed level. Let's look at the use of rain barrels for a hypothetical home: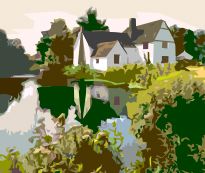 Assuming the footprint of a home is 1000 square feet, and the driveway is 750 square feet, and the walkway is 200 square feet, we would have a total of 1950 square feet of impervious surface, which, in northern Vermont, might generate as much as 1300 gallons of water during a major storm. If we wish to manage that stormwater on site through retention, how could we accomplish this?
We might first address the stormwater from the roof by disconnecting the downspouts and installing rain barrels at each corner of the house. These are typically 55 gallon drums, with watering hoses attached. This is a simple technology which can be purchased commercially or homemade.*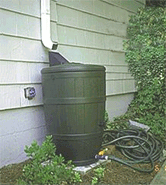 There are two central issues with rain barrels:
You must place the barrel high enough in relationship to your garden so you can rely on gravity to completely drain the barrel. Also, between storms rain barrels need to be drained, as they will not collect rain when full. But when properly managed, four such barrels would theoretically mitigate 210 gallons from each significant storm. Were this approach employed properly for half of the homes in Butler Farms and Oak Creek Village of South Burlington, Vermont, it could capture nearly 26,000 gallons of rainwater which otherwise would wind up in Tributary 7 of Potash Brook!
The retail cost of this technology is between $55.00 and $120.00. Rain barrels are commonly available at gardening centers. It is important to seek out a unit which has a child proof lid and can screen out debris. It should be noted that this technology requires time to drain the barrels, but if you are a gardener, this is a great source for water!
*For homemade barrels, make sure the previous use of the barrel was not for a corrosive chemical.
Photo credit: U.S. EPA
Last modified October 16 2009 08:17 AM