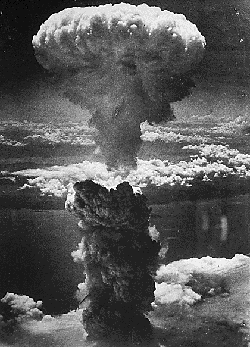 Cloud rises 47,000 ft above Nagasaki, August 1945
Nuclear Energy
Web pages to read:
Questions to think about for the quiz and final (answers will be in lecture, readings, and web pages):
How does nuclear energy work? What is the difference between a nuclear bomb and a nuclear reactor?
What are the specific dangers to both life and property that nuclear energy poses?
How can we reduce the possibility of human exposure to radiation?
Describe the different types of nuclear waste.