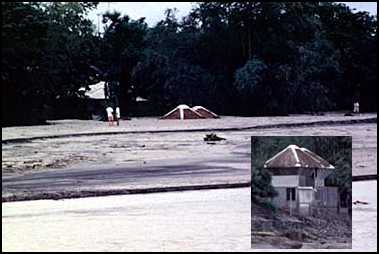 House buried by Pinatubo mudflow; inset shows house prior to burial
Mudflows
Web pages to read:
Questions to think about for the quiz and final (answers will be in lecture, readings, and web pages):
What causes mudflows?
Are there places in the world that are particularly susceptible to mudflows? If so, where?
What settings/areas exacerbate mudflow hazards?
What are the specific dangers to both life and property that mudflows pose?
Can mudflows be predicted? If so, how? If not, why not?
How can the effects of mudflows be mitigated (how do we reduce the money spent on relief from mudflow damage)?
What is the difference between mudflows and landslides?
Why do mudflows travel so far?