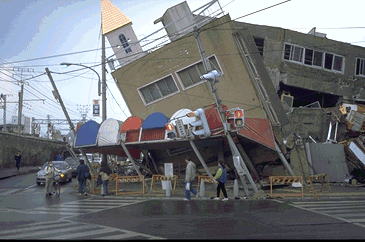 Aftermath of Kobe, Japan earthquake, 1995
Earthquakes
Web pages to read:
Questions to think about for the quiz and final (answers will be in lecture, readings, and web pages):
How does the geologic process work that causes earthquakes?
Where in the world are earthquakes most likely to strike?
What settings/areas exacerbate earthquake damage?
What are the specific dangers to both life and property that earthquakes pose?
Can earthquakes be predicted? If so, how? If not, why not?
How can the effects of earthquakes be mitigated (how do we reduce the money spent on earthquake relief)?
Describe the three major fault types, and give an example of each.