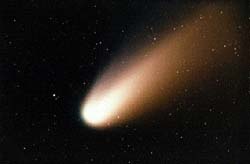 Comet Hale-Bopp, 1997
Asteroids and Comets
Web pages to read:


Asteroid and Comet Impact Hazards (from NASA)
Recent Near-Earth Asteroids (scroll down to see near misses)
Asteroid Deflection Strategies
Global Meteor Impact Craters (interactive map)

Questions to think about for the quiz and final (answers will be in lecture, readings, and web pages):
Where do most asteroids originate? Where do comets come from?
What happens when a large asteroid or comet strikes the earth? Describe the events.
Are there locations on earth that are particularly susceptible to impacts? Why/why not?
What impact settings/areas exacerbate impact hazards?
What are the specific dangers to both life and property that major impacts pose?
Can impacts be predicted? If so, how? If not, why not?
Can the effects of asteroids and comets be mitigated? How/why not?
Why do we think it was an asteroid or comet impact, and not, say, glaciers (or some other event) that caused the mass extinction when dinosaurs died out 65 million years ago?