Perennials this Month - May 1996
Dr. Leonard P. Perry, Extension Associate Professor, University of Vermont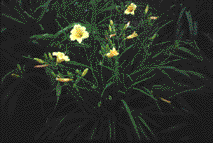 Plant of the Month: Hemerocallis 'Stella de Oro', Stella de Oro daylily
height x width: 12-16" x 24"
flowers: golden yellow, late spring to early fall
hardiness: USDA zones 3-9
interest: *one of most popular daylilies of all time, winner of Stout medal
*continual show of blooms, maybe with short rest in mid-summer, earliest to bloom and about the latest bloom of daylilies
*trumpet-like flowers 2-1/2" wide
*best in full sun
*good for most design situations including containers

More new or proven perennials!
*Hemerocallis 'Black-eyed Stella'-- similar to parent 'Stella de Oro' only with dark red eye zone; recurrent bloomer in some places more, some places less, bloom than its parent (less in my experience and others in New England); 20" x 24".
*Heuchera 'Raspberry Regal'-- fairly new cultivar; stiff, strong long stems making a good cut flower; rich rose red, late spring to early summer; 30-36" x 12-16".
*Tiarella cordifolia var. collina 'Oakleaf'-- dense, fast-growing clump former for shade; dark green leaves distinctly lobed; deepest pink of foamflowers, 6-8 weeks of bloom late spring to early summer; fairly recent introduction by Sinclair Adam, Dunvegan Nurseries (wholesale), West Chester, PA.
Return to Perry's Perennial Pages