Perennials this Month - March 1996
Dr. Leonard P. Perry, Extension Associate Professor, University of Vermont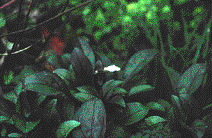 Plant of the Month: Penstemon digitalis 'Husker Red'
height x width: 36" x 30"
flowers: white, early to mid-summer
hardiness: USDA zones 4-8
interest: *1996 Perennial Plant of the Year (Perennial Plant Assn.)
*rich mahogany-colored foliage
*pinch when 8-12" high, otherwise may need to stake
*seed pods useful ornamentally and cut
*from (as name indicates) Nebraska
*full sun , well-drained soil
More new or proven perennials!
*Tiarella cordifolia 'Running Tapestry'-- vigorous groundcover; deeply dissected leaves, small, red speckled especially toward centers; white flowers, late spring-early summer; 15" x 24"; part to full shade (tolerates full sun North with ample wate r).
*Hemerocallis 'Happy Returns'-- descendant from Stella de Oro only much purer yellow, also a rebloomer; good in warm or cold climates; lemon yellow flowers early-mid summer, 18" x 20-24".
*Penstemon schoenholzeri-- similar appearance to 'Husker Red' only shorter and different flower color; dark foliage all season; profuse blooms, pink, early summer; 30" x 18".
Return to Perry's Perennial Pages