Cabinet
Club Council meetings happen at the Outing Club on Monday Nights at 7:15pm sharp!
For more information contact us at (802) 656.3439 or e-mail us at outside@uvm.edu
2015 Officers
President: Tyler Dunkle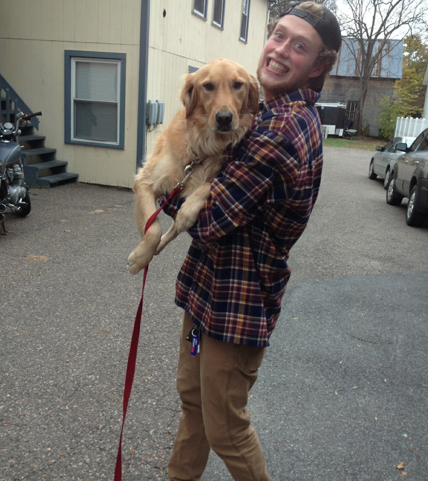 Tyler Dunkle is an avid hiker, skier, and pursuer of the world's best flannel. Tyler is most often accompanied in his outdoor endeavors by Bella The Dog, a goofy, tail-chasing Golden Retriever. When he's not climbing up a mountain or skiing down one, Tyler can be found searching for Narnia.
His greatest ambition is to find the missing pair to all unmatched socks. Tyler's other hobbies include collecting snowflakes, taking extreme outdoor selfies, and continuing his quest to take the Iron Throne of Westeros.
Vice President of Operations: Maeve Whalen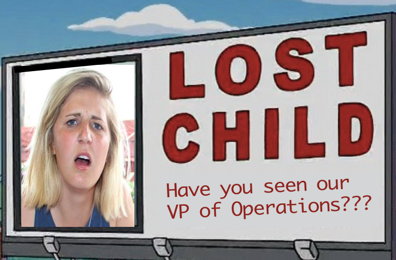 Hailing from the abandoned city of Centralia, Pennsylvania, Maeve raised herself as a hermit from birth to the age of 14. She spent much of her life during this time deciphering the flavor of mystery flavored lollipops. The mystery still haunts her today. After discovering the existence of other human life, Maeve became fascinated by thermodynamic fluid mechanics, and dedicated her life to hiding the truth…
Nowadays, Maeve spends countless hours with the Outing Club because it helps her escape the terrors of a non-hermit life style. She loves camping with the Outing Club almost as much as she loves playing Hide & Go Seek. She started a game last week and no one can find her!
Her fear of the world keeps the Outing Club alive.
Vice President of Coordination: Sara Meotti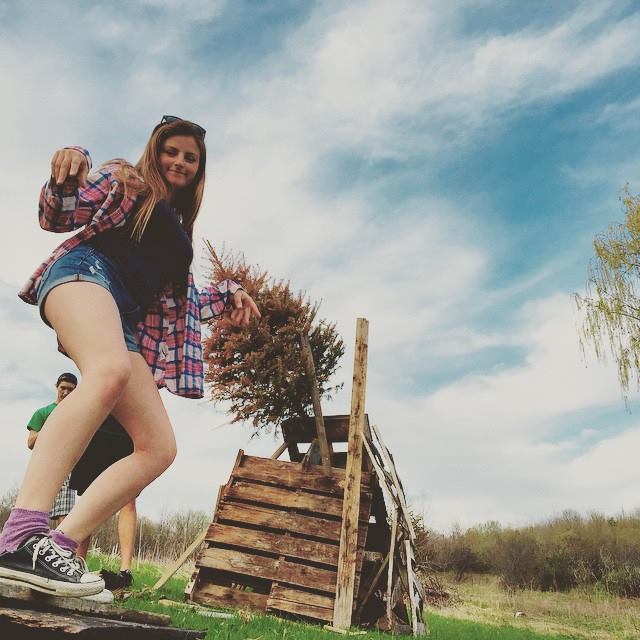 Sara Miotti's passion in life is getting as rad as possible in the outdoors. She enjoys climbing rocks, ''hiking'' and planning her lifelong dream of leading Mordor walking tours.
Some of Sara's hobbies include scratching posts like a cat, sledding down mountains on TV trays and putting rocks in people's backpacks without them noticing.
Sara also enjoys skiing with her fellow UVMers when she isn't trying to cast spells on them (she's fully convinced that she attends Hogwarts School of Witchcraft and Wizardry).
Vice President of Communication: Tim Cece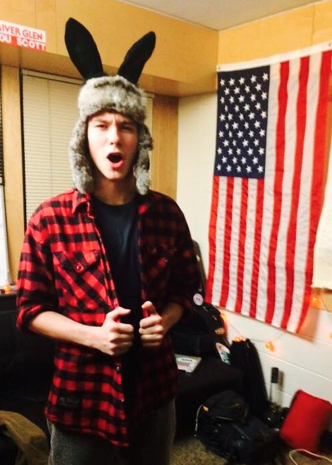 Born and raised among the Gray Wolves of North America, young Tim Cece fostered a passion for the outdoors as soon as he could run with the pack. He became one with the tall pines and cold the rivers, and learned the principles of Leave No Trace from elders among the neighboring Bear clan. Recognizing the need to sate his thirst for further education, and realizing that it was no longer socially acceptable to spend all of his time naked, Tim left the nest as a young man and went on to become an Eagle Scout.
After his training, he came to join us here at the University of Vermont, where he became a part of the Outing Club, and was later elected to the position of VP of Communication. He had heard tales of the Outing Club leaders and their feats as a cub, and was honored to join their ranks when he came of age.
Now a fully-developed man-wolf hybrid, Tim spends much of his time with the Outing Club leaders that he lovingly refers to as his new pack.
Treasurer (Duke of Dough): Aaron Shavitz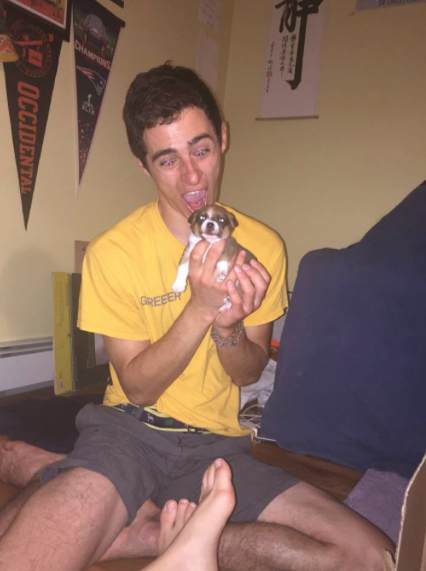 Since entering UVM, Aaron Shavitz won the gold medal in the Sochi Olympics for interpretive watermelon seed spitting and in the same year shocked the world at the Venice Biennale for his painting "Emoji: Girl with Upturned Hand".
Your best chance of running into Aaron is by shouting YAAAAAS QUEEN at the top of your lungs on top of the Williams fire escape.
Van Coordinator: McKenna Murray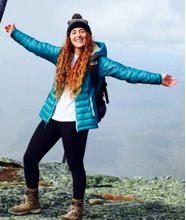 McKenna Murray. Daughter of Arthur Murray, yes the ballroom dancer, and Bill Murray, yes the legend. McKenna enjoys her life through a diet of solely rice pudding and raw root vegetables. Her free time is spent training large arctic mammals in tightrope acrobatics.
At a young age McKenna's fathers entered into the wilderness and stole laughter and positivity from forest woodland fairies to bestow upon their daughter. To this day she carries the fairys' spirits within her. Additionally, McKenna Murray only has three toes. For her wellbeing, please avoid confronting her about this.
McKenna's passion for the outdoors has steered her towards becoming the UVM Outing Club's Van Lady. What a job. What a woman.
Special Events: Luke Gajewski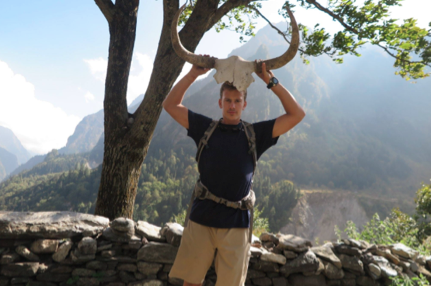 When not reading between the infamous UVM Literature class, "Toiken and his homies, the Hobbits" Luke "Hobbit Footed" Gajewski enjoys re-enacting Georgia O'Keefe still life photos by making him part of the scene.
Guess we have a future, male, New England Freida Kahlo planning your next Friday night activity, "Gnarly Gnomes Ripping it in Grenoble."
Social Chair: Lucy Holmes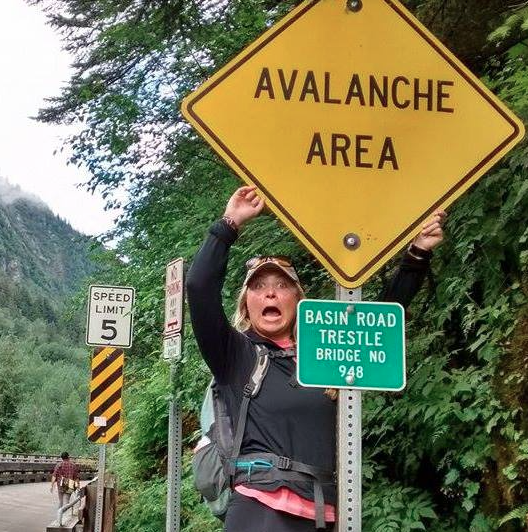 Lucy Holmes is an expert in many things. Some know her as an expert dog sledder. Some know her as an expert kayaker. Some may even know her to be the most lauded, most incredible, most expert scrabbler of our day and age.
Born in the wilds of Minneapolis, Lucy was raised to be tough, dominant, and assertive. She will often seen forcing people to have fun at the Outing Club social events, her preferred method of suggestion being a hard bite on the ear.
We are lucky to have her -- she keeps us in line and keeps the party going.
Head House Manager: Steve Rahr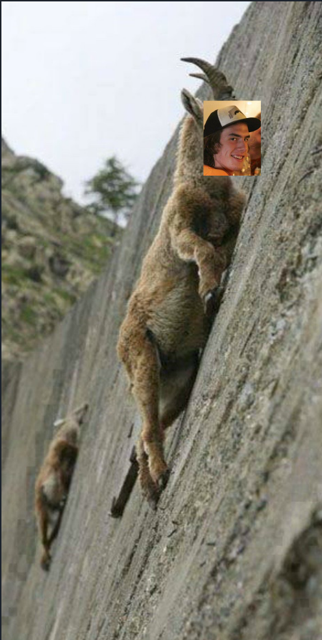 This is definitely not a mountain goat or the donkey from Shrek. This is Steve. Steve is the Head Haus Manager, and does an exceptional job. But that's not all he's known for. Some say he conquered the Seven Summits in a single day. Some say he's often found boot dancing in the boot room of the haus fully nude.
He exclusively drinks out of obscure water containers, like his enormous water pitcher. He wears tights under his jorts when he hikes. That hat you see him wearing, he's never taken it off. If you need to reach him, don't bother.
He's a hermit that only befriends trees (they whisper sweet nothings in his ears).
Cabin Manager / Head House Manager: Hannah Epstein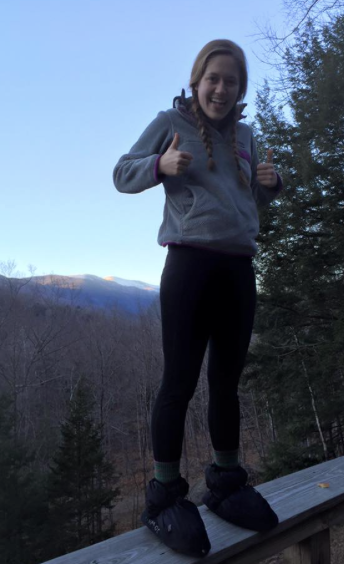 Hailing from the massive state of New Hampshire, Hannah comes to us as a champion in big animal training. She spent her childhood roaming the mountains and forests of her home state, befriending bears, wolves, and the occasional moose.
At the ripe age of 10, Hannah had started her own training company, and it is said that the can train anything (legend has it that someone once brought her a rabid badger and with the sheer force of her gently will, she cured it of rabies and made it incredibly docile -- it now lives under her bed).
In her spare time (when not teaching training classes at UVM), Hannah likes to take care of the OC cabin and Haus.
Cabin Manager: Danny Wiggins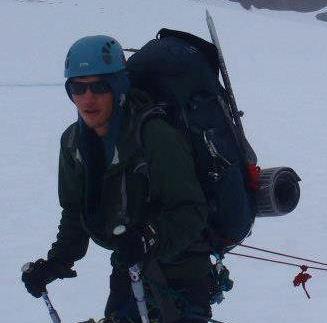 Danny loves to climb. Mountains, boulders, trees, dinosaur models, you name it. When he's not spending time outside, Danny can likely be found searching for ghosts in houses around Burlington, eating Chinese food, or training his pet walrus.
Danny's other talents include juggling, yodeling, playing the banjo with his toes, and making the best peanut butter and jelly sandwiches.
Social Justice Coordinator: Alexis Kelly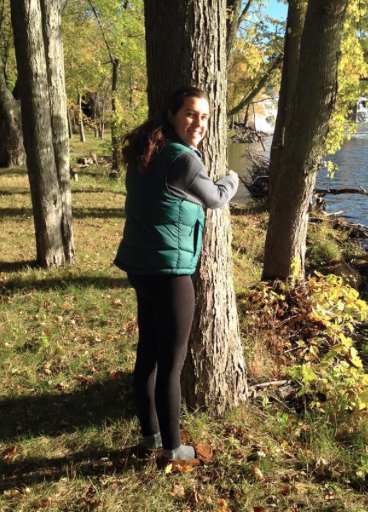 Alexis often finds herself wondering about how many peeps she can fitin her mouth at one time without choking during advanced lookin' goodfeelin' good class.
Social Justice Coordinator: Ella Mighell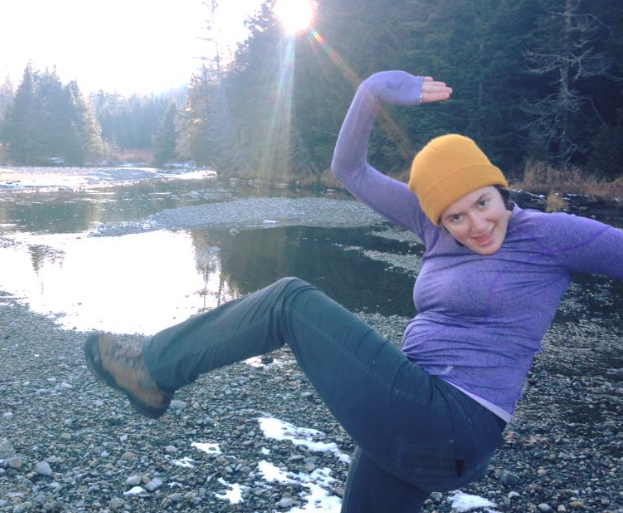 Ella's defining quality is her full-time job as a costume designer. She works all day, weaving and sewing bolts of fabric into the most incredible combinations you've ever seen -- just look for her walking from class to class and you will see her talent in action.
Her fingertips are full of pin and needle pricks, but her feet dance her jovially from class to class and bring her to our doorstep, where she takes the time to share her generous heart and talent further.
Pro Dealer and Shwag Coordinator: Mitch Cohen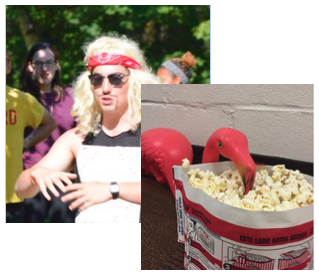 Listen to your mom and break out the hot dogs because this Beach Dad is out of control. His wide variety of Hawaiian shirts will make you question why he lives in the frigid northeast. But have no fear: this Shwaggy dude's smile will thaw your frozen heart.
On any given day you can find him dissecting the meaning of SPAGETT, cruising in his Honda Pilot or exuding his dadness madness while yakin' down the river with everyone's flamingobro, Rico Suave.
Alumni Coordinator: Louisa Jerome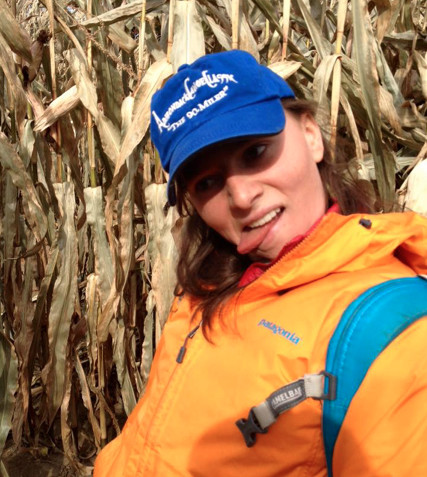 Louisa is a certifiable renaissance chick! What is a renaissance chick you ask? Well they do it all, whether it's backpacking across the North End, canoeing through Texas, or climbing the stairs in the Davis Center.
Louisa can be found snowshoeing up Mansfield in July, or sipping a cup of the finest chamomile while knitting a new scarf.
But no matter what she's doing, she does it with steaze!
Social Media and Website Coordinator: Liana Vitousek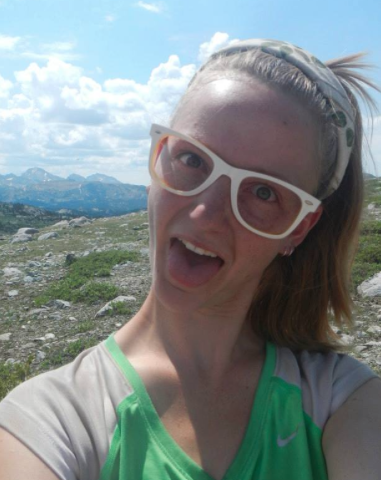 Liana is an underground freelance karaoke singer. Much like Duke Silver, little is known about her career, but stop into Radio Bean late on a weeknight and you'll see her -- wearing dark sunglasses and a leather jacket, belting out karaoke from her own traveling box, and you'll wonder -- could it be her?
At the end of the evening, once again grateful that nobody has discovered her yet, she will slink back to her home, pet her tiny cat, and hunch over computer in an effort to make social media a better place for outdoors people everywhere.
Trail Maintenance Coordinator: James Biddle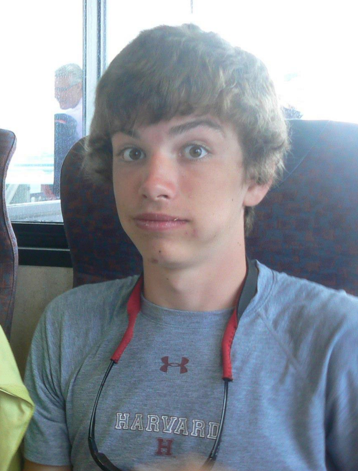 James likes treez, climbing treez, as well as planting treez. He is also quite the board games enthusiast.
Some of his childhood favorites were: Treez n' Ladders, Balderdash: Treez Edition #3, and even Hungry Hungry Treezes. Magnets, wizard hats, and those furry animal with 4 legs that makes noise are also things that fascinate him to an unfathomable degree.
Curriculum Coordinator: Rae Bronenkant
Rae "Recluse" Bronenkant is known for her dedication to leadership development in the OC -- one can find her buried in amongst the sleeping bag room of the OC Haus, her notebook and computer but inches from her face as she chews a pen, muttering "Diversity forums... LNT... Trucker's hitch..."
If you're the one who finds her there, it's best to bring her a nice warm cup of green tea, pat her head, and let her be.
Supreme Ruler: John Abbott
.
Last modified February 09 2016 12:14 PM