NBH News
Article: This Is Your Brain at College
NBH faculty member Dr. James Hudziak, professor of psychiatry, has become actively involved in undergraduate education. He is the driving force behind a new substance-free dormitory focused on "Wellness".
Article: Not All Psychopaths Fit the Sterotype
A new study by, Professor Tim Stickle and graduate student Andrew Gill, sheds light on the monolithic view of psychopaths and its ultimate demise against the fight to diagnose cases. Stickle and Gill worked with 150 male and female subjects, ages 11 to 17. The study created new openings to the world of diagnosis.
SPECIAL GUEST LECTURE: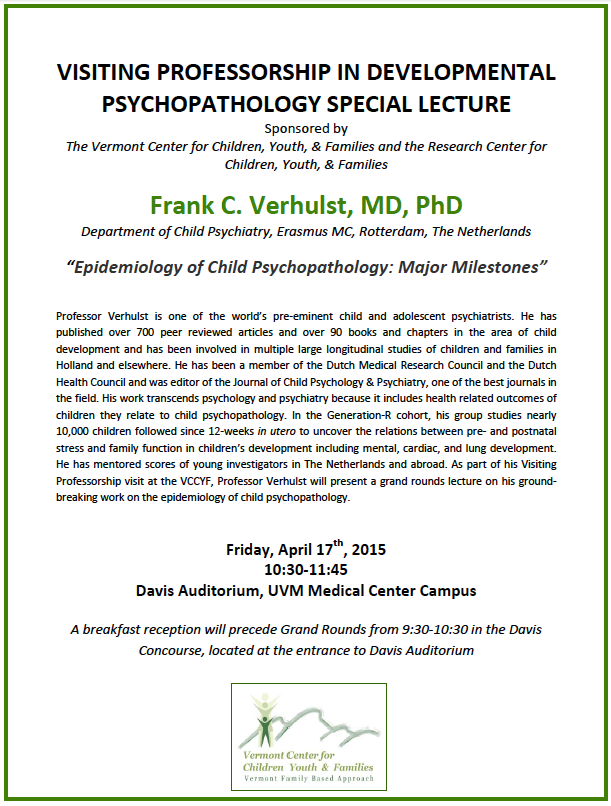 Opinion: Can the Brain be Trained?
An article written by Erin Abner title, Can the Brain be Trained?, delves into a discussion about the complexity of the human brain. Programs such as, Lumosity, are believed to improve the functions of the brain, however no scientific evidence has been proven that these brain training programs will slow the onset of an aging brain and different brain disorders. Although these games fail to delay the aging of the brain, it has been proven that brain is affected intellectually by these games. If these games are enjoyable to you, keep playing them. However if you are hoping for avoidance of dementia or an improving cardiovascular health and seeking broader mental stimulation, you may look else where for proven results.
To read the article, please click here.
GRANT NOTICE:
Three of the nation's largest philanthropies, the Howard Hughes Medical Institute (HHMI), the Bill & Melinda Gates Foundation, and the Simons Foundation are announcing a new partnership to provide much needed research support to outstanding early-career scientists in the United States. $148 million in research support will be awarded over the first five years of the program. 70 grants will be awarded every 2.5 years. For more information, please visit this link.
SPECIAL GUEST LECUTRE:
Bernard Balliene, PhD
Brain and Mind Research Institute, University of Sydney
"The Neural Bases of Decision Making"
Tuesday, April 14th
10am-11:30am
Davis Auditorium, UVM Medical Center Campus
RFA: NBH Microgrant for Trans-College Collaborations
DEADLINE: April 1, 2015
Vermont Brain Bee Highlighted on Vermont Public Radio
Jane Lindholm of VPR interviewed Lisa Bernardin about this year's Vermont Brain Bee. To listen to the interview click here.
Sixth Annual Vermont Brain Bee held at UVM
Thirty seven high school students from seven Vermont high schools participated in the Sixth Annual Vermont Brain Bee on Saturday, February 7, 2015 at the University Of Vermont College Of Medicine. Mount Abraham Union High School student Lyn Ackert Smith received first place at the Brain Bee. Cullen Jemison, also from Mount Abraham Union High School won second place at the Bee. The third place spot was tied between Charlotte Evans and Lauren Whitehouse, both students at Essex High School. Team competition awards went out to three teams; first place to Mount Abraham Union High School, second place to Essex High School, and third place to Burlington Technical Center. William Falls, chair of the Department of Physiological Science at UVM, delivered the keynote address, "Stress and the Emotional Brian". The Vermont Brain Bee was co-sponsored by the Vermont Chapter of the Society for Neuroscience and the Neuroscience, Behavior and Health Initiative at UVM and the Neuroscience Graduate Program. Thank you to our sponsors; Vermont Biosciences Alliances, Green Mountain Antibiotics, Fisher Scientific, CHROMA, Micro Video Instruments, MBF Bioscience, Med Associates, and the Neuroscience Undergraduate Major.
NBH Co-Sponsors 10th Annual Forum
The Tenth Annual Neuroscience, Behavior and Health Research Forum was held on Friday, January 23rd and Saturday, January 24th at UVM's Davis Center. (insert number of attendees here). Andre Fenton, PhD, Professor of Neural Science at the Center for Neural Science, NYU, presented the keynote address, "Tracing, Erasing, and Harnessing Memory, on Friday evening. On Saturday, UVM Faculty, post-docs, undergraduate and graduate students presented their research during different sessions of platform talks as well as poster sessions. The winner of the platform talk was Estelle Spear, a UVM Neuroscience Program Graduate student, and the winner of the poster session was, Max Mehlman of Dartmouth and Nicholas D'Alberto, a UVM Neuroscience Program Graduate student. To learn more about the platform talks and posters, please visit here.
Julie Dumas and Patricia O'Brien Discuss "Chemo Brain" on Across The Fence
During cancer treatment many survivors become frustrated by the mental fogginess they experience. This condition is commonly referred to in the cancer community as "chemo brain" or by the technical term Neurocognitive Dysfunction. Dr. Patty O'Brien (Vermont Cancer Center) and Dr. Julie Dumas (UVM Psychiatry/NBH) appeared on Across The Fence on April 8th to discuss the relationship between cancer treatments and chemo brain. The disorder, which i mpacts memory and cognitive function can be caused by chemotherapy, as well as radiation, surgery involving anesthesia, and medications. To learn more about what causes chemo brain, the impact it has on cancer survivors, and treatment options please watch "Cancer Treatment and Survivorship: Understanding Chemo Brain".
Former Vermont Brain Bee Participant Organizes Boston Symposium on Music and the Brain
Two-time Vermont Brain Bee runner-up Kameron Clayton is a junior at Boston University where he double-majors in neuroscience and music, two subjects that he is very passionate about. His passion inspired him to organize the 2014 Boston University Music and the Brain Symposium, which showcased current research and future directions in the increasingly popular study of music's effect on the brain. Panelists included leading neuroscientists in the field such as Gottfried Schlaug, Aniruddh Patel and Robert Zatorre. The event also featured a concert by the Boston Symphony Orchestra Brass Quintet.
Read more about Kameron and the BU Music and the Brain Symposium >>
Find out more about the Vermont Brain Bee >>
UVM Psychologist Developing Technology to Track the Wellbeing of Trauma Patients
Many trauma patients experience anxiety and PTSD after being discharged from the hospital. Matthew Price, a new Assistant Professor in Psychology, has turned his interest in technology into a possible solution to this problem. Price's research began with a compliance study, which assessed the efficacy of text messages as a mode of support for this population of patients. He has teamed up with Kalev Freeman (FAHC, NBH) and members of the Complex Systems Center to develop other technologies that would provide mental health assessment and support services to trauma patients. These new technologies include apps for patients' self-assessment, software to make it easier for doctors to analyze collected data, and crowdsourcing techniques to determine effective assessments. Read More about Price's Research >>
NBH Faculty Member Awarded Over $3 Million to Improve Placements for Children in Foster Care
Jessica Strolin-Goltzman, UVM Associate Professor of Social Work and NBH Initiative member, has been awarded more than $3 million in federal grants, including a recent "trauma grant" from the U.S. Department of Health and Human Services. Through this grant Dr. Strolin-Goltzman and her collaborators, including Co-PI Jesse Suter (UVM Center on Disability and Community Inclusion), aim "to have professionals administer functional or well-being assessments as soon as kids come into custody to identify strengths and needs related to improving the response to trauma." Stolin-Goltzman and Sutter are also working to develop and implement interventions that will improve the educational outcomes of middle and high school students in foster care. Neuroscience will likely inform their project as both recently collaborated with Haley Woodside-Jiron (Education and NBH) on a chapter titled "How Neuroscience Can Inform Educational Practices for Youth Involved in the Child Welfare System" in Social Work: Current Research and Practice (Springer, 2014). They state it is important for social workers, educational professionals, parents and caregivers to understand the neurobiological effects of trauma on foster kids and how this can explain behaviors and help inform treatment. Through these treatments Stolin-Goltzman's team hopes to improve and reduce the number of placements for children in foster care. Read More about Dr. Stolin-Goltzman's Research >>
NBH Faculty Members Awarded UVM REACH Grant
NBH faculty members Haley Woodside-Jiron (Education) and Rodney Scott (Neurological Sciences) were awarded a 2014-15 UVM REACH Grant for their project, "Neuroscience-Based Strategies for Learning Impairments in Children with Epilepsy", which aims to "provide data on the neural basis of learning impairments and whether it is possible to maximize learning even in the presence of seizures, antiepileptic drugs and pre-existing brain abnormalities." For more information about their proposed research click here.
The REACH Grant Program seeks to identify and promote promising research, scholarship and creative arts in all areas of the University and to encourage faculty members to envision ambitious, long-term projects that will have a substantial impact on their own profiles as researchers or creative artists as well as enhance the profile of UVM by the quality and significance of their achievements. The program is designed to foster conditions of possibility in which these more ambitious projects can grow by providing seed money, exploratory funding, leveraging capability, and similar options. Read more about the REACH Grant Program>>
New UVM Public Health Prevention Scientist is Inspiring Students and Impacting Policy
New UVM Assistant Professor Bernice Garnett, a public health prevention scientist, has already made a big impact across campus and at the Vermont Statehouse. Her work on solving childhood obesity has developed into a broader research goal that also includes bullying and harassment of overweight children. She has taken a holistic approach to childhood obesity prevention programs, encouraging researchers, schools and policy makers to look at childhood obesity and bullying within the broader context of school climate and culture. She notes that empirical evidence shows that healthy kids demonstrate higher cognitive function and better social-emotional health. During Dr. Garnett's short time at UVM she has already developed one of the most popular courses on campus. She has also had several meetings with legislators and state agency leaders to try and offer UVM research assistance and influence policy. She believes, "Vermont is the perfect place to pilot some innovative healthcare models that we can showcase nationally. It's a small state where you can have a lot of impact, and UVM can play a major role by providing evidence-based research to create effective policy". Read More about Dr. Garnett in UVM Today >>
Fifth Annual Vermont Brain Bee held at UVM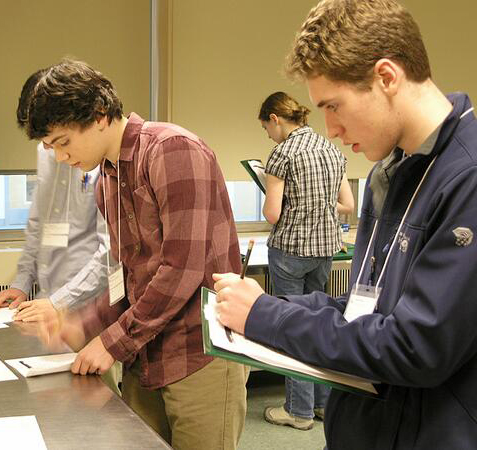 Twenty high school students from nine Vermont high schools participated in the Fifth Annual Vermont Brain Bee on Saturday, February 8, 2014 at the University of Vermont College of Medicine. Middlebury Union High School senior Jonah Lefkoe received first place at the Bee. Evan Trus, from Champlain Valley Union High School was the runner-up, and will compete in the National Brain Bee in Baltimore, Md., March 14-15, 2014. Ian Lund of Rice Memorial High School in South Burlington, Vt., and Sonia Howlett from Middlebury Union High School tied for third place.¬ Michael Cannizzaro, Associate Professor of Communication Sciences and Disorders, delivered the keynote address,'€œWhat's the story with the prefrontal cortex? Let's shed some light on the subject'€.¬ The Vermont Brain Bee was co-presented by the Vermont Chapter of the Society for Neuroscience and the Neuroscience, Behavior and Health Initiative at UVM. ¬ Learn more about the 2014 Vermont Brain Bee. Read more in Vermont Medicine Magazine.
NBH co-sponsors 9th Annual Research Forum
Last modified April 28 2015 11:37 AM