NBH News
Fifth Annual Vermont Brain Bee held at UVM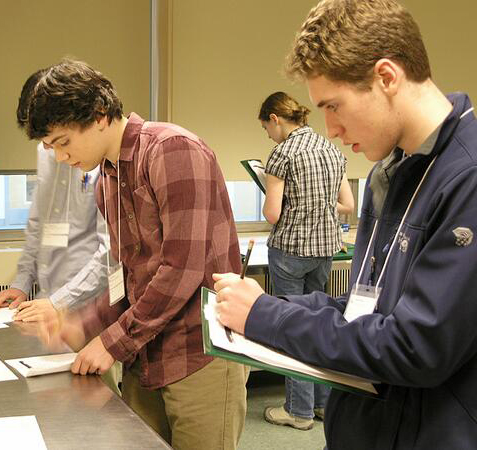 Twenty high school students from nine Vermont high schools participated in the Fifth Annual Vermont Brain Bee on Saturday, February 8, 2014 at the University of Vermont College of Medicine. Middlebury Union High School senior Jonah Lefkoe received first place at the Bee. Evan Trus, from Champlain Valley Union High School was the runner-up, and will compete in the National Brain Bee in Baltimore, Md., March 14-15, 2014. Ian Lund of Rice Memorial High School in South Burlington, Vt., and Sonia Howlett from Middlebury Union High School tied for third place.  Michael Cannizzaro, Associate Professor of Communication Sciences and Disorders, delivered the keynote address,"What's the story with the prefrontal cortex? Let's shed some light on the subject". The Vermont Brain Bee was co-presented by the Vermont Chapter of the Society for Neuroscience and the Neuroscience, Behavior and Health Initiative at UVM.  Learn more about the 2014 Vermont Brain Bee. Read more in Vermont Medicine Magazine.
NBH co-sponsors 9th Annual Research Forum
The Ninth Annual Neuroscience, Behavior and Health Research Forum was held on Friday, January 24th and Saturday, January 25th at UVM's Davis Center. Over 175 people attended. Dr. Emanuel DiCicco-Bloom presented the keynote address, "Autism Spectrum Disorders: Tales from the Mouse", on Friday evening. On Saturday, UVM faculty, post-docs, undergraduate and graduate students presented their research during several sessions of platform talks as well as a poster session. Please visit http://www.uvm.edu/~vtsfn/NBHForum2014.php for a list of talks and posters.
The Research Forum was sponsored by the Neuroscience, Behavior and Health Initiative and the Vermont Chapter of the Society for Neuroscience.
NY Times Photographer Doug Mills Highlights 30 Years of Historic Moments Captured Through the Lens of His Camera
On September 23, 2013, the NY Times Washington Bureau Photographer, and a UVM parent, Doug Mills presented the Burack Lecture, "Through the Lens of a Camera: My 30 Years in the White House". The two-time Pulitzer Prize awardee has been with the New York Times since 2002, and, previous to that was with the Associated Press for 15 years and United Press International for 4 years. He has covered every president since Reagan, has been witness to countless historical events, and has gotten to know each president personally. In 2001, he was one of the few members of the press on board Air Force One with President Bush after the tragedy of 9/11. He is also an outstanding sports photographer and has covered many Super Bowls and 12 Olympics. His iconic images tell many stories of human behavior in triumph and tragedy. To watch Doug Mills' lecture online click here.
White House launches Brain Research through Advancing Innovative Neurotechnologies (BRAIN) Initiative
On April 2, 2013 President Obama launched the Brain Research through Advancing Innovative Neurotechnologies (BRAIN) Initiative. On September 16, 2013 an advisory committee to the NIH Director released its initial recommendations for research areas of priority during Fiscal year 2014.
They are as follows:
Generate a Census of Cell Types.
Create Structural Maps of the Brain.
Develop New Large-Scale Network Recording Capabilities.
Develop A Suite of Tools for Circuit Manipulation.
Link Neuronal Activity to Behavior.
Integrate Theory, Modeling, Statistics, and Computation with Experimentation.
Delineate Mechanisms Underlying Human Imaging Technologies.
Create Mechanisms to Enable Collection of Human Data.
Disseminate Knowledge and Training.
The goal is to combine these nine recommendations into a "single, integrated science of cells, circuits, brain and behavior".
For the full Interim Report please visit: http://www.nih.gov/science/brain/09162013-Interim%20Report_Final%20Composite.pdf.
NIMH reorienting away from DSM to RDoC
Thomas Insel, Director of the National Institute of Mental Health announced that NIMH will be re-orienting its research away from the Diagnostic and Statistical Manual of Mental Disorder (DSM) categories to that of Research Domain Criteria (RDoC) to "transform diagnosis by incorporating genetics, imaging, cognitive science, and other levels of information to lay the foundation for a new classification system" for mental disorders. To read his blog, go to http://www.nimh.nih.gov/about/director/index.shtml. This emphasizes even more the need for neuroscientists to collaborate with behavioral scientists to advance the understanding and treatment of mental health.
Last modified February 21 2014 11:04 AM