NBH News
NBH set to co-sponsor 9th Annual Research Forum
The Ninth Annual Neuroscience, Behavior and Health Research Forum wll be held on Friday, January 24th and Saturday, January 25th at UVM's Davis Center. Dr. Emanuel DiCicco-Bloom will present the keynote address on Friday evening in the Livak Ballroom. On Saturday, UVM faculty and graduate students will present their research during several sessions of platform talks as well as a poster session. Please visit http://www.uvm.edu/~vtsfn/NBHForum2014.php for further information, including registration.
The Research Forum is sponsored by the Neuroscience, Behavior and Health Initiative and the Vermont Chapter of the Society for Neuroscience. Contact nbh@uvm.edu with questions.
---
White House launches Brain Research through Advancing Innovative Neurotechnologies (BRAIN) Initiative
On April 2, 2013 President Obama launched the Brain Research through Advancing Innovative Neurotechnologies (BRAIN) Initiative. On September 16, 2013 an advisory committee to the NIH Director released its initial recommendations for research areas of priority during Fiscal year 2014.
They are as follows:
Generate a Census of Cell Types.
Create Structural Maps of the Brain.
Develop New Large-Scale Network Recording Capabilities.
Develop A Suite of Tools for Circuit Manipulation.
Link Neuronal Activity to Behavior.
Integrate Theory, Modeling, Statistics, and Computation with Experimentation.
Delineate Mechanisms Underlying Human Imaging Technologies.
Create Mechanisms to Enable Collection of Human Data.
Disseminate Knowledge and Training.
The goal is to combine these nine recommendations into a "single, integrated science of cells, circuits, brain and behavior".
For the full Interim Report please visit: http://www.nih.gov/science/brain/09162013-Interim%20Report_Final%20Composite.pdf.
---
NIMH reorienting away from DSM to RDoC
Thomas Insel, Director of the National Institute of Mental Health announced that NIMH will be re-orienting its research away from the Diagnostic and Statistical Manual of Mental Disorder (DSM) categories to that of Research Domain Criteria (RDoC) to "transform diagnosis by incorporating genetics, imaging, cognitive science, and other levels of information to lay the foundation for a new classification system" for mental disorders. To read his blog, go to http://www.nimh.nih.gov/about/director/index.shtml. This emphasizes even more the need for neuroscientists to collaborate with behavioral scientists to advance the understanding and treatment of mental health.
---
Fourth Annual Vermont Regional Brain Bee held at UVM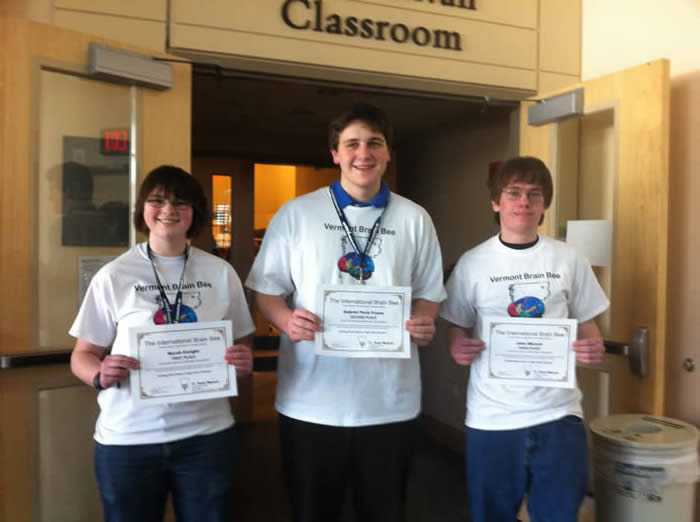 Thirty high school students from eight Vermont high schools participated in the fourth annual Vermont Regional Brain Bee on Saturday, February 9, 2013 at the University of Vermont College of Medicine. Nora Enright, a student from Otter Valley Union High School was the winner and will go on to compete in the National Brain Bee in Baltimore, Md., March 2 to 4, 2013.   Alexandra Potter, Asst. Professor of Psychology and Psychiatry delivered the keynote address, "Adolescents, Impulsivity and Brain Function". The Vermont Brain Bee was co-presented by the Vermont Chapter of the Society for Neuroscience and the Neuroscience, Behavior and Health Initiative at UVM.  Learn more about the 2013 Vermont Brain Bee.
 WCAX-TV's February 9th evening news included a piece about this year's Brain Bee: http://www.wcax.com/story/21092788/putting-your-brain-to-the-test. Additionally, their program "The :30" featured a live interview with guests Lisa Bernardin, VT Brain Bee coordinator, and Evan Trus, a Champlain Valley Union High School junior and two-time VT Brain Bee participant. The segment aired Friday, February 1st on WCAX.
Last modified November 22 2013 01:40 PM