Service-learning projects in the Geotechnical Design and Senior Capstone Design courses
Service-learning is a form of experiential education in which students engage in activities that address human and community needs together with structured opportunities intentionally designed to promote student learning and development (Jacoby, 1996). It is a teaching and learning approach that promotes academic enhancement and personal growth through civic engagement.
Often in the Geotechnical Design course groups of four to five students are assigned a different historic structure in Vermont for a semester-long service-learning project spanning over 12 weeks. Students have worked on shallow foundations, retaining structures and slope stability issues related to heritage facilities such as the one shown in photograph A below. The projects have been with non-profits, such as the Preservation Trust of Vermont and Shelburne Farms. Typically, students survey the damage, study archived documents if available, conduct site investigations using hand augers and sampling equipment, conduct in-situ borehole shear tests, occasionally assist in professional drilling activities, determine relevant soil properties (index testing and consolidation and shear strength testing using fully automated consolidation, triaxial and direct shear devices), perform analysis, make recommendations for repairs, and prepare cost estimates. The experience is unique because students need to come up with remedial schemes while maintaining original elements of the structure as much as possible. The projects conclude with comprehensive project reports, presentations and student reflections. Representatives of community partners give the initial site visit, attend the mid-semester progress report and final presentations, and provide input.
These projects introduce students to the complex nature of engineering projects. They use the geotechnical skills they have obtained in their previous courses and the first part of the semester of this course to analyze problems and design solutions, but they are also introduced to the historic preservation, societal and economic aspects of the project. They take a systems approach to the problem, use new technologies, either testing equipment or modeling software, and interact with and present their findings to the community partners enhancing interpersonal skills.
A. Grand Isle Lake House with differential foundation movement

B. augering and sampling using hand operated devices

C. student performing a shear test



Students in the Capstone Senior Design course also work on service learning projects. Projects that focus on sustainable solutions are especially sought after . Thus far we have worked with many Vermont towns (Burlington, Essex, Greensboro, Chelsea, Milton, Shelburne) and non-profit organizations (Preservation Trust of Vermont, Recycle North, University of Vermont, Agency of Transportation). The projects have included many stormwater management projects, small hydro, building preservation and design, bridge reconstruction, landslide mitigation, green roof and porous pavements, among others.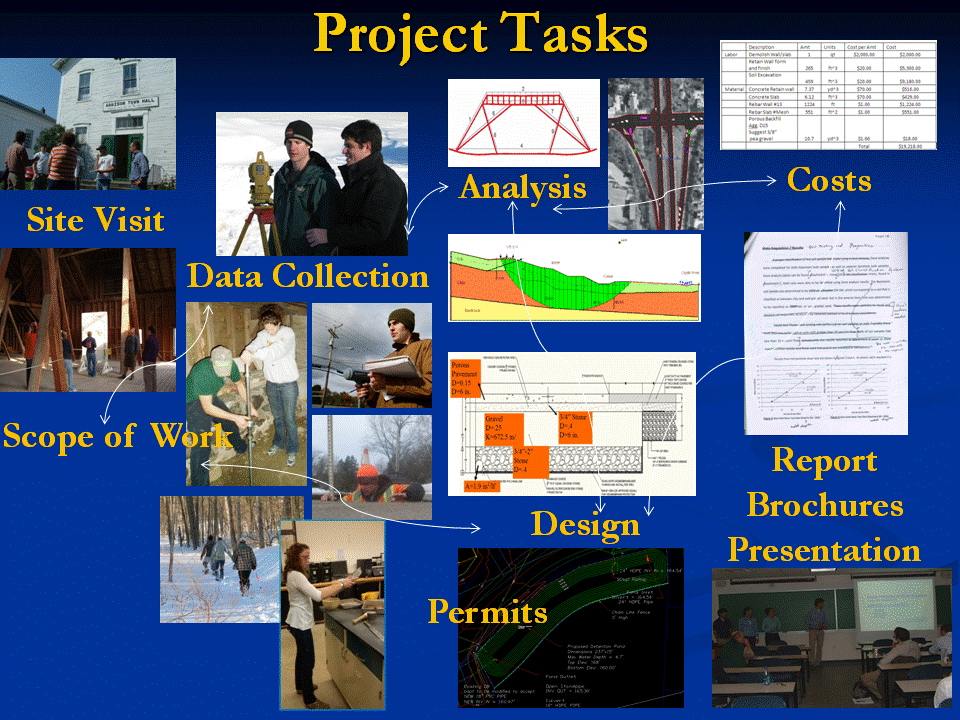 Last modified June 11 2010 05:12 PM