Mandar Dewoolkar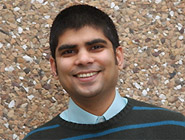 Dr. Mandar M. Dewoolkar, P.E.,
Associate Professor
Ph.D., University of Colorado at Boulder, 1996
M.Tech., Indian Institute of Technology, Mumbai, India, 1992
B.E., University of Mumbai, India, 1990
Research Interests:
Geotechnical earthquake engineering;
Geoenvironmental engineering;
Applications of laboratory (including physical modeling), in-situ
and field testing and numerical methods in geomechanics;
Contaminant transport in building materials;
Engineering applications for heritage preservation; and
Engineering Education
Contact Information
Office:
213A Votey Hall
Phone:
(802) 656-1942
Email:
mandar@cems.uvm.edu
Dr. Dewoolkar has 15 years of experience as a researcher, consultant and educator. He specializes in soil mechanics. His expertise is in applying physical and numerical modeling and field and laboratory testing techniques to study effects of environmental loadings on natural and manmade materials and structures and in geohazard mitigation. Since 2003, he has worked with two postdocs and 5 PhD, 10 MS, 2 Honors and 25 undergraduate students on various research projects. He has taught eight different courses at UVM.
Dr. Dewoolkar received UVM's Kroepsch-Maurice Excellence in Teaching Award in 2007, the Outstanding Service Learning Faculty Award in 2010, Vermont Campus Compact's 2011 Engaged Scholar Award, and the Eramus Mundus International Visiting Scholarship to spend Fall 2010 semester at the International Consortium of Structural Anayslis of Monuments and Historical Construction, University of Minho, Guimaraes, Portugal.
09/09-current
Associate Professor, University of Vermont
09/12-current

Program Head, Civil & Environmental Engineering, University of Vermont

09/03-08/09
Assistant Professor, University of Vermont
09/00-08/03
Geotechnical Engineer, GEI Consultants, Inc., Englewood, Colorado
Adjunct, Colorado School of Mines, Golden, Colorado
Visiting Lecturer, University of Colorado, at Boulder
01/97 - 07/00
Research Associate, University of Colorado at Boulder
08/92 - 12/96
Research Assistant and Teaching Assistant, University of Colorado at Boulder
08/90 - 07/92
Research Assistant and Teaching Assistant, Indian Institute of Technology, Mumbai
Editorial Board Member - ASTM Geotechnical Testing Journal; Guest Editor of a special issue of Advances in Engineering Education in 2011; Co-editor of ASCE Geotechnical Special Publication No. 160 on Dynamic Response and Soil Properties for GeoDenver 2007 Conference; Committee Memberships - ASCE (Soil Dynamics and Earthquake Engineering, Soil Properties and Modelling), GeoInstitute - Diversity and Inclusion Committee, TRB (Transportation Earthworks, Instrumentation and Modeling)
Last modified December 16 2014 10:46 AM