Idaho
Number of victims
In total, there were 38 victims in Idaho. Of the 38, 8 were male and 30 were female. About 32% were deemed mentally ill and about 66% "mentally deficient," with 1 of the 38 victims classified as "other."
Period during which sterilizations occurred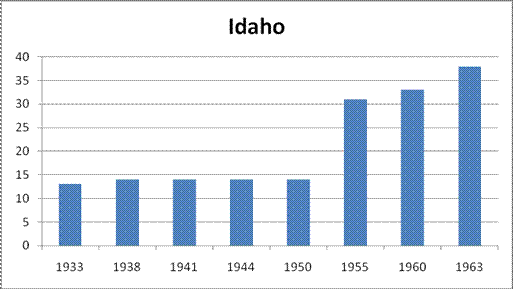 The first sterilizations occurred in 1932 and continued in 1934. The law was dormant from 1935 until 1952, and then sterilizations continued until 1963 (Paul, pp. 334, 337). The rate of sterilization per year was below 1 per 100,000 per year during any period during which sterilizations occurred.
Passage of law(s)
In 1918, Idaho passed its first sterilization law, which applied only to institutionalized persons: "to prevent the procreation of the feeble-minded, insane, epileptic, moral degenerates, sexual perverts, who may be inmates of institutions maintained by public expense, by authorizing and providing for the sterilization of persons with inferior hereditary potentialities" (Laughlin, p. 48; Paul, p. 330). The act was vetoed by Governor D.R. Davis in 1919, who doubted its scientific merit (Paul, p. 330).
In 1925, another act was passed that did not limit sterilization to those in institution, and its was compulsory (Paul, pp. 330-1; Landman, p. 84). The 1925 law also created a State Eugenics Board, but the Board was abolished in 1955 and instead created a Eugenics Section as part of the Division of Mental Health of the State Board of Health (Paul, p. 331).
In 1929, Idaho amended the law to include sterilization operations done either by vasectomy or salpingectomy (Landman, p. 85).
Groups identified in the law
The 1925 law was enacted to sterilize people such as "all feeble-minded, insane, epileptics, habitual criminals, moral degenerates, and sexual perverts, who are a menace to society" (Landman, p. 84).
Sterilizations may be performed on any person who is "feeble-minded, insane, epileptic, an habitual criminal, a moral degenerate, or a sexual pervert" if reproduction by such individuals would produce a child "having an inherited tendency to feeble-mindedness, insanity, epilepsy, criminality, or degeneracy, or who would probably become a social menace or ward of the state" (Brown, p. 24).
Process of the law
All of the sterilization laws required consent. When consent to the sterilizations by the people themselves or by their legal guardians, kin, or friends was unattainable, the state could pursue the operation in the following way: the state eugenics board could appeal to the district court, which would try the issue and affirm or disaffirm the boards order. An appeal to the state supreme court was possible (Landman, p. 85; Paul, p. 331). A person withholding consent could go to trial to show why he/she should not be sterilized (Brown, p. 30).
In general, Idaho sterilizations were few and far between for many reasons. First of all, consent was very difficult to get. Second, the state had a difficult time proving that the mentally incompetent person's condition was heritable (which was required for sterilizations.) Third, sterilization requests could only come from State Institutions, not from local doctors. And finally, it was virtually impossible to prove that sterilizations were the best means for improving the mental state of those who were considered deficient (Paul, pp. 331-2).
Idaho law only required one doctor to examine a patient in between the preliminary hearing and the formal hearing if the judge was not convinced the first time (Breckenridge, p. 230). The law also stated that a patient may be prevented from attending his/her own hearing if there was "the probability of harm" but fails to define what is meant by this (Breckenridge, p. 233). Idaho's law provided no provision for appeal (Breckenridge, p. 234). Also, a court of record or a judge or magistrate could substitute in the event that the judicial officer was unavailble (Breckenridge, pp. 232).
Idaho's law did not address provision of care for individuals who were between transference or waiting for the determination of their status (Breckenridge, pp. 235-6). The law did recognize the right of individuals to withdraw from an institution at will if they had voluntarily committed themselves.

Groups targeted and victimized
Most of the candidates for sterilizations were those that were living in institutions for the mentally retarded (Paul, p. 333.)
"Feeder institutions" and institutions where sterilizations were performed
Although one cannot be entirely sure, it is likely that sterilizations took place on residents of the Idaho Insane Asylum, the Idaho State Sanitarium and Northern Idaho State Sanitarium, which were all institutions mentioned in Idaho's first bill (Laughlin, p. 48.)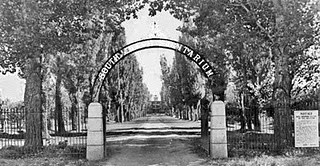 (Source: http://sfcompanion.blogspot.com/2010/07/july-2-state-insane-asylum.html)

The Idaho Insane Asylum was built in 1886 about one mile from Blackfoot, Idaho and had a capacity of 300 beds. Dr. T. T. Cabiness served as medical superintendant for four months and was succeeded by Dr. John W. Givens. Seventy-three acres of surrounding land were purchased of which fifteen were used for cultivation. The night of November 24, 1889 a fire destroyed the original building of the asylum and is known to have killed two patients but possibly up to seven because five people's bodies were never found. All of the asylum's records were lost in the fire. In 1894, 360 acres of adjoining land were purchased and an additional 1480 acres were obtained through "relinquishment" (Hurd, pp. 171-173). It is now known as Idaho State Hospital South.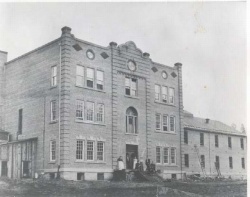 (http://www.asylumprojects.org/images/thumb/6/68/Ndsh.jpg/250px-Ndsh.jpg)

The Northern Idaho Sanitarium was built in 1905 at Orofino, Idaho and had a capacity of 250 beds. J. K. Bell, J. G. Rowton, and T. J. Taylor were appointed to serve as the board of directors. In 1905, they appointed Dr. John W. Givens as medical superintendant. This institution received all insane persons from Northern Idaho. In 1910, there were 175 male patients and 74 female patients treated at the institution. The Northern Idaho Sanitarium owned 365 acres of land, some of which was cultivated like at the Idaho Insane Asylum (Hurd, pp. 174-176).

The Idaho State Sanitarium or the Idaho Sanitarium for the Feeble-minded and Epileptic was built in 1912 at Nampa in Boise Valley, Idaho. Dr. John W. Givens directed the construction of this institution (Hurd, pp. 177). It is now known as the Idaho State School and Hospital (Guide to the Idaho State Sanitarium Records).
The institutions operated under the direction of seperate boards of directors and each board consisted of three persons appointed by the governor for a two year term (Hurd, pp. 170). Idaho required physicians or acting commissioners to be a "graduate of medicine" as qualification for their position (Breckenridge, pp. 229).

Education
At the University of Idaho classes on eugenics were taught from about 1913 until about 1947 (Glenna, pp. 288).
Bibliography
Breckenridge, Sophonisba P. 1939. "Statutory Provision for the Commitment of Insane Persons." the Social Service Review 13, 2; 221-245.
Brown, Frederick W. 1930. "Eugenic Sterilization in the United States. Its Present Status." Annal of the American Academy of Political and Social Science 149; 22-35.
Glenna, Leland L., Gollnick, Margaret A., and Jones, Stephen S. 2007. "Eugenic Opportunity Structures: Teaching Genetic Engineering at US Land-Grant Universities since 1911."

Social Studies of Science

37, 2; 281-96.
Guide to the Idaho State Sanitarium Records 1912-1915. "Biographical Note." Available at http://nwda-db.wsulibs.wsu.edu/nwda-search/fstyle.aspx?doc=oihar45.xml&t=i&q=5.

Hurd, Henry M., Drewry, William F., Dewey, R., Pilgrim, Charles W., Blumer, George A., and Burgess, T. J. W. 1916. The Institutional Care of the Insane in the United States and Canada. Baltimore: The Johns Hopkins Press.

Landman, J. H. 1932. Human Sterilization: The History of the Sexual Sterilization Movement. New York: MacMillan.
Laughlin, Harry H. 1922. Eugenical Sterilization in the United States. Chicago: Municipal Court of Chicago.
Painter, George. 2001. "The Sensibilities of Our Forefathers: The History of Sodomy Laws in the United States: Delaware." Available at http://www.glapn.org/sodomylaws/sensibilities/idaho.htm.
Paul, Julius. 1965. "'Three Generations of Imbeciles Are Enough': State Eugenic Sterilization Laws in American Thought and Practice." Washington, D.C.: Walter Reed Army Institute of Research.